Compared to the$19 billion WhatsApp acquisition, this is small potatoes – but far more interesting! Facebook is reportedly spending $60 million to buy a developer of solar-powered drones, which it plans to use to get the Internet and Facebook to every last unsullied corner of the globe. Like?
This story hit the Internet on Monday with a report on TechCrunch that Facebook was "looking into buying" Titan Aerospace, a company that's developing what it calls "high altitude long endurance solar atmospheric satellites." These are big drones, with solar-cell-covered wings spanning 164 feet or more, capable of flying 12 miles above Earth for up to five years carrying communications payload and serving functions similar to satellites.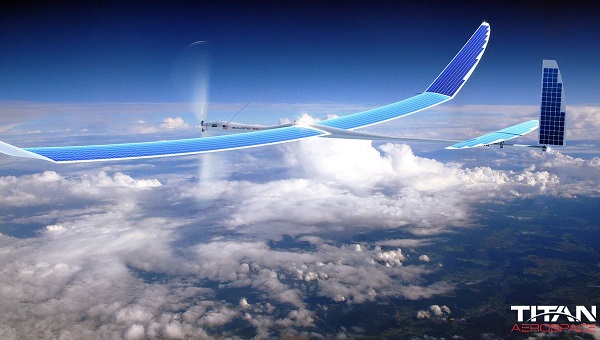 "From our understanding, Facebook is interested in using these high-flying drones to blanket parts of the world without Internet access, beginning with Africa," TechCrunch reported. "The company would start by building 11,000 of these unmanned aerial vehicles (UAVs), specifically the "Solara 60″ model."
On Tuesday, CNBC, citing a "source familiar with the transaction," said it could confirm the TechCrunch report, and that Facebook was indeed buying the New Mexico-based Titan Aerospace for $60 million.
Titan Aerospace is a company a little over two years old, and in a Breaking Defense article last year the company's chief technology officer explained that its technology was inspired by the NASA Pathfinder, which broke new gound with unmanned, solar power flight in the '90s. The company told Breaking Defense that thanks to "lighter, more efficient solar technology, better composites, and improvements to battery weight and power," their planes could capture enough energy from the during the day to operate continuously.
Now all they have to do is build them: According to the Titan Aerospace website, the Solara line of atmospheric satellites is in a "development phase," with "initial commercial operations" expected in 2015. Meanwhile, this: