Solar powered watches give you the same style and functionality as traditional watches with the added benefit that you don't have to remember to change its batteries periodically.
We compared dozens of them and liked the following five solar powered watches the best because they are stylish, well-made and kept time well even after extended use.
Keep reading for an explanation of our methodology and full reviews of all five of our top picks for the best solar powered watches for 2021.
Top 5 Best Solar Powered Watches for 2021
---
Solar Power Watch Reviews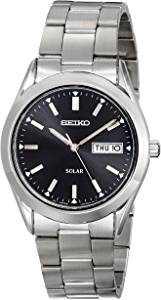 The Seiko Men's Silvertone Black Dial Solar Calendar Watch is a sleek and stylish watch that pairs well with virtually any outfit. While primarily an everyday watch, it is suitable for some outdoor use as well. The durable stainless steel band and quartz face resist scratching, rusting and other types of damage. The watch is also water-resistant to 100 feet, so it can easily withstand rain and even swimming if you choose.
The quality is on par with more expensive solar powered watches and it keeps time accurately without gaining or losing seconds after it's been in use for a while. While it is casual enough to wear with an everyday outfit, it's also suitable for wearing with dress clothing. The Seiko watch lacks some of the extra features found in many Casio solar powered watches, but it does include a built-in calendar to help you keep track of the date as well as the time. This is a relatively standard feature on many watches today and is undoubtedly useful if you're prone to losing track of the days.
Users report that the watch face is easy to read, but the luminescence feature that's supposed to make the water easy to read at night is weaker compared to many comparable watches. So this may not be the best option if you have poor eyesight and struggle to read your watch face normally.
Learn More & Buy Now at Amazon
---

The Seiko Women's Silvertone Crystal Solar Watch is one of the few solar powered watches on the market designed specifically for women. It has a slimmer stainless steel band with Swarovski crystals surrounding the watch face to give it an elegant, feminine look. The dial itself is made of hardlex crystal, which users report resists scratching and holds up well over time.
While this watch is primarily designed for wearing with dress clothing, it is also water-resistant to 99 feet, so you don't have to fear wearing it out in the rain or accidentally splashing it with water. However, the manufacturer cautions that you shouldn't wear it while showering or swimming as the watch isn't capable of withstanding complete immersion.
A few women have said that the watches they received had loose minute hands which either fell off in transport or shortly after they received the solar powered watch. Hopefully you won't experience this issue, but if you do, you can return it to Seiko within the first three years after purchase and it will either repair the watch or replace it with a new watch.
Learn More & Buy Now at Amazon
---
You can't find a more feature-rich solar powered watch than the Casio Men's Pathfinder Solar-Powered Watch. In addition to tracking the time and date, it has a built-in digital compass, altimeter, barometer, thermometer, world time tracker, five daily alarms, a stopwatch and a countdown timer. There's also a battery power indicator to let you know when the solar powered battery is running low. No other solar powered watch on this last has this many functions, so it's a great choice for hikers and outdoor enthusiasts who want to cut down on their gear without leaving themselves unprepared.
It's tough enough to withstand all the elements, including rain and extreme cold. The watch is water-resistant to 330 feet and suitable for use in temperatures as low as 14 degrees Fahrenheit (-10 degrees Celsius). The resin band is durable and users haven't complained about the watch face getting scratched even after being worn daily for years. It's a little pricier than the Seiko solar powered watch, but you can feel confident that you're purchasing a watch that will last.
The only possible downside of this watch is that it's not as sleek as the Seiko watch or some of the others listed here. Not everyone will mind, but if you want a solar powered watch that you can wear with casual or dress clothing, you'll have to look elsewhere because the Casio Pathfinder watch has a rugged outdoor look that will appear out of place next to a suit and tie.
Learn More & Buy Now at Amazon
---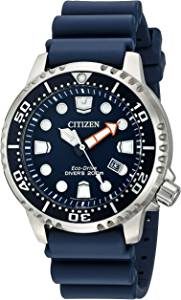 About the only thing you can't do with the Casio solar powered watch above is dive. If you're interested in that, the Citizen Men's Promaster Professional Diver Watch is a better fit. It's water resistant up to 666 feet so you can safely wear it while diving, snorkeling or showering without fearing any damage. The watch face lights up so you can easily see what time it is when you're underwater or out at night.
This solar powered watch isn't as versatile as some of the others on the list, but it does the basics well. It keeps accurate time and tracks the date while looking stylish and fitting comfortably. The navy blue band is made of a molded polyurethane and can fit wrists of virtually any size. The band contains a small depth and time chart so you can quickly see how long you can safely remain at certain depths without damaging the internal components.
A few users have complained about the watch being smaller than expected or not working correctly when they received it, but this appears to be a fairly uncommon issue. If you do run into issues, the watch is backed by a five-year warranty, so you can send it back to Citizen and they will repair it or replace it with a new watch.
Learn More & Buy Now at Amazon
---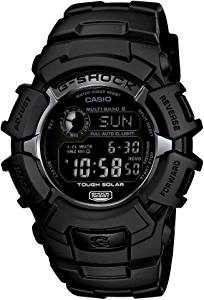 The Casio Men's G-Shock Solar Multiband Atomic Watch is the ultimate choice for those who want a no-maintenance watch that always has the right time. Like all the other watches on this list, it stays powered by a solar battery so you never have to worry about it dying, assuming it sees some light here and there. But the G-Shock watch is also atomic, which means that it never needs setting because it picks up a radio signal that tells it what time it is, so you won't have any issues with the watch running too fast or too slow.
While not as feature-rich as the other Casio watch on this list, the Casio G-Shock solar powered watch does include four programmable alarms, a world time zone clock, a stopwatch, a countdown timer and a full backlight so you can read the time even in the dark. It's also water-resistant to 660 feet, so you can wear it in the shower, while swimming or while working underwater, though the manufacturer discourages wearing the watch while scuba diving as going too deep could damage the watch.
Some users say the display is hard to read while others contradict this and say that they find it quite easy to read. Your experience may depend on the light conditions you use the watch in and your eyesight. If you struggle to read small print as it is, you may have difficulty reading the information on this watch display.
Learn More & Buy Now at Amazon
---
How We Chose the Best Solar Powered Watches
We focused on quality construction, watch features and design when choosing the best solar watches.
Quality Construction
When choosing any type of watch, especially an expensive one, you want to make sure you choose one that won't break or scratch with regular use. It should have a sturdy band made of metal or a tough fabric that won't rip easily and the watch face should be made of a scratch-resistant material so you don't need to worry about accidentally bumping your watch against something.
Some watches are also water-resistant or waterproof. Consider one of these if you intend to wear your watch outdoors often or while diving. Water resistance isn't as important of a feature for everyday solar watches, but it can still prevent rain or accidental exposure to water from damaging the internal components.
Watch Features
All solar watches perform the basic function of telling time, but some go above and beyond that to include features like a calendar, stopwatch, compass, alarms, thermometer and more. Not everyone needs these features, especially in our modern era of smartphones, but they're still nice to have if you don't always take your smartphone with you wherever you go.
Think about what you intend to use your watch for and let that guide your decision. If it's largely for decoration, a basic solar powered watch will work fine. But you may prefer a more feature-rich solar powered watch if you take yours out on hikes or other outdoor adventures often.
Design
Everyone has different opinions about what makes an eye-catching watch. You may be able to swap out the bands on some solar powered watches if it doesn't fit right or if you prefer a different look. But beyond that, there isn't much you can do to customize the appearance of your solar powered watch. While it's more important to focus on quality of construction and watch features, design can help you make a decision between two similar watches if you're struggling to choose.
What You Need to Know About Solar Powered Watches
Here are a few things you need to know before purchasing a solar powered watch.
Solar powered watches can last months on a single charge.
Many other solar powered devices can only last a few hours at a time before they need charging again, but the relatively low energy demands of a watch mean that a good solar powered watch can last for months on a single charge. And if your watch's solar panels receive some light periodically, it's possible the watch could last for years without ever dying.
Solar powered watches are usually charged right out of the box but if yours isn't for some reason, read your owner's manual for advice on how to charge it before use. The manual should also give you some indication of how quickly the solar battery charges and how long a single charge will last.
Your solar powered watch can charge without sunlight.
When most people think of solar powered objects, they think of the warming rays of the sun, but you can use any light source, including internal fluorescent light, to charge your watch. How quickly it will charge depends on how much light exposure it gets and how powerful the light source is.
Your solar watch will likely stay more fully charged during the summer months when there is more natural light. In the winter, your watch may not charge fully because there is less light. If you're concerned about this, leave your solar powered watch out where it can get some natural light every day for a short period of time to help keep the battery fully charged.
Solar watch batteries may need replacing eventually.
Even the best rechargeable batteries eventually lose their ability to hold a charge over time. When that begins to happen, the battery must be replaced or you will have to purchase a brand-new solar powered watch.
Because of their low power demands, solar powered watches should be able to last years on a single battery, but if you notice yours dying frequently, even when regularly exposed to direct sunlight, that could be a sign that yours is beginning to lose its ability to hold a charge. Consult the owner's manual to see if there's an easy way to replace the battery. Otherwise, you may have to purchase a new solar watch.
Conclusion
Solar powered watches are a great alternative to traditional watches if you tire of replacing dead batteries, but choosing the right one can be a challenge. Not only do you have to think about your sense of style but also where and how you intend to use the watch. Explore them all before you make your decision.
Compare the 5 Best Solar Powered Watches for 2021