Rechargeable flashlights solve that pesky battery drain problem that renders your flashlight useless when you need it most. Just simply leave the flashlight plugged in while in storage, and it's ready to go at a moment's notice. There are hundreds of rechargeable flashlights on the market today. Check out the list to find the best option for you, or read our full reviews of each of our top five rechargeable flashlights below.
Top 5 Best Rechargeable Flashlights for 2021
---
Rechargeable Flashlight Reviews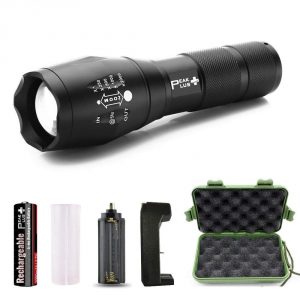 The PeakPlus Tactical Flashlight stood out in a big way, not only for its features but also for the nearly 4,000 five-star reviews the flashlight has earned on Amazon. Users praise its construction, light weight and superior brightness, which makes it suitable for all types of applications from home use to backpacking trips.
The flashlight has an impressive five modes, including three brightness settings, a strobe setting and an SOS setting to help others find you if you get lost outdoors. It's also one of few flashlights to offer a zoom feature, so you can choose how narrow its focus is. The manufacturer claims it can illuminate objects up to 600 feet away. While the flashlight itself is very durable, it also comes with a storage case for when you're not using it. One rechargeable battery and charger are included, and you can keep additional AAA batteries on you to power the flashlight in case the rechargeable battery dies.
Most users have said that their PeakPlus Tactical Flashlight holds up well over time, but a few have complained of theirs breaking after a few months. This shouldn't concern you, though, because PeakPlus backs its tactical flashlight with a one-year warranty. If you're one of the unlucky few who receives a defective product, the company will replace it at no cost to you.
Learn More & Buy Now at Amazon
---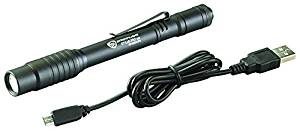 The Streamlight Stylus Pro Rechargeable Penlight is a great alternative to our top pick for anyone who wants a slim, lightweight flashlight they can carry on them at all times. It includes a tough nylon holster, but most people prefer to attach it to their shirt or pants pocket using the included clip. This clip is also detachable if you don't want it.
The flashlight offers two settings–a high setting that outputs 250 lumens and a low setting that outputs 90 lumens. Run time ranges from 1.5 to 3.5 hours depending on which setting you use. This isn't as bright as some of the other flashlights on this list, but it's more than enough for most everyday activities. The flashlight is also IPX4 water-resistant so it's suitable for outdoor use, though you should avoid completely submerging it in water.
It is a little pricey compared to the other rechargeable flashlights listed here, especially for its size, but it's worth paying a little extra for if you intend to use the flashlight often. Users report that the battery life lasts as long as the manufacturer promised and that it recharges quickly within 2.5 hours or less, depending on how charged it is when you plug it in.
Learn More & Buy Now at Amazon
---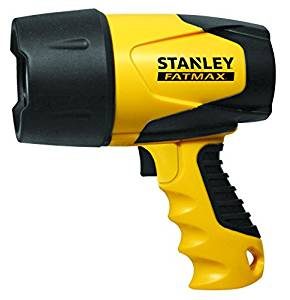 The STANLEY FATMAX Rechargeable Spotlight is an excellent choice for use outdoors, in water or anywhere where you need more light than the typical flashlight provides. It's available in three models based on lumen output. The base model outputs 520 lumens, but there are also models that output 530 and 920 lumens if you need a bit more power. Each light has multiple brightness settings and the manufacturer claims it can run for up to 10 hours on lower settings.
It's the perfect rechargeable flashlight for outdoor adventures because it's durable, has a sturdy pistol grip and is completely waterproof. You can submerge it up to six feet without damaging the internal components and if you accidentally drop it into the water, it'll float to the surface so you can find it easily. While there's no option to charge the flashlight by regular batteries if you need backup, you can charge the rechargeable battery in a regular outlet or a car outlet when you're on the go.
A few users have complained of the flashlight breaking within a year of purchasing, but most customers don't have this issue. The STANLEY FATMAX Rechargeable Spotlight has a limited one-year warranty like the PeakPlus Tactical Flashlight, so if you have this issue, you can reach out to the manufacturer for assistance.
Learn More & Buy Now at Amazon
---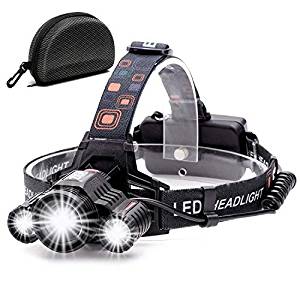 The Cobiz Rechargeable Headlamp is a hands-free alternative to the other rechargeable flashlights on this list. It has three powerful LED flashlights attached to the front that tilt up and down, so you can easily direct the light beam where you want it to go. It has three brightness settings and a strobe setting, which you can change between using the switch at the front. A zoom feature lets you control how focused the beam is so you can see further into the distance.
It's the perfect option for a family camping trip. The headlamp adjusts to suit adults and children of almost all sizes and the housing is IPX4 water-resistant so it can be used outdoors in the rain, though it shouldn't be fully submerged. The USB charging cable can be plugged into a traditional or car outlet with an adapter, so you can recharge it almost anywhere you are.
Users have found a variety of other applications for the Cobiz Rechargeable Headlamp, including running, construction work or just working around the house. Most love how long the headlamp holds a charge, but it can take up to eight hours to fully charge it, which is longer than most other rechargeable flashlights on this list. The company also doesn't offer a warranty in case you experience any issues with the headlamp, but this is unlikely and the headlamp isn't terribly expensive, so it shouldn't worry you.
Learn More & Buy Now at Amazon
---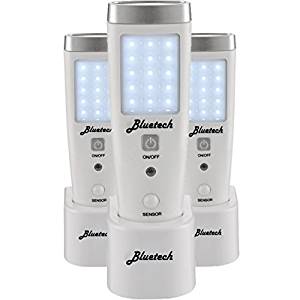 The Bluetech Rechargeable LED Flashlight with Motion Detection was designed with power outages in mind. This light isn't as heavy-duty as some of the others on the list, but it was never designed for outdoor use. It's meant to stand in for your house lights during an outage so you don't have to carry a traditional flashlight around with you. Its charging base also doubles as a stand, so you can place it virtually anywhere. The motion sensor kicks in when someone walks by and then automatically turns off the light after it senses no motion for 10 to 15 seconds. This gives you the light you need without wasting power.
Each light has 15 powerful LED bulbs, and you can purchase one or three at a time. More is better if you intend to illuminate multiple rooms in your home following a power outage or if you need multiple lights to effectively illuminate a larger room. But for smaller spaces, one should be more than enough because the light is surprisingly bright. And if you do need a portable light and you don't have one on hand, you can detach the Bluetech Rechargeable LED Flashlight from its base and take it with you.
The few complaints about this rechargeable flashlight are the same as the complaints about all the other flashlights listed here. Rare, defective models do exist and this can cause the light to not turn on when it should or to turn on and off spontaneously. This is not a common issue, but if it happens to you, the manufacturer won't replace your defective light because there's no warranty.
Learn More & Buy Now at Amazon
---
How We Chose the Best Rechargeable Flashlights
We focused on the flashlight's durability, brightness, size and features when choosing the best rechargeable flashlights.
Durability
It doesn't matter how bright your flashlight is or how many features it has if it breaks the first time you drop it. A good rechargeable flashlight has a durable exterior made of a hard plastic or anodized aluminum. Some flashlights are also waterproof to prevent water from seeping inside and damaging the electrical components.
Most tactical flashlights meet these qualifications and you should go with one of these if you intend to take the flashlight outdoors. Flashlights designed primarily for indoor use may not be waterproof and are often built from cheaper materials. This doesn't mean they're poor quality, but they may be ill-suited to harsher environments.
Brightness
Flashlight brightness is measured in lumens with a higher number indicating a brighter light. Manufacturers usually advertise this information, so comparing the brightness of different flashlights should be simple. The brightness you need depends on the application. A flashlight with lower lumens may work fine for indoor applications but you may want a higher-lumen flashlight for outdoor use or for covering large areas.
Pay attention to how far the flashlight's beam reaches as well. Some flashlights have a narrow beam that goes a long way while others have a wider beam that covers a larger area but diffuses the light a little more. This can affect how useful the rechargeable flashlight is for your purposes.
Size
Big, heavy-duty tactical flashlights can be useful on camping trips when you need a durable and powerful flashlight, but they're out of place for home use or walking the dog where they're unnecessarily large and heavy. Consider how you intend to use the flashlight and the appropriate size and weight for these activities. A smaller flashlight may suit you better if space or weight is an issue.
Features
Some rechargeable flashlights have different modes, including multiple brightness levels, colored lights or a strobe setting. These features won't appeal to everyone, but they can have their uses. For example, a flashlight with multiple brightness levels can help you conserve power by using a low-brightness setting while still giving you powerful brightness when you really need it.
What Else You Need to Know About Rechargeable Flashlights
Here are a few things you should know about rechargeable flashlights before you buy one.
The batteries don't last forever.
Rechargeable flashlights use rechargeable batteries, but these only work for so long. Once they've reached their life expectancy, they will lose their ability to hold a charge and your flashlight will no longer work. This is usually somewhere after 300 or 400 charges.
Depending on the type of battery the flashlight uses, you may be able to replace it. Many rechargeable flashlights use standard rechargeable batteries. The user manual should include information on how to remove the old batteries from the flashlight and insert the new ones.
A few rechargeable flashlights may use proprietary batteries designed just for that flashlight. In that case, replacements probably aren't available so you'd have to replace the entire flashlight. If you don't like the thought of losing your investment like that, look for a rechargeable flashlight that uses replaceable rechargeable batteries.
The right type of charge port is almost as important as the flashlight itself.
A charge cord that plugs into a standard outlet may work if you're just using the light at home, but it's not ideal for use out in nature. A few lights also have charge cords that plug into car outlets and this is better if you intend to use the light on the go. But the best option for nature lovers is a plain USB port. This gives you the option to plug the flashlight into a regular outlet, a car outlet or a solar panel if you're truly far away from civilization. The downside is you need adapters if all your flashlight comes with is a USB cord.
Think about where you intend to use your flashlight the most and what kinds of charging options you'll have access to. Make sure the rechargeable flashlight you choose can accommodate this and consider purchasing adapters if you think you'll need to charge your flashlight more than one way.
Lumens don't tell the full story.
Lumens are one way of measuring a flashlight's brightness, but you must also consider the beam intensity, beam distance and the type of bulb. Beam intensity tells you how intense the brightest part of the light is while beam distance measures the distance the light reaches. Most rechargeable flashlights use LED bulbs today, so this shouldn't be a factor when comparing most flashlights.
Manufacturers may list some or all of this information to help you compare a flashlight's performance to other flashlights. If it's not listed, you can reach out to the manufacturer directly for the missing information. Compare all the various stats when evaluating a rechargeable flashlight and think about what you need your flashlight to do. Beam distance may be more important to you than beam intensity, for example, if you need to see over long distances. Others may need powerful illumination up close. Choose your rechargeable flashlight based on this information.
Conclusion
The best rechargeable flashlight for you depends on several factors, including what you intend to use it for and what features it has. We recommend the PeakPlus Tactical Flashlight as a great all-around pick, but depending on what you're looking for, one of our other four selections may work better for you. Explore them all before making your decision.
Compare the Best Rechargeable Flashlights for 2021