Automatic lighting is one of the most convenient features of having a smart home. With smart lighting devices, you can control the lighting in your home with your smartphone or through your smart home system using voice commands. This means that you have full control over your lighting at all times without ever having to touch a light switch. Another wonderful feature of smart lighting is that it is extremely user-friendly, both to install and to use. The only challenge you'll have with smart lighting is deciding which type to choose.
Smart lighting comes in a wide range of styles with each style having its own benefits. To help you sort through the thousands of available options, we've compiled a list of some of the best smart lighting products on the market today. Take a look at our picks then keep reading for some useful information that will help you choose the best smart lighting for your home.
Top 5 Best Smart Lighting Options of 2021
---
Reviews of the Best Smart Lighting Options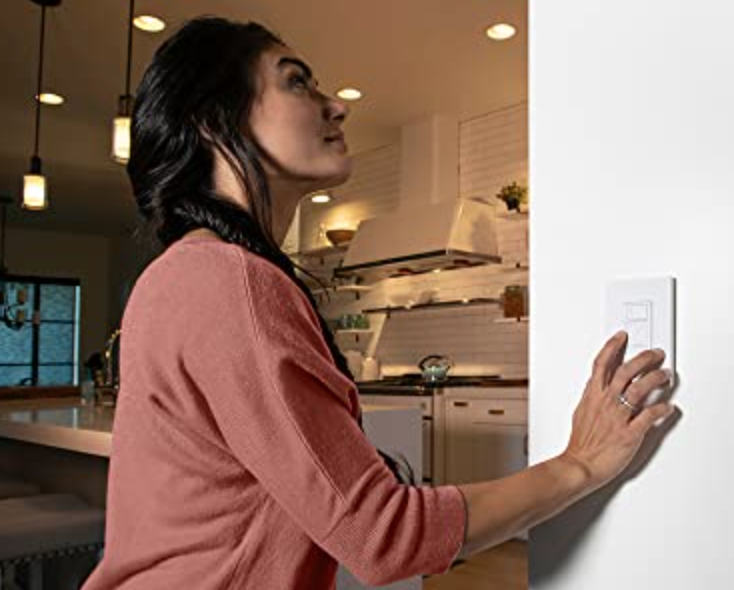 Quick Look: Smart lighting kit including dimmer switch, remote, and Wi-Fi bridge. Compatible with all the leading smart home hubs. Compatible with all standard light switch wiring for easy installation. Comes with a 1-year warranty.
Check Price at Amazon
If you're serious about making smart lighting a permanent part of your home, Lutron has the perfect starter kit for you. This kit contains a smart dimmer switch, a smart bridge, and a remote, meaning that you'll have everything you need to turn any light into a smart light. You can use the dimmer switch and remote to control the lights or you can use the multitude of built-in smart options.
This smart dimmer switch allows you to control your lighting through your smartphone using the free Lutron app. The app allows you to adjust the current lighting or design specific lighting settings to use later on. You will also be able to set up light schedules so that your lights turn on and off at certain times of the day without you having to lift a finger.
The kit comes with a Caseta Smart Bridge, making set up a breeze. The bridge connects directly to your internet via an Ethernet cord, meaning that it won't take up any of your Wi-Fi bandwidth and will continue working if your Wi-Fi goes down. This lighting system is compatible with any of the leading smart home hubs such as Alexa, Google Assistant, and Apple Homekit so you shouldn't have any trouble integrating it into your smart home system.
Learn More and Buy Now at Amazon
---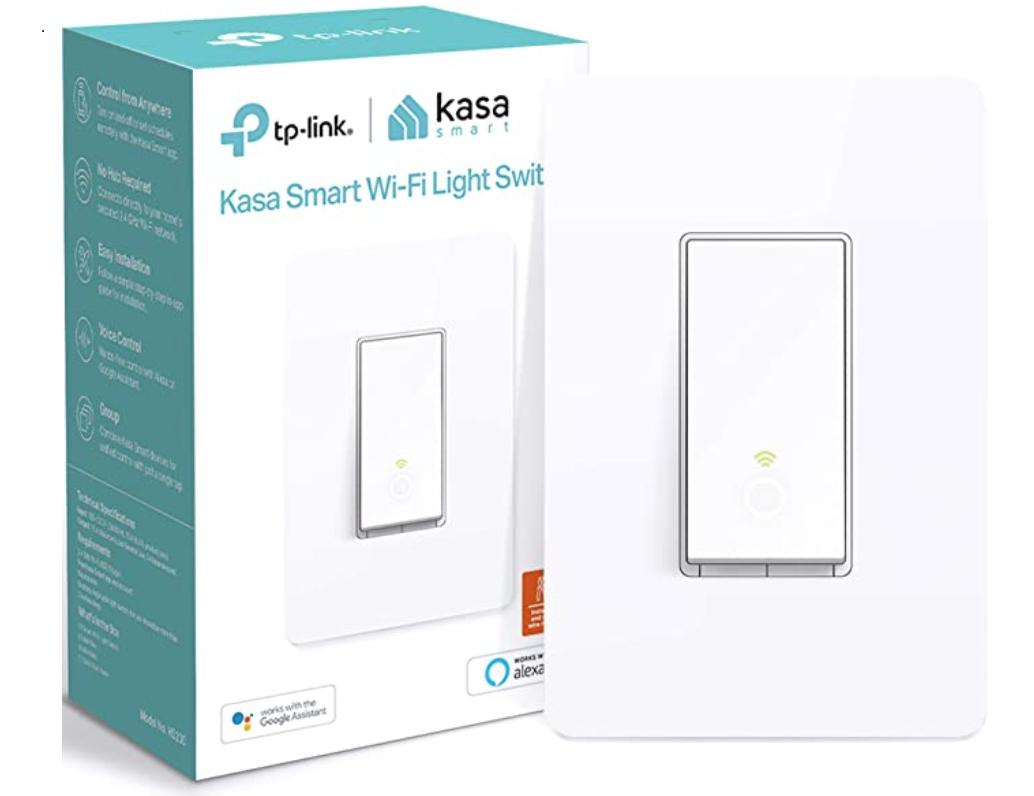 Quick Look: Easy to install smart light switch. Compatible with Alexa and Google Assistant. No hub required. Comes with a 2-year warranty.
Check Price at Amazon
Having a smart home does not have to bust your budget, especially if you choose products like this smart light switch from Kasa Smart. This switch will fit any standard light switch wiring with a neutral wire and can be used to control lights or ceiling fans.
Worried about installation? Don't be. The Kasa Smart app has an easy-to-follow installation guide that will walk you through the entire process. Once the switch is installed you can begin controlling your lights through that very same app. With options like timers, automatic lighting, and light adjustment, you'll always have just the right lighting for every situation.
This switch also allows you to connect your smart lighting to your home hub for the full smart home experience. It is compatible with Alexa, Google Assistant, and Microsoft Cortana for easy hands-free control. This switch can also be grouped with other Kasa Smart devices so that you can control multiple devices with a single voice command.
Learn More and Buy Now at Amazon
---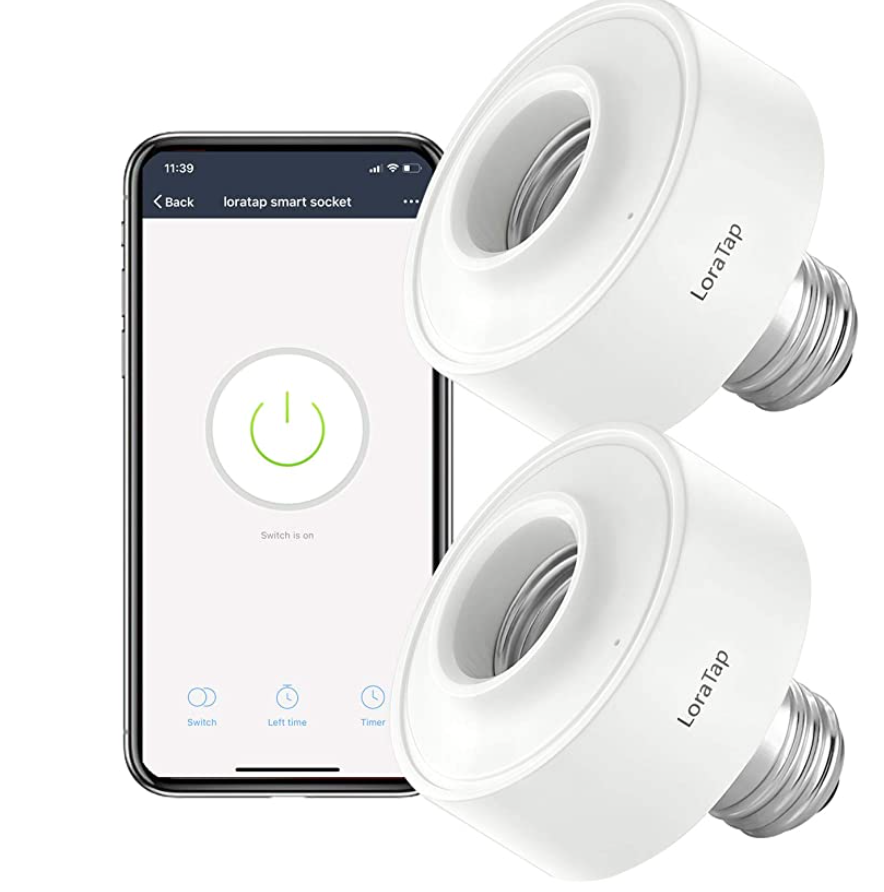 Quick Look: Comes with two smart light socket adaptors. Easy installation. Compatible with Alexa and Google Assistant. Compatible with most standard LED light bulbs.
Check Price at Amazon
If you're a renter or simply don't want to rewire your light switches, then these smart light socket adaptors may be the right choice for you. These adaptors allow you to transform any indoor light socket into a smart light fixture.
These adapters simply screw into any standard light socket, meaning they take mere seconds to install. Simply install the adapter, screw in your choice of LED bulb, and download the Smart Life app to start enjoying all the benefits of smart lighting. You can use the app to set up lighting schedules or adjust the lighting immediately. You can either control each socket individually or group them together for even easier lighting adjustments.
If you have your hands full and don't want to mess with finding your phone, you can skip the app and use voice commands instead. These sockets are compatible with Alexa and Google Assistant, making them the perfect addition to your smart home system.
Learn More and Buy Now at Amazon
---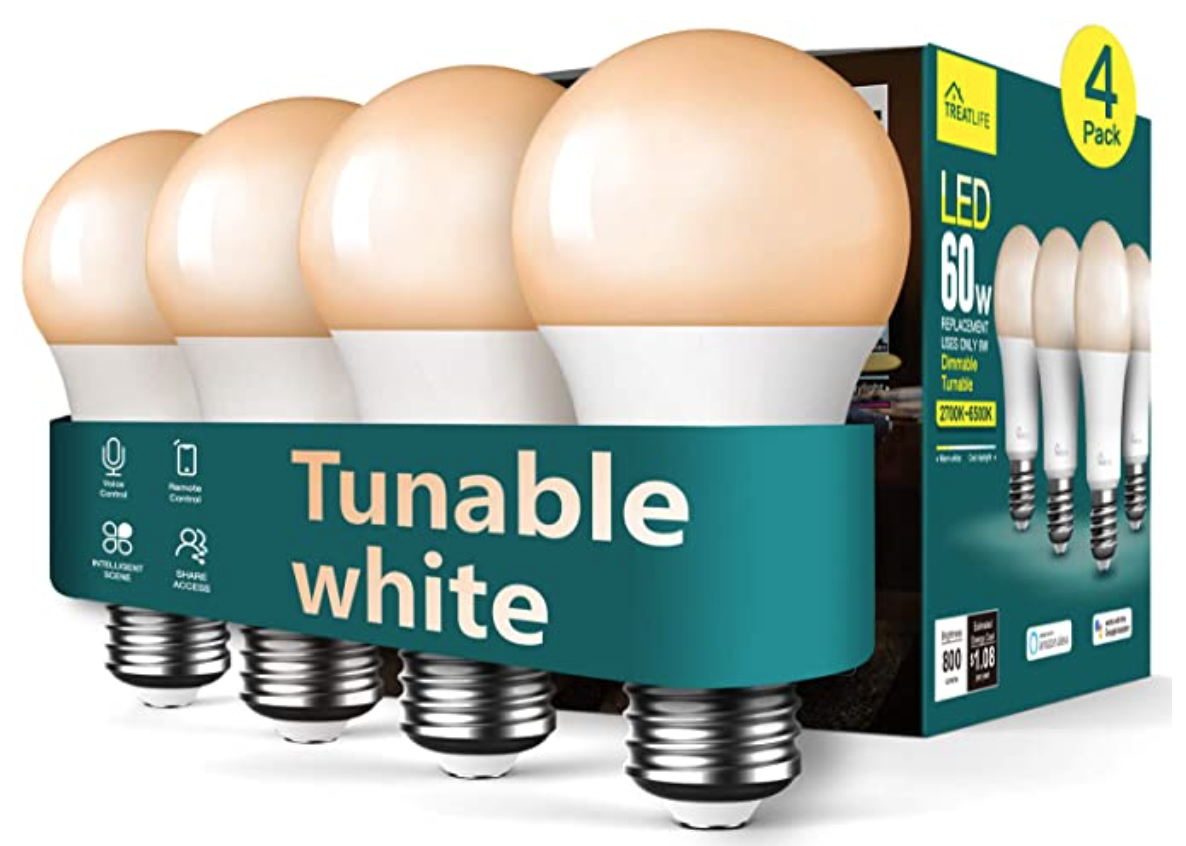 Quick Look: 9W, 800LM, dimmable, tunable, white LED smart light bulb. Uses 2.4G Wi-Fi, no hub required. Comes with tech support and a warranty.
Check Price at Amazon
In terms of simplicity, you cannot beat these smart LED bulbs from Treatlife. You install them just like any regular light bulb, but you still get all the perks of smart lighting. These bulbs can be used individually or you can group them together for simple lighting control through the Smart Life app.
Speaking of the app, you can use it to design light settings, schedules, and timers. You can even adjust your lights when you're away from home. These lights are both dimmable and tunable, meaning that you can go from a 2700K soft white light to a 6500k cool white light with just the touch of a button. Whatever type of lighting you need, you can achieve it with these smart bulbs.
Let's not forget the hands-free options. These bulbs are compatible with both Alexa and Google Assistant, so you can change the lighting at any time with a simple voice command. You can use voice commands to turn the lights on and off as well as activate any of the settings you've programmed into the app.
Learn More and Buy Now at Amazon
---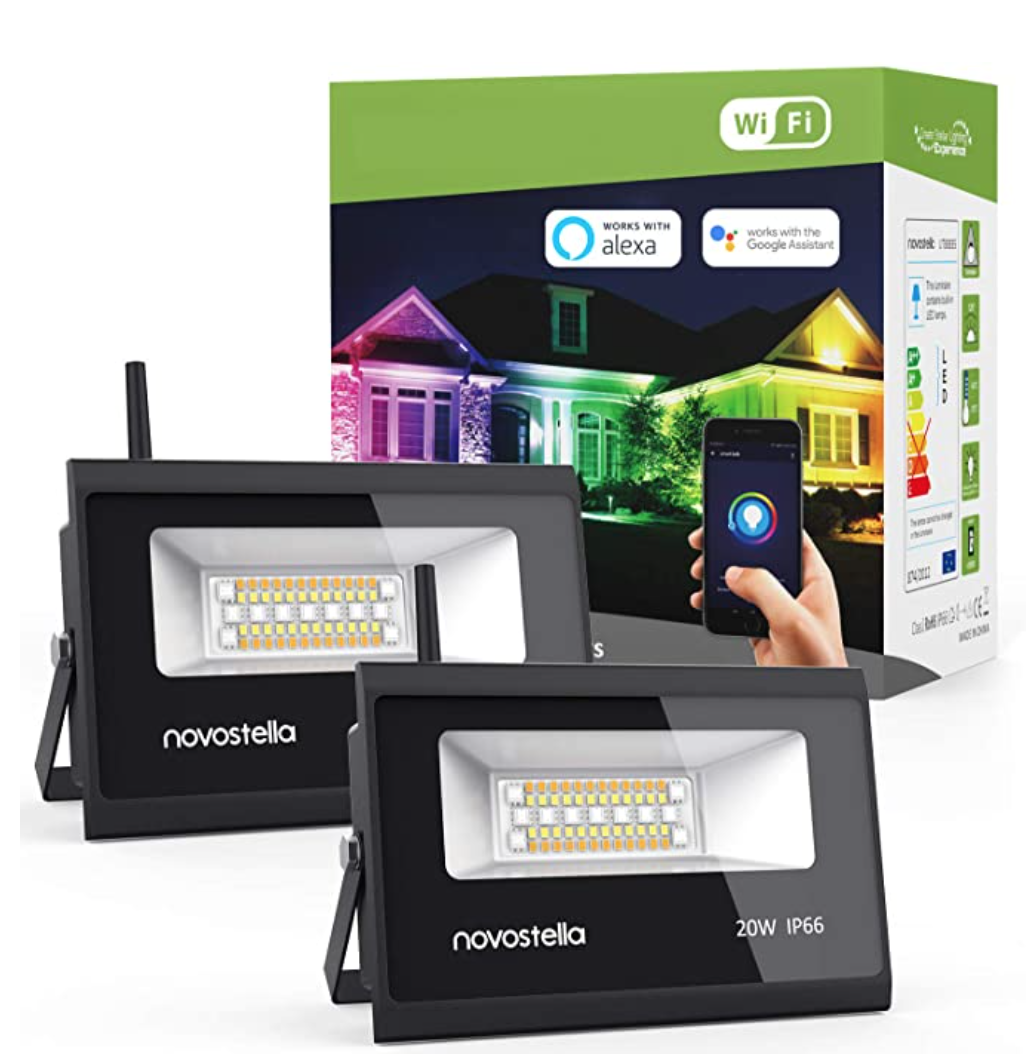 Quick Look: 2-pack, 20W multicolor LED outdoor floodlights. Requires 2.4GHz Wi-Fi, no hub required. IP66 waterproof and weather-resistant. Compatible with Alexa and Google Assistant.
Check Price at Amazon
Whether you want to step up your outdoor decor or simply light your porch or patio, these smart floodlights from Novostella will do the trick. This set comes with two bright 20W LED lights that can be plugged into any standard outlet for simple installation. They are fully dimmable from 1% to 100%, meaning that you can have just the right amount of light for every occasion.
These multicolor lights can be used for both practical lighting and decorative light displays. They offer a range of 16 million colors, from simple warm white to every color imaginable. Using the Smart Life app you can adjust the settings and colors from anywhere in the world, so no matter where you are, you will always have control over your outdoor lighting. These lights are compatible with Alexa and Google Assistant, so they can also be adjusted using voice commands.
The fixtures are made from high-quality plastic and tempered glass. They are IP66 waterproof and weather-resistant, making them safe for year-round use. These lights are also safe for indoor use and would be a great addition to any dance party.
Learn More and Buy Now at Amazon
---
How We Chose The Best Smart Lighting
Choosing the best smart lighting options was a real challenge and since we only have five products listed here, this list is far from comprehensive. That being said, we decided to focus on quality, versatility, and ease of use when choosing our favorite smart lighting products.
Quality
Creating the perfect smart home can get a little pricey, so we looked for products that were both high-quality and reasonably priced so that you could get the highest value for your money. All of the products on our list are high-quality and designed to last, giving you one less thing to worry about.
Versatility
The main purpose of having smart lighting in your home is convenience. For that reason, we looked for smart lighting options that offered a wide range of versatility to fit every lifestyle. All of the products on our list offer a multitude of smart options including programmable settings, lighting schedules, and hands-free control.
We also looked for a variety of styles to ensure that there was something here for everyone. From permanent smart switches to plug-in smart light fixtures, we wanted to show that there is a smart lighting option for every situation.
Ease of Use
There are many challenging things in life, but switching to smart lighting should never be one of them. All of the products on our list are both easy to set up and easy to use. We looked for products that were compatible with the leading smart home systems and apps so that they could be seamlessly integrated into your existing system. We also looked for products that offered straightforward operation options, such as grouping, scheduling, and voice control, because controlling the lighting in your home should never be complicated.
What You Need To Know About Smart Lighting
In terms of smart devices, smart lighting products fairly dominate the market. A simple search for smart lighting on Amazon will bring up approximately 10,000 results, which can be a bit overwhelming for those who are new to the field. Just in case you are new and feeling a little overwhelmed, here is some information that may make your search a little easier.
How Many Smart Lighting Options Are There?
To put it simply, there is a smart light equivalent for nearly every traditional light you can imagine. This means that you can find smart lighting options in all of these forms:
Ceiling light fixtures.
Floor lamps.
Strip lights.
Ceiling fan/light combinations.
Desk lamps.
Portable lights.
Night lights.
And many more…
As you have seen from the products on our list, you can also turn your regular light fixtures into smart lighting with smart light switches, smart socket adapters, and smart bulbs. You can also purchase smart outlet adapters that you can plug your lamps into, essentially turning any lamp into a smart light fixture. The options are endless if you know what you're looking for.
What Are Smart Bridges?
You may notice that some smart devices require a "bridge". This can be one of the most confusing elements involved in setting up a smart home, but once you understand what a bridge is, it's quite simple.
A bridge is basically what the name implies, it is a digital bridge between your Wi-Fi router and your smart device. All smart products require an internet connection to function, but not all of these products come with Wi-Fi connectivity built-in. Instead, they require a smart bridge in order to connect to the Wi-Fi. It is important to look for this requirement on any smart device that you want to add to your system because the bridges are often sold separately, meaning an extra expense.
Is Smart Lighting Worth The Cost?
Smart lighting is somewhat more expensive than traditional lighting, causing some people to question whether or not it's worth the extra expense. The answer to this question is completely subjective. For some people, such as those with mobility limitations, being able to control their lights without having to go to the light switch could be invaluable. For others, it could simply be a matter of convenience. Thankfully, as the technology becomes more readily available and the cost goes down, more people can take advantage of smart lighting, whether they need it or simply want to enjoy it.
The best thing is that you don't have to break the bank by switching your entire home to smart lights all at once. You can transition slowly with one fixture at a time and add to your smart home system as your budget allows.
How to Choose The Best Smart Lighting For Your Home
Similar to traditional lighting, choosing smart lights does require a little bit of thought, but it is mostly straightforward. The two main things to consider are permanence and features.
Permanence
Permanence may seem like an odd thing to consider when it comes to lighting, but it is important to think about when you're purchasing smart devices. If you own your home and are planning on staying long term, then permanent fixtures are the way to go. Either smart light fixtures or smart switches would be your best choice. If you're a renter or plan on moving soon, you will probably want to choose less permanent options such as socket adapters or smart light bulbs.
Features
As you can see, there are a lot of features available for smart lights, no matter which style you choose. Many features such as remote smartphone control and lighting schedules have become fairly standard, but every fixture is different. Features such as 100% dimming and scene-setting may not be included with every device. Be sure to read the details on each product carefully to ensure that the lights you choose come with all the features you need.
Expert Tip: Don't forget to check if the device requires a smart bridge! You don't want to spend time setting up your new device only to find that it won't connect with your router.
Bottom Line
Smart lighting can add a level of comfort to your home that you never expected. Imagine having your lights come on, right when you need them, without having to lift a finger. Think of being able to turn on your porch light before you get home or turn off your lights after you've left the house. Not only are these features extremely convenient, but they can be energy saving as well. You'll never have to worry about wasting electricity on forgotten lights.
Choosing the best smart lighting for your home is simple. Consider whether you need something permanent or more flexible and choose the features you need. With this information, your decision should become clear.
Top 5 Best Smart Lighting Options of 2021