Solar LED flood lights can light up a walkway, draw attention to a decorative element of your landscaping, and even alert you to people approaching your home. Many of them appear similar in design and it's only when you dig into the specs that you notice the differences. Things like brightness, durability, and lifespan become much more important.
Not everyone is familiar with these types of details, which is why we put together this guide to the best solar LED flood lights. The LITOM Original Solar Light was our favorite because of its durability, multiple lighting modes, and reasonable pricing. But depending on your situation, one of our other picks might suit you better. Read our reviews of all of our top four solar LED flood lights below to decide which one is best for your home.
Top 4 Best Solar LED Flood Lights for 2021
Reviews of the Best Solar LED Flood Light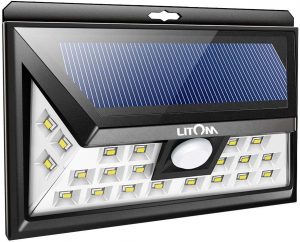 Best Solar LED Flood Light Overall
Quick Look: Affordably priced, very bright and nearly 8,000 five-star Amazon reviews..
Check Price at Amazon
The LITOM Original Solar Light was the clear winner because it is affordably priced, very bright, and it has multiple lighting modes to suit all types of applications. And it's not just the manufacturer saying that. The light currently has nearly 8,000 five-star reviews on Amazon with customers praising the light's durability, brightness, and weatherproofing. No other solar LED flood light on our list has received as much positive feedback as this one, so it's a great option if you're looking for a versatile flood light that's built to last.
It has a motion detector available, so you can set it up to only go off when someone walks by within about 36 feet of the sensor. But if you prefer to have the light on all the time, you can switch it to Medium Light mode and it will remain on all night. There's also Dim Light mode, which serves as a happy medium. The light remains dimly on all night but will get brighter when someone is in the vicinity. The LITOM Original Solar Light has a 270-degree lighting angle and is capable of illuminating 150 square feet, which is more than many of its competitors.
The light can last up to 30,000 hours and is capable of withstanding temperature extremes, including frost, as well as heavy rains. The IP-65 waterproof design keeps out the elements so that you can leave the lights up all year round, even in extreme climates without your light breaking or losing its ability to hold a charge.
Check Price on Amazon
---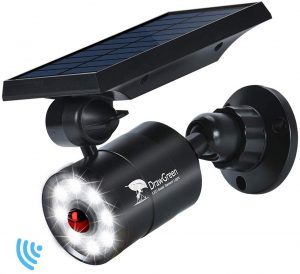 Best Solar LED FLood Light with Adjustable Solar Panel
Quick Look: Adjustable solar panel and durable aluminum that is suitable for all types of weather.
Check Price at Amazon
If the LITOM Original Solar Light has a single flaw, it's that the solar panel is built right into the top so you cannot adjust it to point at the sun. The DrawGreen Solar Light is a great alternative to our top pick if that's a concern for you. The solar panel is adjustable so you can move and tilt it to catch the most sun during the day and the light itself is adjustable so you can point it exactly where you want it to be rather than just sticking it up on a wall and only illuminating the immediate area.
Users are impressed by its brightness, even on cloudy or rainy days. It can last up to three days on its low-light setting without being recharged, according to the manufacturer, and it can illuminate objects up to 60 feet away. It's set up to remain in its Low Light setting from dusk until dawn, but it will automatically switch to its bright setting if it detects motion in the area. There isn't a way to set it to its brightest setting all the time, though.
The light is noted to be pretty easy to install and the durable aluminum alloy shell is water-, heat- and frostproof. The manufacturer recommends it for use in temperatures between -30 and 120 degrees Fahrenheit, so it's suitable for all but the most extreme heat waves and cold snaps. It's also capable of lasting up to 50,000 hours before it needs replacing, which is even longer than our top pick.
Check Price on Amazon
---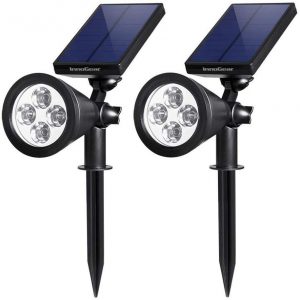 Best Landscape Solar LED Flood Lights
Quick Look: Options for both ground stakes and wall-mount plus they provide 200 lumen output.
Check Price at Amazon
The InnoGear Solar Lights are a good fit when you want a flood light but don't have a nearby wall to put a traditional solar LED flood light on. These lights include stakes in the ground so you can position them anywhere in your yard and point it where you want it to go. It's a nice option for illuminating an object in your yard for effect or brightening your driveway or the walk up to your home. There is also a wall-mount option if you'd like to put them on a wall.
They're not the best option for those who are interested in a motion-activated solar LED flood light. The InnoGear lights are meant to remain on all night, though they do have two different settings so you can choose between low or high light mode. Each light provides a 200 lumen output and they come in packs of two so you can place them close together if you need more illumination. Most users were pretty satisfied with the amount of light the InnoGear Solar Lights provided.
The spike that goes into the ground is plastic, but despite this, customers haven't reported too many issues with the lights breaking. They are water- and heatproof so they're capable of withstanding the elements, but if you're concerned about leaving them out in the elements, you can always pull them out of the ground and put them back in when the conditions are more favorable. They're pretty easy to set up and take down and there are no special tools required.
Check Price on Amazon
---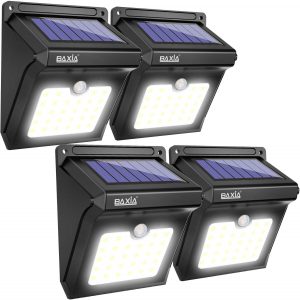 Best Budget Solar LED Flood Light
Quick Look: 30-day money-back guarantee, comes in pack of 4 lights, IP65 waterproof..
Check Price at Amazon
The BAXIA TECHNOLOGY Solar Lights are similar to our top pick in design and performance, but they come in packs of four and the cost is about what you'd pay for a single solar LED flood light with some other brands. This is great news if you plan to cover a large area or your budget is tight. Even if you don't need to use all four lights in the pack, it doesn't hurt to keep a few extras on hand in case one of them breaks down over time.
This shouldn't worry you, though, because the manufacturer offers a 30-day money-back guarantee if you're unsatisfied with the solar LED flood lights for any reason and a 180-day limited warranty so you can have your lights replaced if they break down within that time. It's the only company on our list to offer a warranty like this, so that's another point in its favor for bargain hunters.
You can program the lights to remain on all night or to respond to motion within 3 to 5 meters. The lights offer a 120-degree angle of illumination and can remain on for up to eight hours at a time once they're fully charged. Like many of the other lights listed here, the BAXIA TECHNOLOGY Solar Lights are IP-65 waterproof and capable of withstanding all but the most extreme weather conditions.
Check Price on Amazon
---
How We Chose the Best Solar LED Flood Lights
We chose the best solar LED flood lights based on their durability, brightness, features, and cost.
Durability
Durability should always be your top concern, especially when choosing a light that's going to be exposed to the elements. The solar light should be made of durable materials that won't crack or break and it should have some sort of dustproof and waterproof housing to prevent dirt, rain, snow, and other debris from getting inside the light and breaking it. All of the solar LED flood lights we chose fared well in this category.
Brightness
The whole point of a floodlight is to illuminate the nearby area, so brightness is important. Solar LED light brightness is measured in lumens, but the manufacturers don't always disclose this information. Some may provide details on how large of an area the light can illuminate instead. Keep in mind that all manufacturer estimates will assume that the light is fully charged, but actual light performance will depend on where you place the solar LED flood light and how much sun it receives on a given day.
Features
Many solar LED flood lights are motion-activated, so they only come on when someone walks in the nearby vicinity. Others are automatically programmed to turn on at dusk and off again at dawn. It's up to you to decide which style best suits your needs. Some solar LED flood lights also have multiple lighting modes so you can decide how much light you want or whether you want the light to remain on continuously or only respond to motion. These options can help you conserve battery life.
Cost
Everyone will have different budgets, so we tried to include a variety of options in our top picks. We also took any warranties into account as this can help save you money should you encounter problems with the solar LED flood lights shortly after you purchase them. This shouldn't be a concern for most people, though, as all of our top picks have received high marks from customers and are known for holding up well over time.
What You Need to Know About Solar LED Flood Lights
Here are a few things to keep in mind when shopping for your solar LED flood lights.
Consider the size of the area you need to illuminate.
Think about where you intend to place the light and use this to guide your decision making. Figure out approximately how far away from the wall where you're placing the light that you want it to illuminate. You should also determine what kind of an illumination angle that you're looking for. Some lights only cover the area directly in front of them while others illuminate things off to the sides as well.
Keep these factors in mind as you're comparing different products. If you decide you need to cover a wide angle, you might be better off purchasing a solar LED flood light with dual heads, like the GoerTek Solar Light or purchasing solar flood lights that come in a package.
Proper positioning is crucial.
Solar lights only work well when their solar panels are positioned somewhere where they can get several hours of sunlight each day. The amount of time it takes a solar panel to fully charge depends on the light, but it's usually somewhere between five and eight hours. When the light does not get fully charged, it may not last the whole night or it may appear dimmer than usual.
Map out where you're going to place your solar lights with careful attention to which areas get the most sun. Avoid areas shaded by large trees or parts of the house that are in shadow most of the day. If you want a light for these areas, go with a traditional electric LED solar light instead. You could also look for a solar flood light with a separate solar panel so that you can move this and position it in the sun.
Solar lights don't last forever.
Solar lights use rechargeable batteries and these eventually lose their ability to hold a charge. There's no way around that with the technology we have right now. So eventually, you will have to replace your solar LED flood lights with new ones. Most will last between three and five years before they need replacing and you can estimate the lifespan by looking at how many hours the manufacturer claims the light will last.
Most solar LED flood lights are not that expensive, but if you're purchasing several lights from an expensive brand, you could end up spending $100 or more every few years. Keep this in mind when budgeting. You don't want to go too overboard when you're just going to have to replace the lights in a few years. If you're looking for more information, we gathered a list of the best LED light bulbs.
Bottom Line
It's hard to go wrong with any of our top solar LED flood light picks, but we recommend the LITOM Original Solar Lights for their affordability, durability and performance. Compare all of your options before making a final decision, though, to make sure that you're choosing the right model for your circumstances.
Top 5 Best Solar LED Flood Lights for 2021