LED light bulbs are the biggest change in lighting since Thomas Edison invented the first commercially-viable incandescent. The best LED light bulbs are 90% more efficient than even the modern versions of Edison's invention and can last for thousands of hours before needing replacement.
LED lights also boast a wide variety of color, brightness, and control that is simply unthinkable with incandescent lighting.  Needless to say, LED lighting is the future!
But with all the LED light bulb products out there – some of which are excellent quality and some very poor – it can be hard to find the best ones. That's where we come in! We did the hard work for you, and we chose the best LED lights available for your home lighting needs.
Here are our top picks for the best LED light bulbs for 2021.
Top 4 Best LED Light Bulbs for 2021
When choosing the LED bulbs that made it on our list, we assessed price, company reputation, and customer reviews to find the best the market had to offer.
With any of the lights on our list, you can rest assured they'll give you years of quality service. Read our reviews below to learn more about each of our top picks and find the best LED light bulb for you.
LED Light Bulb Reviews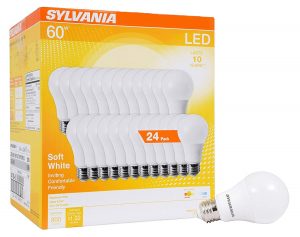 Best Multi Pack
Quick View: Sylvania's 24-pack of LEDs lack the ultra-long lifespan and dimmability of higher-quality LEDs, but are the best value on the market today.
Check Price at Amazon
If you're a bulk buyer – think Costco instead of Whole Foods – then the Sylvania 24-Pack of 8.5W Soft White LEDs is right up your alley. You're not going to find a better deal on LEDs anywhere else, no matter how hard you look. These Sylvania lights are about a third of the price of the 2nd cheapest lights on our list, but they still don't scrimp on quality.
Each bulb is the standard 800 lumens, equivalent to a traditional 60-watt incandescent bulb. The bulbs in this set are 2700K on the Kelvin scale, so they emit a soft, warm white glow. If you're looking for a bright, daylight-like glow, Sylvania also offers a 24-pack of 5000K bulbs, but it's a bit more expensive (though still a great deal).
Customer reviews for these LEDs are excellent, even considering the low price.  But of course, at this bargain price you're going to miss out on a few premium features. They aren't dimmable. As mentioned, they only come in soft white (2700K). And the warranty is a basic 3-year guarantee (Great Eagle offers a 5 year warranty on their LEDs).
But the biggest drawback on these lights is their estimated life span, which is just 11,000 hours. Of course, that's still over 10 years – much longer than any old-school incandescent bulb – but still lower than others on our list (Great Eagle estimates their LEDs above will last 25,00 hours).
Still, if you're looking to outfit your entire home with LEDs, and don't want to spend a ton of money, Sylvania's 24-pack is just about perfect.
Learn More & Buy Now at Amazon
---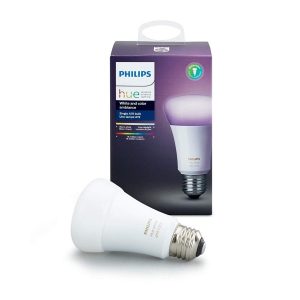 Best Premium Smart LED Light Bulb
Quick View: If you're willing to invest some cash, the Philips Hue is the smartest LED around. It comes with voice activation, millions of color choices, and a smartphone app, but you need a couple additional pieces of equipment to make full use of these sweet LEDs.
Check Price at Amazon
The Philips Hue Premium Smart Bulb is everything you could want out of an LED bulb, then even more than that. First, let's start with the basics. This 10-watt LED is dimmable and gives off a max of 800 lumens, similar to most other LEDs. While the features stop there for other basic LEDs, it's just the beginning with the Philips Hue.
With the Hue's app, you can choose between 50,000 shades of white and 16 million colors. Dial in your perfect color and brightness for reading or working, then throw in some funky colors for your midnight party. You can also program the bulb to turn on in the morning or set timers for other times of the day. All of this you can control through the Hue app or voice activation (if you have a smart hub, more on this below).
Philips says the lights should last 15,000 hours, or about 14 years if used for 3 hours per day. Compared to other basic LEDs, that's pretty good – especially considering all the additional tech needed for these smart bulbs – but Philips only offers a two-year warranty for these lights, which is on the shorter end.
The only real issue with the Philips Hue is the cost of the bulb and all the secondary equipment you need for the LEDs to really do their magic.
For the same price you'd spend on a single Philips Hue Smart Bulb, you can buy 24 basic Sylvania LEDs (the set above) and have enough left over to go buy dinner tonight. On top of that, you'll need to buy a Philips Hue Bridge to connect up to 50 LEDs to the app. Lastly, if you want to use the voice activation, you'll also need a smart hub like Apple HomeKit, Google Assistant, or Alexa, so that's another hefty investment if you don't already have one.
Buying a Philips Hue light really only makes sense if you want to go all-in on smart LEDs throughout most of your home. If you're just getting started, take a look at the Philips Hue Starter Kit, which includes two smart LEDs and the Hue Bridge at a hefty discount. If you're looking for a budget smart LED, take a look at LUMIMAN's Smart Light Bulb below. If you're looking for the absolute smartest LED on the market though, the Philips Hue is it.
Learn More & Buy Now at Amazon
---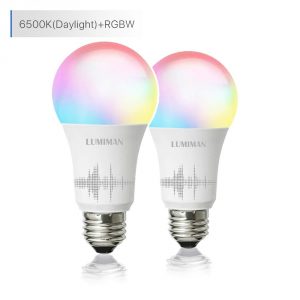 Best Budget Smart LED Light Bulb
Quick View: Almost as good as the Philips Hue Smart LED above, but at a fraction of the price.
Check Price at Amazon
The Philips Hue Smart Bulb above is certainly top of the line when it comes to LEDs, but it's expensive as well. If you want most of the benefits of a smart LED – voice control, a smartphone app, and myriad colors to choose from – all without that hefty price tag, check out LUMIMAN's Smart Light Bulb 2-Pack.
Each bulb in this two pack costs about ¼ of the price of the Philips Hue LED above. You'll also save even more cash since, unlike the Philips Hue, LUMIMAN's LEDs don't require a separate hub (Philips calls it a 'bridge').
Even without a hub, you're able to connect the LUMIMAN LEDs to WiFi and control them through LUMIMAN's smartphone app or via voice control with Alexa or Google Home. Just like the Philips Hue above, you can change the color, brightness, and hue (a sliding scale between warm white and skylight) and set timers.
As LUMIMAN is not a brand you hear every day, you might be concerned about quality. How do they make a bulb that's so similar to the premium Philips Hue, but at such a low price?
Both Philips and LUMIMAN offer two-year warranties for their smart LEDs. Both are equally bright, as each is rated at 800 lumens. Both enjoy great customer reviews, though Philip's reviews are generally a bit higher. Customers also report that LUMIMAN's quality is quite good, and their smart LEDs produce crisp colors.
Customers do report connectivity issues with the LUMIMAN app, but report that the SmartLIFE app (a secondary app that works with LUMIMAN lights) plays nicely with Alexa or Google Home.
The only real issue we see with the LUMIMAN lights is longevity. Philips says their smart LEDs last for 15,000 hours. LUMINMAN, however, has not released any details on hours of use, so we can likely assume it's not quite as good. But considering the low cost and great reviews, LUMIMAN's smart LEDs are an excellent option, making them our top choice for the budget-conscious buyer looking for smart LEDs.
Learn More & Buy Now at Amazon
---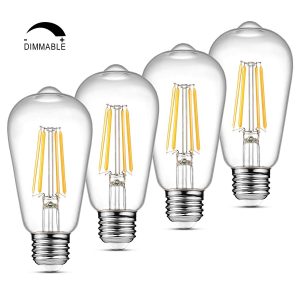 Best Decorative LED Light Bulbs
Quick View: Ascher's Vintage LED Edison bulbs offer classic looks updated with LED technology.
Check Price at Amazon
All of the LEDs we've looked at so far are meant to be tucked away in a light fixture. The light they provide can certainly be beautiful, but the light bulbs themselves are a bit drab. If you're looking for a decorative LED to bring a classy look to your space, Ascher's Dimmable Vintage LED Edison Bulbs have got you covered.
Ascher offers these 6-watt LEDs in two hues, Warm White (2700K) and Daylight (4000K), and each bulb puts out 700 lumens, a bit lower than most typical LEDs but more than enough to use as everyday lighting. These bulbs are also dimmable, so while 700 lumens is the brightest the lights can go, they can also dim to just 10% of their capacity to create a softer ambience.
If you're worried that all this beauty comes with a hefty price tag, don't be. Compared to the cost of conventional LEDs, these decorative lights fall right in the middle of the pack. Much cheaper than the Philip Hue Smart LEDs, and a buck or two more than Great Eagle's basic dimmable LEDs.
Unfortunately, Ascher offers the shortest warranty of any light on our list, at just 18 months. But even still, the company estimates the lights will last around 20,000 hours, so unless something goes wrong, you should get years of use out of them. The actual bulbs are glass, but Ascher claims the glass is smash and crash proof, so even if you drop them you should be good to go.
Customers overwhelmingly enjoy the lights, noting their strong brightness (again, these aren't ambient lights, they are 700-lumen workhorses) and classic styling.
Learn More & Buy Now at Amazon
---
What You Need to Know About LED Light bulbs
You could of course just buy a few LEDs on Amazon and hope for the best, but knowing a couple tricks could help ensure you get the best lights for you. For example, do you know what Kelvin rating to buy? Have you thought about smart LEDs with voice activation or remote control? Take a quick look below to learn everything you need to know before buying LED light bulbs.
Light Quality and Color
The lumen count, Kelvin rating, and Color Rendering Index (CRI) are important to note when looking at a light's color and illumination quality. Knowing the Kelvin rating in particular, allows you to know exactly what color the light will be.
Lumen Count: When incandescent bulbs were still queen of the lighting land, we all measured a light bulb's brightness by the wattage. However, as more-efficient LEDs quickly replace incandescents, wattage now doesn't necessarily equate to a specific brightness, as more efficient lights can be just as bright and use less electricity at the same time.
Instead, we now use lumens to measure the amount of light a light bulb emits. The higher the lumen count, the brighter your light will be. The typical home light bulb, like in the Sylvania 24-Pack, emits about 800 lumens. That number though can change drastically. The Hyperikon Fluorescent-style light tubes, for example, produce 2,300 lumens – enough to brighten up an entire room with just one light bulb.
Of course, a higher lumen count is always best. If you're looking for an LED for your night-time reading, you'll want something a bit softer. Dimmable LEDs give you the best of both worlds. Turning the light down gives you a low lumen count (usually about 7 lumens), but you can crank it up to full blast if you need a lot of light. Of course, your light fixture must be able to handle dimmable bulbs as well.
Kelvin Rating: While LED lights will typically note their hue with basic descriptions like 'Warm White', 'Daylight', or even 'Superbright', these simplistic descriptions can leave you wondering exactly what that means. Instead, take a look at the light's Kelvin rating, which denotes temperature (and therefore color) on a 0 – 10,000 scale. Here's where some typical items, including LEDs, fall on the scale:
1,900K: Candle
2,800K: Incandescent Light bulb
3,000K: Soft White LEDs
4,800K: Direct Sunlight
5,000K: Daylight LEDs
6,000K: Super Bright LEDs
10,000K: Blue Sky
Knowing LEDs' Kelvin rating helps you set the mood in your home. If you want it bright and cheery inside, go for an LED that's higher on the Kelvin scale. If you're looking for a relaxed atmosphere like incandescent bulbs provide, you'll likely be more interested in soft white LEDs around 3,000K. Knowing the Kelvin scale also makes replacing lightbulbs much easier, as you'll know exactly what Kelvin rating you need for all your light bulbs to match!
Smart LEDs, like the Philips Hue, allow you to choose and modify your Kelvin rating on the fly. Philips advertises the Hue as offering 16 million colors and 50,000 shades of white!
Color Rendering Index: Remember those times when you're in your bedroom and you can't tell whether that shirt is black or blue, so you go outside and it becomes embarrassingly obvious? Your eyes might be failing, but it could also be your light bulbs!
Some lights are able to render colors more clearly than others and the Color Rendering Index (CRI) is a measure of how well a light bulb can do that. The index is from 0 to 100, with 100 exactly how colors are rendered in bright, natural light. A rating of 80+ is considered pretty good, while 90+ is the crème-de-la-crème and "High CRI".
For most of us, a CRI of 80 should be good enough. The LEDs in the Sylvania 24-Pack above, for example, fall at 80 on the Color Rendering Index. Generally speaking, you really shouldn't worry about CRI when buying LEDs from a reputable company like Sylvania or Philips, but if you're looking at products from an obscure that only exist on Amazon, take a minute to find the CRI.
Smart Features
Manufacturers continue to add all manner of features to Smart LEDs both to make your life easier and entice you to buy a couple more bulbs.
Lights can come with smartphone apps to control the light bulb remotely. They can remember your settings for the future. Voice control and activation is becoming the norm, and some even have timers so they can dim when it's bedtime or turn on in the morning to help get you out of bed.
Be aware that some smart LEDs need additional equipment to function properly. The Philips Hue, for example, needs a smart hub to access all the features, as well as an Amazon Alexa or similar device for voice activation. Other smart LEDs, like the LUMIMAN lights, don't require a home smart hub and you can still control the lights, set timers, and change the color via the smartphone app.
Of course, if you're just looking for basic LEDs to light up your home and save you some money, there's still plenty of 'dumb' options to choose from. In fact, if you don't care about all the fancy features of a smart light, these dumb varieties light up your room just as well and are much cheaper.
Life Span
LEDs' greatest benefit over old-school incandescent bulbs, by far, is their much greater efficiency. An LED bulb designed to replace a 60-watt incandescent clocks in at just 8 watts. That's almost 90% more efficient, which means less electricity and more money in your pocket!
Most manufacturers estimate that LED bulbs generally last around 11,000 to 25,000 hours. At 3 hours of use each day, that's about 10 to 20 years of life! To put that into perspective, consider this: If you bought an LED and had a baby on the same day, you could watch your baby graduate high school before needing to replace your light bulb!
The Bottom Line on LED Light Bulbs
LEDs truly are the future of lighting. They're efficient, long-lasting, and cost-effective. On top of that, while LEDs once had a reputation for that bluish-white hue we all hate, today's LEDs come in all hues, colors, and levels of brightness, so you can pinpoint and find exactly what you want.
If you're looking for a simple replacement for your incandescent bulbs, the Sylvania 8.5W Soft White will get you going in no time. It's the Toyota Camry of the LED world – basic and functional. If you're looking for something fancy, try out the new generation of WiFi-enabled smart LEDs. No matter what your needs are, there's an LED light bulb out there for you.
Here once again are our top picks for the best LED light bulbs for 2021.
Compare the Top 4 Best LED Light Bulbs for 2021