There are many ways to increase the security of your home, but one of the simplest and most inexpensive ways is adding solar powered motion lights. Bright lights deter prowlers and make it harder for them to hide if they do decide to come onto your property. Motion lights can also make your yard safer for you and your loved ones because you will never have to worry about making your way up the front steps in the dark or accidentally tripping over misplaced items on the sidewalk or porch. If you would prefer a floodlight, be sure to check out our list of the best LED flood lights.
Solar power is an awesome choice for you and the environment. Not only are solar lights easy to install, but they are free to run, costing you nothing in electricity. Most solar motion lights can be set to turn on automatically, so once you install them you no longer have to think about them. Speaking of installation, solar lights are also easy to install, simply mount them and let the sun do the rest. There are tons of great brands and models out there to choose from, but here are a few of our favorite picks for solar security lights.
Top 5 Best Solar Motion Sensor Lights for 2021
Reviews of the Best Solar Motion Sensor Light
Quick Look: Super bright, single-unit design. This solar motion light is perfect for the front porch, garage door, or entryway.
Check Price at Amazon
You will have no trouble seeing your way when you have one of Litom's super bright LED solar lights. No matter where you install it, you are sure to light even the widest entryway or front porch. This angled solar motion light is designed to offer nearly 200 square feet of lighted area.
This is a single-unit design, so the light and solar panel are all in one convenient, easy to install unit. The passive infrared (PIR) sensor can detect motion from 33′ to 36′ away and has a 120° sensor range.
This model also offers three different lighting modes. You can have the light on all night, have it at half power until the motion detector turns the light on fully, or you can have the light off until motion is detected. This way you can have the light you need when you need it.
You will never have to worry about the weather when it comes to this light. It is IP65 water and dustproof as well as weather resistant. No matter what the weather is in your area, this model will keep your yard well-lit.
Learn More and Buy Now at Amazon
---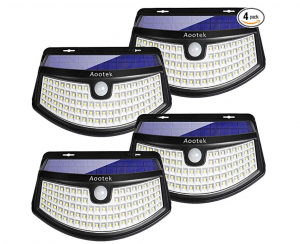 Quick Look: Wide-angle illumination, single-unit solar lights. Set of four lights for multi-area lighting.
Check Price at Amazon
If you are looking for a simple way to light up multiple areas of your yard, then check out this set of four solar lights from Aootek. Each unit has 94 LED lights, offering bright white illumination for any area of your yard.
These single-unit lights are simple to install and require no maintenance. They come with monocrystalline silicon solar panels, which are high efficiency and long-lasting. Their batteries offer 6 to 9 hours of continuous use, so no worries about premature shutoffs.
Weather and moisture are not a concern with this model since they are IP65. They are dust, water, heat, and frost resistant, so you can leave them out year-round. They offer three lighting modes, which gives you the ability to have them on all night or only when motion is detected.
The motion detector is a PIR sensor and can detect motion from up to 26 feet away in a 120° range, making these a great choice for the front walk or on the front of outbuildings.
Learn More and Buy Now at Amazon
---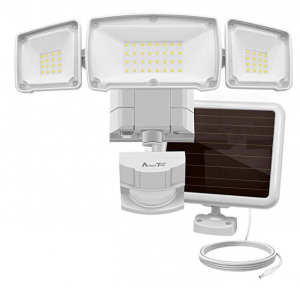 Quick Look: Ultra bright, three-headed solar light with a separate solar panel for charging. Super sensitive motion detector for wider motion detection.
Check Price at Amazon
Ameritop designed this light to provide everything you need in a quality floodlight with the added benefit of it being solar powered. This light has three heads that are each fully adjustable so you can direct the light where you need it the most.
This ultra-bright light offers 1,500lm of brightness, meaning that when this light comes on, everyone will know. The PIR sensor has three sensitivity settings, ranging from 20' to 49' so you can determine the range of detection. The sensor also has a 180° range, so not much is going to be able to get past this sensor.
Since this solar security light comes with a separate solar panel you will not have to worry about where you put your light. The solar panel connects to the light with a 15' cord, so you can easily place the panel on the roof and have the light mounted in a shadier area on the side of the house.
There are three timing settings on this model. You can choose for the light to stay on for 30, 60, or 120 seconds after motion is detected. As long as there is motion within the sensor's range, the light will remain on. This light is also ultra-durable, able to stand up to even extreme weather conditions.
Learn More and Buy Now at Amazon
---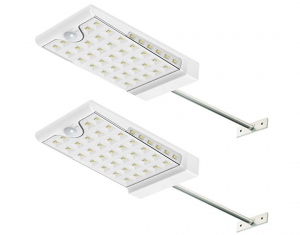 Quick Look: 4-mode panel lights, bright LED lighting in a classy design. Can be mounted directly on the wall or with mounting poles.
Check Price at Amazon
Want to add light and a touch of classy modern design to the exterior of your home? Then check out these Creative Design solar lights. Their unique panel design offers 34 LEDs on the panel and 6 LEDs on each side, resulting in multi-angle lighting. You can mount the panel directly to the wall or you can use the provided mounting poles to extend the lighting out over a stairwell or pathway.
Sometimes LED lighting can be a little harsh, especially in the dead of night, which is why these lights come with four lighting modes. You can have them on at ¼ power for soft lighting or ½ power for a little more light. If you want consistent dim light, but brighter light when motion is detected, there is an option for that as well. You can also set them to only come on when motion is detected, it is all up to you.
The motion sensor can detect movement from 15' away in a 120° range. The polycrystalline silicon solar panel produces enough power to keep these lights going for 7 to 9 hours. These lights are also IP65, so bad weather is no concern with these stylish lights.
Learn More and Buy Now at Amazon
---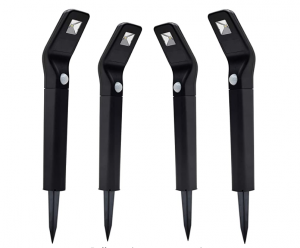 Quick Look: Unobtrusive pathway lights. Easy to install. Designed to withstand inclement weather. Perfect for lighting pathways and sidewalks.
Check Price at Amazon
These Morvat compact LED solar powered lights are perfect for those who want some illumination without having to light up the whole yard. With their simple modern design, these lights will brighten your pathways and add a classy detail to your exterior design.
Offering 60lm with each light, these pathway lights are twice as bright as many other models in this class. The motion sensors on these lights have a 120° range and can detect movement within 10' to 15'.
There are 3 light modes, so you can have the lights on all night, have them brighten when motion is detected, or you can set them to only come on when motion is detected. These are a great choice for those who just want to light a pathway or two. You can also use them in addition to other solar lights to illuminate areas that may be slightly out of reach for your larger lights.
The best thing about these lights is that they are ultra-simple to install. Simply take them out of the box, choose the lighting mode that you want, and insert the post into the ground. For more options, read our full review on the best solar path lights.
Learn More and Buy Now at Amazon
---
How We Chose The Best Solar Motion Lights
We chose these solar lights based on quality, versatility, and ease of use.
Quality
Quality is an important factor when making any purchase. When it comes to outdoor solar lights the best things to look for are durable, weather-resistant construction and longevity. Each of our picks are rated IP65 which means they are vacuum-sealed, completely dust resistant and resistant to low-pressure jets of water from any angle. These are very important features since these lights are meant to be mounted outside and should be able to withstand harsh winds and rain. With quality materials such as LED lights and lithium-ion batteries, you know these lights were meant to last.
Versatility
Everyone has different needs when it comes to outdoor lighting and what you need now may not be what you need later. With that in mind, we chose fixtures that have multiple light and motion sensor settings so that no matter which model you choose, you can adjust it to your current needs but always have the option to change it later.
Ease of Use
There is nothing better than finding a quality product that does exactly what you need it to and is simple to use. We chose a variety of different styles of lights, but each one is easy to install and operate. Once the installation is complete and you have selected your chosen light mode, your part in the process is complete.
What You Need to Know About Solar Motion Sensor Lights
Okay, now that you know about some of our picks and why we chose them, let's take a quick look at some of the things you should consider when choosing the perfect solar security lights for your home.
Fitting Your Space
The first thing you need to consider is the space that you want to light. This will determine the size, design, and number of lights required for your home. When determining the type of lights you need, first consider these elements: area size, access to sunlight, and mounting options.
Area Size
What size area do you need to light? If you only need to light a small space near a walkway or the front door, then a single-unit light will be plenty. If you need to light a large area or multiple areas, you may want to purchase a set of lights or a light fixture with adjustable heads.
Access to Sunlight
Now, this one may seem obvious but it bears mentioning, solar lights need sunlight. Most will only work properly if the solar panel is placed in direct sunlight without any shade from trees or other structures. If you want to put a light in a spot that does not have direct sunlight, do not despair. Simply choose a light that has a separate solar panel, this makes it possible for you to place the panel in a nearby sunny area while still having your light in the area that needs illumination.
Mounting Location
You will also want to consider where you want to attach the light. As you have seen from our product picks, these lights come in different shapes and sizes, so consider which will best fit your location. Options like mounting poles, adjustable heads, and 270° lighting give you the flexibility to match the model to the area you need to light.
Also, consider the material you will be mounting the light to. Most of these fixtures are mounted using screws or bolts. If you cannot attach the fixture to your home using screws, you may want to look for a model that clamps to the gutter or one that is mounted on a lawn stake.
Light Specifications
Now let's look at a few details about the lights themselves that will affect your decision.
Motion Detection Range
Consider how wide of an area you want the motion detector to cover. Do you want the light to come on if anything comes within 30 feet of your home or do you only need the light to come on when someone is coming up to the porch? You may think that the widest range is always the best choice, but if you live in a close rural area and your light is near a public sidewalk, you may not want your light coming on every time someone goes down the sidewalk. Simply consider your space and choose accordingly.
Light Options
This is the versatility we had in mind when choosing our favorite solar lights. Many security lights come with different settings depending on the manufacturer. Some stay on all night, some will stay dimly lit until motion is detected then come on fully, and others will only come on when motion is detected. All these options make it possible for you to choose the lights that will best fit your needs. Just remember that if you want a light that will stay on all night you will want to choose one with high-efficiency solar panel and a quality lithium-ion battery.
Solar Panels
Solar panels come in several different types and explaining each would take up too much of your time today. Thankfully, you do not need to be a solar panel expert to choose quality solar lights. What you should focus on when looking for the proper solar lights are charging time and battery life.
For those who live in sunny areas, charging time is not usually a big deal, since you should have plenty of sunlight to charge your light fixture. But, for those who live in cloudier areas, charging time can make a big difference. If your home does not usually get 8 hours of sunshine every day, you would want to choose lights with high-efficiency solar panels that only require a few hours of light to charge.
As far as battery life is concerned, this is really a point of preference. If you only need light for a few hours in the early evening, then you do not have to worry about investing in lights with long-lasting batteries. On the other hand, if you want security lights that will come on at any time of the night, look for lithium-ion batteries with a good capacity.
Bottom Line
It's hard to go wrong with any of our top solar motion sensor light picks, but we recommend the Litom Solar Powered Motion Light for their affordability, durability and performance. Compare all of your options before making a final decision, though, to make sure that you're choosing the right model for your circumstances.
Top 5 Best Solar Motion Sensor Lights for 2021