Do you have artistic ideas that you would love to see come to life, but lack the three-dimensional materials to create them? Then it is time to invest in a 3D printer. You can use your 3D printer to make your engineering and artistic dreams come true. The only trouble is finding the right model for you.
The process of choosing a 3D printer may seem intimidating, but not to worry! Whether you are new to the 3D printing scene or you are a pro who is looking to up their game, we have the knowledge you need to make an informed decision. Take a look at our picks for the best 3D printers of 2021 and see if one sounds right for you.
Top 3 Best 3D Printers of 2021
---
Reviews of the Best 3D Printers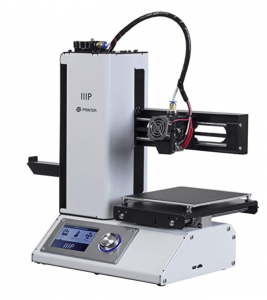 Quick Look: Heated build plate, supports multiple filaments. Comes pre-assembled. WIFI, micro SD, and USB compatible. Works with Mac and PC.
Check Price at Amazon
If you're just getting started with 3D printing and aren't sure if you want to invest a large amount of time and money, then check out the Monoprice Select Mini 3D Printer. This compact printer is perfect for desktop use, is compatible with multiple types of filaments, and is ready to print right out of the box.
It comes pre-assembled and pre-calibrated and has a preloaded model for you to print. This is a great printer for beginners because the initial setup and use are so simple, but it is also capable of performing more complex prints as you build your skills.
You can use WIFI, micro SD, or USB to upload your designs. This printer is compatible with PC and Mac and works well with programs like Cura and Repetier. The sturdy design and heated build plate help your designs to remain stationary during printing for smoother prints.
Learn More and Buy Now at Amazon
---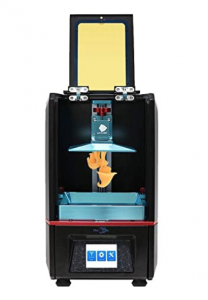 Quick Look: Metal frame with CNC-machined parts. Prints with resin and can print multiple objects at once. Comes partially pre-assembled. Comes with lifetime technical support.
Check Price at Amazon
Sometimes your intricate designs may not come out as detailed as you would like on a traditional FDM 3D printer. If you want to print truly intricate designs, such as those found on jewelry or figurines, then you may want to look into an SLA printer like the ANYCUBIC Photon UV LCD 3D Printer. This printer uses resin to recreate your designs with exquisite detail.
The Photon comes pre-assembled and requires very little set-up. Simply unpack it and level the build platform and you're ready to get started. The sturdy metal frame and CNC-machined parts make this a sturdy printer that will last you for years to come. It also comes with lifetime technical support, so if you ever need help, ANYCUBIC will be there to assist you.
One of the great benefits of this printer is that it can print multiple pieces of a similar size in the same amount of time it takes to print one, greatly decreasing printing time. This printer is the perfect choice for gamers who want to create miniature tabletop figurines.
Learn More and Buy Now at Amazon
---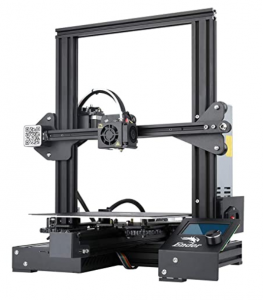 Quick Look: Large build plate, DIY construction, and easy leveling. Works with multiple filaments. Fast-heating build plate with removable magnetic cover.
Check Price at Amazon
One thing that tech-savvy 3D printing enthusiasts love is that you can build your own 3D printer or add upgrades to your existing printer. If that sounds like something you would enjoy but you're not quite sure, then check out the Creality Endor 3 Pro. This model comes unassembled, giving you the chance to build it yourself. The assembly process only takes a few minutes, but still provides the satisfaction of building it yourself.
This printer comes with a large build plate, 8.7" x 8.7" x 9.8", giving you the space you need for those bigger prints. The plate is also fast-heating which helps to keep your prints stabilized, even during long prints. This printer is compatible with multiple types of filaments, broadening your creative capabilities.
Power outages are always inconvenient, but they are particularly inconvenient when you are in the middle of a long print. Thankfully, your Endor 3 Pro has you covered. With print resume, your print will start right back up where it left off, even after an unexpected interruption in power.
Learn More and Buy Now at Amazon
---
How We Chose The Best 3D Printers
There isn't one printer that will work for everyone, so in our search for the best 3D printers, we looked for a wide variety of printers that had a few quality features in common.
Versatility
When it comes to creativity, everyone expresses themselves in different ways. That is why we looked for a wide variety of versatile printers to ensure that there was something for everyone. One of the great things about 3D printing is that if you have the right printer, you can use that printer to create multiple types of prints in a variety of materials. That is why we looked for printers that were compatible with multiple materials. Having the option to use different types of materials gives you the chance to experiment and find the material that works best for you and your projects.
Quality Materials
Purchasing a 3D printer is an investment even if you choose one on the lower end of the price scale. That is why we looked for printers that were built out of quality materials that would last through years of use. Elements like metal frames and CNC machined parts not only help your printer to last longer, but they also help to stabilize the printer, resulting in higher quality prints.
Ease of Use
We're not going to sugarcoat things, 3D printing, especially on a professional level, can be complicated. There's a lot of experimenting and practice involved in becoming truly proficient, but that doesn't mean it has to be a struggle. We looked for models that offered easy set-up and simple software for beginners but also had options for advanced users. Choosing a simple printer to start with gives you the chance to learn the basics before advancing your skills.
What You Need To Know About 3D Printers
Some of the main elements that you should read up on before purchasing a 3D printer are printing materials, print sizing, and software options.
Printing Material
As you begin researching 3D printers you will instantly become aware of the fact that there are a lot of acronyms involved in this hobby and there is a good reason for that. Most 3D printers use melted plastic materials to build 3D models. There are many different types of plastics and they all have very long chemical names that are simply tiring to say. To shorten things up we use acronyms like PLA, PETG, and ABS, just to name a few. There are a lot of materials available for 3D printing, certainly more than we can list here. Here is a quick rundown of the most common filaments used in fused deposition modeling (FDM) printers.
ABS
ABS stands for acrylonitrile butadiene styrene. This is a popular 3D printing material because it is strong and heat-resistant. It requires higher heat to work with, so you will need a heated build plate. On the downside, it can emit harmful fumes when melted, so you should take precautions when using this material.
PLA
PLA stands for polylactic acid. This is a vegetable-based plastic made from cornstarch, maize, and/or sugarcane. It is widely available and can be found in lots of colors. It is the most natural filament that you can use and does not give off any toxic fumes. The downside with PLA is that it will eventually start to break down, especially under pressure.
PETG
PETG stands for polyethylene terephthalate glycol-modified. This is a somewhat newer filament that combines the ease of PLA and the strength qualities of ABS. It comes in lots of colors and has great layer adhesion. The downside with this material is that it can become sticky, causing uneven prints.
There are many other printing materials that you can use in FDM printers such as nylon and even some metals. The best material for you depends on what you want to create, but if you are just starting out, PLA is a great material to try first because it is comparatively inexpensive and easy to work with.
Expert Tip Regarding Printing Materials
Not all filaments are created equal. Once you start buying filaments you will notice that there are huge price differences between brands for similar materials. Be sure to research brands and try a few different ones before settling on your preferred material.
Print Size
This one might seem a little obvious, but it is important to consider the size of the prints you want to create. Having a large build plate means that you can print bigger projects, but having a small build plate does not mean that you can only print small projects. Many 3D printers have build plates that are less than 6" x 6", so many 3D print designers have modified their designs to be printed in smaller pieces that can then be fitted together. If you have a large build plate you can often print more than one piece per printing session which will save you time in the long run. The best choice depends on what you want to create and how much time you are willing to spend on it.
Software
This is the most complicated part of 3D printing. For your printer to be able to produce a 3D model of your design, that design must first go through what is called slicing software. Basically, this is a program that divides your design into layers, or slices, that are then printed layer by layer to create the finished piece. There are several great programs available and the only way to know which one is best for you is to try them. There are many free tutorials available that you can check out to see if the software looks like something you could use, but working with it is the best way to know for sure. That is why it is a good idea to choose a printer that is compatible with multiple programs so that you can experiment and find the one that best fits your style.
How to Choose The Best 3D Printer for You
Now that you know all about the main elements of 3D printing, it is time to get down to the business of finding the best 3D printer for you.
Your Budget
The best place to start is setting a budget. 3D printers can range in price from $200 to $3000 for home models. With such a wide price range, it is good to set your budget from the very beginning. Do not be intimidated, the most expensive ones are not necessarily the best 3D printers, they just have different options. Once you know what you are looking for, you can find a quality 3D printer within your price range. Setting a reasonable budget simply helps to narrow your search.
Your Creations
Now that you know how much you want to spend, it is time to decide what type of 3D printer you need. This will be based on the type of designs you want to create. The majority of the printers we have discussed are FDM printers that print with plastic filaments. These are the most common and probably what you imagine when you think of 3D printers. FDM printers are great for printing functional pieces. There are also stereolithographic (SLA) printers, like the Photon from ANYCUBIC. These printers use a different process to build 3D models out of resin. SLA printers are a good choice for those who want to create small intricately detailed designs such as miniature gaming figurines.
Versatility
The final step is to determine the amount of versatility you need in your 3D printer. Since most people are probably not planning on printing the same thing over and over forever, it is a good idea to look for a printer with a bit of versatility. Models that are compatible with multiple programs and a variety of materials will give you room to grow and improve your designs as you gain experience. Some models are designed to be upgradable so you can add or change parts as your creative needs change. Do not cut yourself short by choosing a model that is too simplistic. Make sure you give yourself room to grow as you become more experienced with 3D printing.
Bottom Line
3D printers can open up a world of opportunity when it comes to creativity and ingenuity. These printers give you the chance to bring your designs to life through incredible 3D models. These printers come in all different styles with lots of options to choose from so getting started can be a challenge.
Compare all of your options before making a final decision, though, to make sure that you're choosing the right model for your circumstances.
Top 3 Best 3D Printers of 2021