Dash cameras are small digital cameras that you attach to the inside of your windshield or the rear window of your car. These cameras run continuously while you're driving, recording everything that happens while you're on the road. Many people choose to have dash cams for security purposes. The footage you record could prove your innocence in the event of an accident or catch a thief who tries to break into your car. Other people use their dash cams to record interesting things that they run across in everyday life or film scenery on road trips.
Whether you want a dash camera for security, entertainment, or both, it is important to choose the right one and we are here to help you with that decision. We've done some research and compiled a list of our favorites as well as all the information you will need to choose the best dash cam for you.
Top 5 Best Dash Cams of 2021
---
Reviews of the Best Dash Cams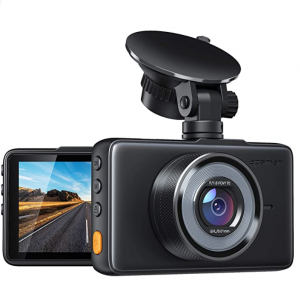 Quick Look: 1080p FHD with 170° recording angle. 3" LCD touchscreen. Comes with loop recording, motion detection, and G-sensor. Super night vision with WDR. Suction cup mount. Compatible with 64GB Micro SD card, card not included.
Check Price at Amazon
If you're looking for a straightforward dash cam that has all the features you need at a reasonable price, then you can't do much better than the APEMAN Dash Cam. This camera has high video quality as well as all the necessary features such as loop recording, G-sensor locking, and motion detection.
With 1080p FHD resolution and super night vision with WDR, this camera will capture clear video no matter the lighting. It has a wide viewing range, 170°, so you won't miss a thing. Speaking of that, this camera also uses loop recording, meaning that you won't have to worry about running out of recording space.
This camera is simple to install with a suction cup mount, which easily attaches to your windshield. The power cord plugs right into the cigarette lighter and has a built-in USB port, so you can still charge your phone while your camera is plugged in. You can also purchase a separate hardwire kit to connect your camera directly to your car's battery.
Learn More and Buy Now at Amazon
---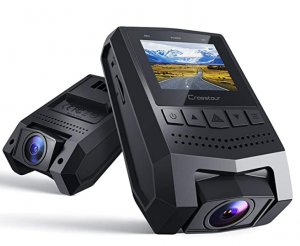 Quick Look: 1080p FHD with 170° recording angle. 1.5" LCD screen. Comes with loop recording, G-sensor, and parking monitoring option. Compatible with 32GB Micro SD card, card not included.
Check Price at Amazon
Want to try out a dash camera, but don't want to break the bank? Then check out the Crosstour Dash Cam. With its small discreet design and easy installation, this is the perfect choice for beginners or anyone who is looking for a compact dash cam.
This camera offers 1080p Full High Definition resolution for crisp clear recordings. It also has an adjustable lens with a 170° view, allowing you to record a wide range of views. The 1.5" LCD screen makes setting adjustments a breeze. It also comes with a screen saver that will darken the screen, to avoid any distractions while driving.
You can install this dash cam either with the included AC adapter or purchase a hardwire kit to connect it directly to your car's battery. If you choose to hardwire it, you can take advantage of the camera's built-in parking monitoring. This feature causes the camera to come on and record for a short period if your car is bumped or jostled.
Learn More and Buy Now at Amazon
---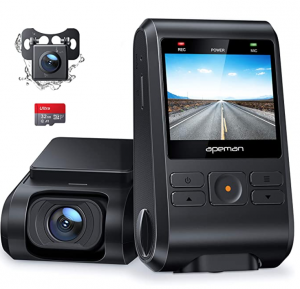 Quick Look: 1080p FHD front camera with 170° recording angle, 720p rear camera. Comes with loop recording, G-sensor, and GPS option. Night vision with WDR. Comes with 32GB Micro SD card.
Check Price at Amazon
Sometimes recording from one angle isn't enough, in which case it is time for the APEMAN Front and Rear Dash Cam. This set comes with a 1080p camera for the windshield and a 720p camera for the rear. The rear camera is waterproof and can be installed inside the rear window or on the outside of your car above the license plate.
These cameras use high resolution with WDR night vision to record quality video both day and night. This model comes with a 32GB Micro SD card, giving you plenty of room to record hours of video. And, since this camera uses loop recording, you never have to wonder if your camera is still recording.
With the G-sensor accident recording lock, you can rest assured that your important videos are locked and will not be recorded over. As soon as the sensor registers an impact, the video just before, during, and after the impact is locked and cannot be recorded over.
Learn More and Buy Now at Amazon
---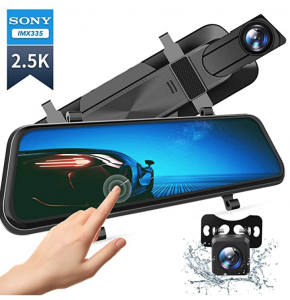 Quick Look: 2.5K resolution with 160° recording view in front and 140° rearview. Comes with loop recording, G-sensor, and parking monitor. Anti-glare 10" touchscreen. Compatible with 128GB Micro SD card, card not included.
Check Price at Amazon
The VanTop Rearview Mirror Dash Cam turns your rearview mirror into a 10" touchscreen that allows you to easily check out the view from both your front and rear cameras in 2.5K crystal clear resolution.
Not only will you be about to record what is going on behind your car, but you can also use the rear camera the way you would a traditional backup camera. This allows you to safely back out of the driveway or back into tight parking spots using parking assistance.
One of the best features on this camera is the enhanced night vision with Sony's Starvis Sensor. This allows the camera to capture clear video, even in extremely low lighting. Another great feature on this model is that the front camera is attached directly to the screen that attaches to your rearview mirror. This means that it is easy to install and will not interfere with your line of sight while driving.
Learn More and Buy Now at Amazon
---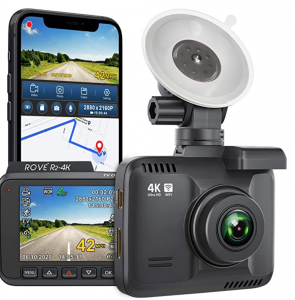 Quick Look: 2160p UHD with 150° recording angle. 2.4" LCD screen. WDR night vision. Built-in WIFI and GPS. Voice guidance. Compatible with 128GB SD card, card not included.
Check Price at Amazon
The Rove R2-4K Dash Cam allows you to record everything that goes on outside your windshield in stunning 4K resolution. Whether night or day, you can rely on this camera to capture every detail. Using motion detection and parking monitoring, it will even capture important footage when you're not around.
This model comes with built-in WIFI which allows you to connect your smartphone to the camera and view, download, or share videos at any time. It also has built-in GPS to track your driving including the routes you take and when you were there.
This dash cam is simple to install and even easier to use. You can view video and control settings on the 2.4" LCD screen or control it from your smartphone. It also uses voice guidance to help you with set-up and alert you if the camera is experiencing any interruptions in operation.
Learn More and Buy Now at Amazon
---
How We Chose The Best Dash Cams
Finding the best dash cams among the hundreds of great options was a challenge. To narrow our search we focused on high video quality, useful features, and ease of use.
Video Quality
The sole purpose of having a dash camera is to capture quality video while you drive. With that in mind, we focused on cameras that had 1080p FHD resolution or higher. We also looked for features like super night vision and WDR to ensure that our picks would be able to record quality video both night and day.
Useful Features
Nobody wants to spend money on useless features, so we looked for dash cams that had truly helpful features instead of extraneous extras. Features like accident video lock, G-sensors, and super night vision are all things that will truly enhance your dash cam experience.
Ease of Use
Electronics can be complicated, but they don't have to be. All the picks on our list offer easy installation and operation. Some models have more features and are somewhat more complicated, but they all offer basic functions that anyone can use.
What You Need To Know About Dash Cams
As you begin to research dash cams, you will find that there are a lot of acronyms and terms that you may not be familiar with. Here are some explanations for those terms as well as descriptions of some of the main features you should look for in a quality dash camera.
Video and Recording
Each camera has unique specifications that you should look at before making your choice, but these are some of the most common video and recording specs that you will run into.
Resolution: The resolution on a digital video is measured in pixels, the more pixels there are, the clearer the picture. A camera that records in 1080p will offer a clearer picture than one that records in 720p.
Angles: This one is pretty obvious, but it bears mentioning, the higher the recording angle, the wider your recorded view will be. For example, a camera with a 170° recording angle will capture a wider picture than one that only has a 150° angle.
WDR: WDR stands for Wide Dynamic Range. A camera with WDR is capable of recording clear video even in situations where there are widely contrasting amounts of light. For example, if you were driving down a dark street and the oncoming car has their brights on, a camera with WDR would be able to compensate for the bright light and decrease the amount of glare in the recording.
Loop Recording: This feature is less about the actual recording and more about how the recordings are stored. Loop recording means that when your SD card is full, your camera will "loop" around and start recording over your oldest recordings. The only way you will ever run out of recording space is if you have too many locked files saved on the SD card, in which case you will have to reformat the card or insert a new one.
Extra Features
Other dash cam features that you may find helpful include G-sensors, parking monitoring, WIFI, and GPS.
G-Sensor: G-sensors can be found in many electronics such as smartphones and cars. This sensor is used to measure acceleration and sudden changes in direction. This is a particularly helpful feature on a dash cam because when the G-sensor is triggered by an impact, the camera will automatically lock the current video file. This means that if you are in an accident, the video footage just before and during the impact is protected from being recorded over when your camera begins recording over old footage.
Parking Monitoring and Motion Detection: Parking monitoring and motion detection monitor your vehicle when you're not around. If someone bumps or tries to break into your car, parking monitoring uses the G-sensor to detect any sudden impacts or jostling. When the sensor is triggered, the camera will turn on and record for a set amount of time, giving you the chance to see the culprit. Motion detection works similarly, but only requires motion within the camera's range to activate the camera. These features require hardwiring your dash cam into your car's battery so that the camera can run when the ignition is turned off.
WIFI: The name of this feature is somewhat deceiving because it is more like a Bluetooth connection than a WIFI connection. Built-in WIFI on your dash-cam allows you to connect your smartphone to your dash cam to view, download, and share videos. You can also use the manufacturer's app to control the settings on your camera. This is a particularly helpful feature if you have experienced an accident and want to show the police a video of what occurred.
GPS: Built-in GPS allows your dash cam to record your exact whereabouts at any given time. This is a useful feature if you want to keep track of your driving routes and times.
Mounting Options
There are three main ways to mount a dash camera, suction cup mounts, sticky tape mounts, or attaching it to the rearview mirror. Although each method works, there are benefits and drawbacks to each style.
Suction Cup: Suction cup mounts are a great option for those who want to be able to use their dash cam in multiple vehicles. The suction cup can be removed and reattached whenever you like. These mounts usually allow you to turn your camera as well, meaning that you can film out your side windows as well as the windshield. The downside to suction cup mounts is that they tend to hang down into the driver's line of sight and they can be distracting. Another drawback is that these mounts can be a bit shaky, making your recordings less steady.
Sticky Tape: Sticky tape mounts stick tight to your windshield, offering steadier filming and less view obstruction. These cameras are also more discreet. The downside is that they cannot easily be moved from vehicle to vehicle and they do not allow you to turn the camera.
Mirror Mounts: Rearview mirror dash cameras attach directly to your rearview mirror, usually covering your mirror entirely. These cameras are fairly stable and discreet as well as easy to move from vehicle to vehicle. The only downside to these mounts is that they sometimes come loose, causing the camera to shake.
How to Choose The Best Dash Cam For You
Now that you know all the right acronyms and terms to properly decipher the product descriptions and you know what kind of resolution to look for (the higher the pixels, the better the clarity), it is time to choose the best dash cam for you.
Style
As you may have noticed, there are a few different styles of dash cams to choose from. Here are a few questions you can ask yourself to figure out which style is best for you.
Do you want to record just the front view or both the front and the back?
Do you want to be able to use it in more than one vehicle?
Do you want a discreet unit or would a more obvious unit be acceptable?
Would a camera hanging in your line of sight be too much of a distraction for you?
The answers to these questions will help you determine the right style for you which will narrow your search significantly.
Features
Now that you know the video resolution and the style you want, it is time to sort through the extra features and determine which ones would be the most useful for you. Do not think that you have to spend a lot of money to get the features you want. There are many quality dash cams within a reasonable price range, so do not limit yourself. Choose a camera that has all the features you want from the get-go, otherwise, you may end up having to buy another one in the near future.
SD Cards
Now that you have found the best dash cam for you, there is one final step to take to ensure that you get the most out of it and that is buying a high-quality SD card. You may have noticed that most of our picks do not come with a memory card, you have to provide one. A cheap SD card could fail, meaning that you do not get the recordings you need. Be sure to choose a Class 10 Micro SD card that can handle higher recording speeds. Models such as the Samsung Pro Endurance or the Sundisk High Endurance are both good options.
Bottom Line
Whether you want your dash cam for security reasons or just to make YouTube videos, you want to invest in a quality camera that is going to last. Like most electronics, dash cams come in all different styles and types, making it difficult to choose between them.
It's hard to go wrong with any of our top dash cam options, but we recommend APEMAN Dash Cam for its features and video quality. Compare all of your options before making a final decision, though, to make sure that you're choosing the right model for your circumstances.
Top 5 Best Dash Cams of 2021