For many years, enjoying your deck outdoors either meant sitting in darkness or turning on a blinding floodlight that ruined the ambience. But with the increasing popularity of solar lighting, there's now another alternative.
There are dozens of excellent solar deck lights on the market, but we recommend these top five below because of their durability, brightness and stylish design that blends in with virtually any decor.
We arrived at this decision by comparing dozens of solar deck lights based on their durability, illumination, design and lifespan. We also read hundreds of customer reviews to get a sense for how well these solar lights lived up to their marketing hype. In the end, five stood out from the rest.
Check out our top 5 picks for the best solar deck lights for 2021 below and read on for full reviews and tips on how to get the most out of your solar deck lights.
Top 5 Best Solar Deck Lights for 2021
Learn more about our top picks to find the best solar deck lights for you below.
Solar Deck Light Reviews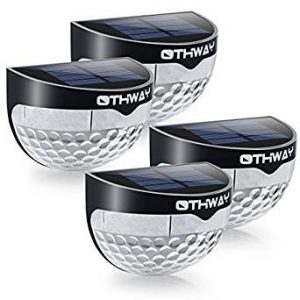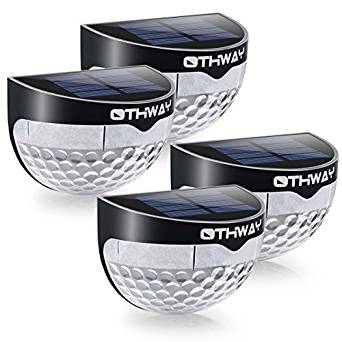 Best Solar Deck Light Overall
Quick Look: Compact, versatile and bright, these lights are the ideal choice for completely illuminating your deck or patio.
Check Price at Amazon
The OTHWAY Solar Fence Post Lights are compact quarter-globe-shaped lights that easily adhere to deck posts and walls. While the manufacturer doesn't offer specific details about the lumens these lights produce, users often comment on how bright the lights are and what a large area they can illuminate. Each light has a built-in day/night sensor that automatically turns the light on when the surrounding area grows dim and back off when it begins to brighten. The exact runtime of the light depends on its position and how long it receives direct sunlight each day, but it's capable of running for hours at a time.
The lights are available in black or white and in packs of two or four. Each light has a decorative honeycomb pattern on the lampshade to dress up the space and lithium ion batteries with a two-year lifespan that help power the lamps.
Though they're made of plastic, users haven't reported any issues with the lights breaking down or chipping over time. Even when left outside through the winter, most report that the lights keep working as well as they did when they were brand new. If you do run into any issues with your light, OTHWAY offers a 60-day money-back guarantee and a 12-month guarantee so you can get your lights replaced if they stop working.
Learn More & Buy Now at Amazon
---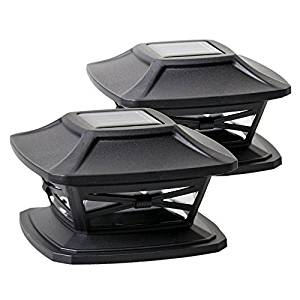 Best Solar Deck Post Light
Quick Look: Davinci's solar post lights brighten up your deck and add a touch of sophistication.
Check Price at Amazon
Davinci Lighting's Solar Post Lights are designed to rest atop your deck posts to add a decorative touch as well as some much-needed illumination. They affix to any 4- or 6-inch square deck post or any other flat surface. Each light is IP44 weatherproof, so it should be able to stand up to most types of severe weather without issue. The light itself is made from industrial-grade plastic and tempered glass, and it's available in black or white. Each package includes two solar post lights.
The manufacturer claims that a full day's charge will give you eight hours of illumination at night, which should be plenty for most people. The lights automatically turn on when they sense the surrounding area growing dim and each has a 100,000-hour battery life.
The lights are relatively easy to install and they blend in well with most existing decor. They're a great option for stairs and large decks and porches with several posts, but if your deck railing is mostly smooth, you may be better off going with one of the other solar deck lights listed here.
Learn More & Buy Now at Amazon
---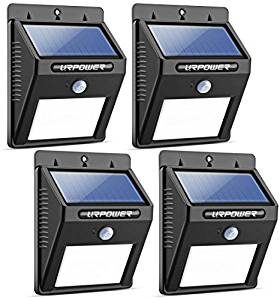 Best Motion Activated Solar Deck Light
Quick Look: These motion-activated deck lights are small, bright and extremely durable.
Check Price at Amazon
The URPOWER Waterproof Solar Light are a versatile option you can affix to the wall of your home so it can shine down onto your deck or attack to the deck rails for light all around. The lights come in a pack of four and are IP64 waterproof and heatproof so they can withstand all types of extreme weather. Each light has a 50,000-hour lifespan, which means it'll last about five years for most people. This is longer than many comparable solar deck lights.
It's a great choice if you want a motion-activated light to illuminate the area when you or a guest are out on the deck. It can sense any motion within 10 feet of it and it has a 120-degree sensing angle so it can sense you even when you're not directly in front of it.
Users are impressed by how much light these solar deck lights put out given their small size and report that they turn on and off as advertised and without lag. The few customers who did report issues with these lights noted that the company was quick to respond and replace the defective items.
Learn More & Buy Now at Amazon
---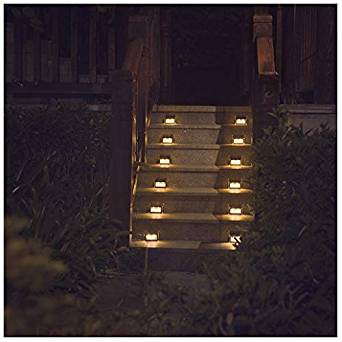 Best Solar Deck Stair Lights
Quick Look: The XLUX Solar Lights add a warm glow to your deck stairs without being too overbearing.
Check Price at Amazon
The XLUX Solar Lights are made of stainless steel and have a sleek, low-profile design that enables them to illuminate your deck staircase without posing a tripping hazard. You can also attach them to a fence post or deck railing if you prefer. Despite its slightly industrial appearance, the XLUX Solar Lights deliver a surprisingly warm white light. There is also a white light option for those who want a brighter white light, but most users prefer the warmer light option. You can purchase the lights in packs of two or six.
Customers have said that the lights were pretty easy to install and that they hold up well in severe weather. They aren't as bright as some solar deck lights, but most users agree that they provide just enough light to be useful without being so bright as to irritate neighbors.
As with any solar light, you'll get best results when your XLUX Solar Lights are in direct sunlight for most of the day, but these lights tend to perform well even on cloudy days and they automatically turn on and off when they sense the light in the surrounding environment changing.
Learn More & Buy Now at Amazon
---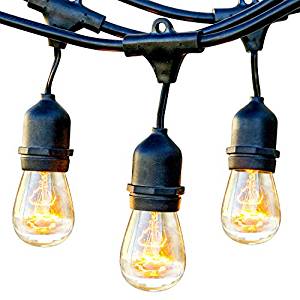 Best Solar Deck String Lights
Quick Look: These solar string lights are expandable, elegant and built to last.
Check Price at Amazon
If your deck is partially covered or if you have a pergola, the Brightech Ambience Pro Waterproof Outdoor String Lights can brighten up your deck from above. Each strand is 48 feet long and contains 15 solar bulbs spaced 3 feet apart. You can connect up to eight strands together for larger decks. While you can't adjust the settings on the bulb itself, you can attach the string light to a dimmer switch so you can control its brightness.
The Brightech string lights are waterproof and surprisingly durable. The manufacturer claims they can withstand up to 50 mile-per-hour winds and remain up through harsh winters without breaking. Customers back this up with many commenting on the strength of the cord and the quality of the lights' construction. On the off chance you do run into issues, the company offers a three-year warranty on the strand and a three-month warranty on the bulbs.
Each light contains an Edison bulb for that vintage look and delivers a warm, soft light, unlike the harsh white lights that are all too common with solar bulbs. If style is a primary concern for you when choosing a solar deck light, you can't do much better than the Brightech Ambience Pro String Lights.
Learn More & Buy Now at Amazon
---
How We Chose the Best Solar Deck Lights
When selecting the best solar deck lights, we focused on four main features: durability, illumination, lifespan and settings.
Durability
Since solar deck lights are usually left outdoors, they need to be able to stand up to all the elements, including heavy rains and strong winds. The best solar deck lights are waterproof to prevent rain from short-circuiting the electrical components and heat-resistant to ensure excessive heat won't damage the light.
You also need to consider the materials the solar deck light is made of. Most are either metal or plastic. Metal lights tend to hold up the best while some flimsy plastic lights may break easily if you accidentally bump into them. If you choose a plastic light, be sure it's made from a heavy-duty plastic that holds up well over time.
Illumination
There are two aspects you need to focus on when deciding on the right solar light for your deck. First is the brightness of the light itself. This is usually given in lumens. String deck lights usually produce fewer lumens per bulb, but you have to multiply this by the number of lights in the strand to compare it to singular deck lights.
You also need to consider the range the solar deck light can illuminate. The manufacturer may indicate how many feet it can cover or give the angle of illumination so you have a sense of how far the light will reach. If you have a large area to cover, you'll need more lights than someone with a smaller deck. String deck lights can provide a great range, but when widely dispersed, they may not provide as much illumination per square foot as when they're closer together.
Lifespan
Solar lights use lithium ion batteries to store the electricity they generate until it's needed, but these batteries usually only last a couple of years before they need replacing. These batteries are often not included in solar deck light warranties, so you'll have to pay for a new one if yours breaks. You can check if this is the case for your light by reading through its warranty, if it has one.
You also should check into how long the solar deck can run for at one time. This isn't an issue for motion-activated lights, but if you plan to leave the light on overnight, you want a light that can last for hours after a full charge.
Settings
Some solar deck lights include multiple brightness settings to give you greater control over the ambience. Choosing a lower setting may help your solar lights last for longer. If you don't want your light on all the time, consider a motion-activated light that turns on when someone walks past it.
Tips for Buying the Best Solar Deck Lights for Your Needs
Before you purchase your solar deck light, here are a few things to keep in mind.
Understand why you're purchasing a solar deck light.
If you want to enjoy your deck or porch in the evenings, you're going to need a different solar deck light than someone who just wants a motion light to notify them when someone approaches. Think about why you want a solar light and let that guide your decision.
It may be possible that several types of solar deck lights may suit your needs equally well. In that case, think about which type you prefer and which blends in the best with your home and your existing decor.
Place the lights where they will get the most sun.
When choosing a solar deck light, there's a delicate balance between placing the light where it's most needed and where it will get the most sun. If the solar light doesn't get enough sun, it may not provide the illumination you'd hoped for or it may only last for an hour or two. But the light also won't be very useful to you if you have to place it far away from the deck in order to get it in full sun.
Think about where you'd like to place the solar lights on your deck and then pay attention to the way the sun's rays move across your deck throughout the day. You may have to come up with a different configuration or choose a different type of solar light if you don't believe the lights would get enough sun where you wanted to put them.
Figure out how many lights you'll need.
If you want fewer lights around your deck, you'll need to choose ones that are bright and cover a wide area. You may also want to consider placing them up higher, if you can, because many solar lights have the solar panel on the top with the light beneath it pointing downward. If you place your solar lights too low, they may not provide as much as light as you'd hoped.
The manufacturer may provide information about how large of an area its solar lights can cover or you can estimate this based on other customer reviews. Most solar deck lights come in packages, so you may have to purchase more than you need, but it's not a bad idea to have some extras on hand in case one of yours breaks.
If you're unsure which solar light is right for you, start with one of the seven listed above. All are durable, stylish and favorably reviewed by customers, so at least one of them should appeal to you.
Compare The Best Solar Deck Lights for 2021