Whether for your home, shed, cabin, RV, or camper, solar panel kits are an easy, cost-effective way to go solar, especially if it's your first time entering the world of solar power. A solar power kit is a perfect way for anyone to set up their initial home solar system. Although each kit is different, they typically come with nearly all of the main elements that you will need to start using free solar power today. The only trouble is deciding what kit to purchase. 
Since solar power is more popular now than ever before, there are hundreds of options to choose from. To help make your foray into solar a little easier, we have put together a list of quality solar kits for you to look over. Let's get started with a quick list of all of our top picks for the best solar panel kits for 2021.
Best Solar Panel Kits for 2021
Learn more about each of our top picks for the best solar panel kits in our in-depth reviews below.
Solar Panel Kit Reviews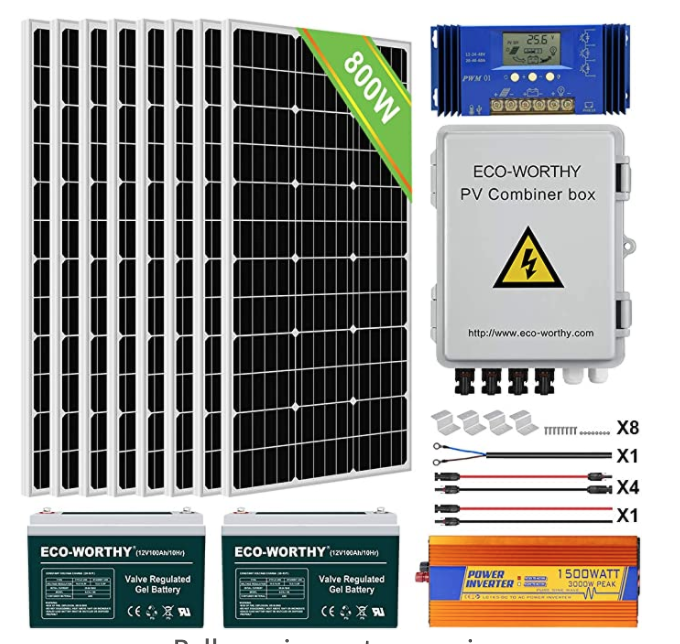 Quick Look: Comes with eight 100W monocrystalline solar panels, 60A LCD charge controller, 1500W inverter, combiner box, two 100Ah batteries, wiring, and mounting brackets.
Check Price at Amazon
Switching your home to solar may seem a bit intimidating, but with this kit from ECO-Worthy, you can rest assured that you have all the materials you need to get the job done right. This kit comes with solar panels, a combiner box, a charge controller, and an inverter, plus wiring and brackets for simple installation.
This kit comes with eight 100W monocrystalline panels. Each panel comes with 2.9' of solar cable and is pre-drilled for easy installation. The included 4-string combiner box will help to streamline the installation process. The panels themselves have aluminum frames and are rust and weather-resistant.
The 60A charge controller has an easy to read LCD display and works with flooded, gel, and lithium batteries. This kit comes with two 100Ah valve regulated gel batteries to store all the power your new solar panels can produce. The 1500W/24V inverter is perfect for converting your solar power to usable AC for all your electricity needs.
Learn More and Buy Now at Amazon
---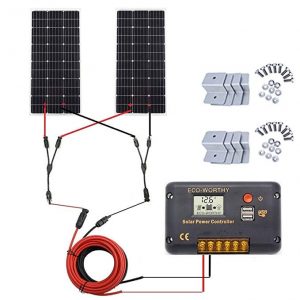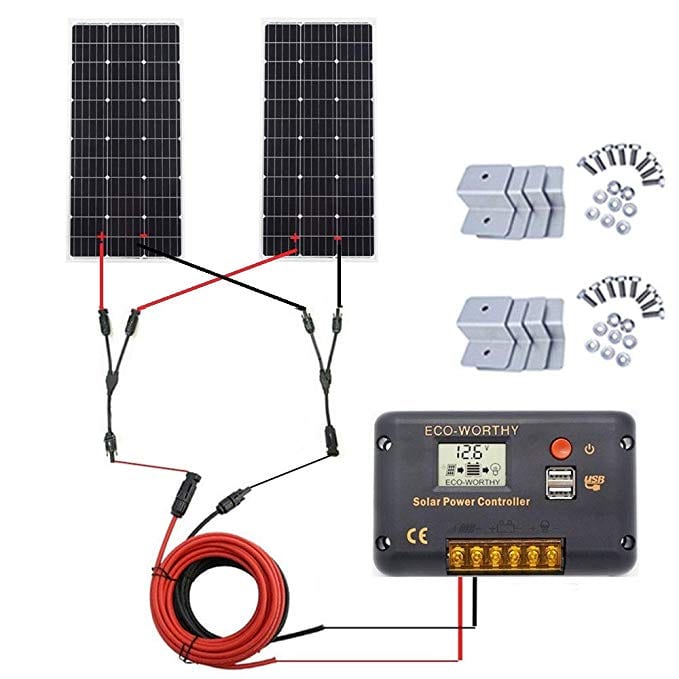 Quick Look: Efficient, monocrystalline solar panels in a simple, cost-effective kit.
Check Price at Amazon
Eco-Worthy's 200W solar panel kit is the perfect option for someone looking for a simple, cost-competitive solar kit for a small to medium-sized RV. The kit includes two monocrystalline solar panels, a 20 amp charge controller, mounting hardware, wiring to connect the solar panels to the controller, and two adapters to combine the two panels into a single wire.
Two hundred watts probably isn't enough if you've got a larger RV or your energy use is high, but for smaller rigs, it'll do just fine. If you do want to go up in size, the 20 amp controller can handle a total of 300W in 12-volt mode, so you can add additional panels down the road.
Unlike the cheapest controllers, this one has an LCD screen to tell you your system's voltage, battery charge, and energy production status, as well as two USB ports to charge your smartphone or iPad without an inverter, a thoughtful feature that could come in handy in a pinch.
You'll need to buy a battery and inverter, as well as the additional wiring. Since the controller is a PWM controller, you're limited to lead-acid batteries, as PWM controllers can't handle lithium-ion. Still, at the kit's low cost it's not a bad deal.
Unfortunately, there aren't enough reviews of the kit to be helpful, but what's there is good and Eco-Worthy's other products are well-reviewed, so we don't think there's anything to really worry about.
The only issue any reviewer mentioned is that the kit doesn't include instructions, though they did say that installation was quite easy. It's certainly an annoyance, but in our minds, not a deal-breaker at this price.
Bottom Line: Eco-Worthy's 200 W Solar Panel Kit is a great deal for small RVs. For the same price, you could buy two solar panels individually, you're also getting mounting hardware, wiring, adapters, and a charge controller.

It's a simple kit that should be very easy to install in your RV, especially if you've already got an inverter and battery in place – just make sure that the battery is lead-acid, not lithium-ion!
Learn More & Buy Now at Amazon
---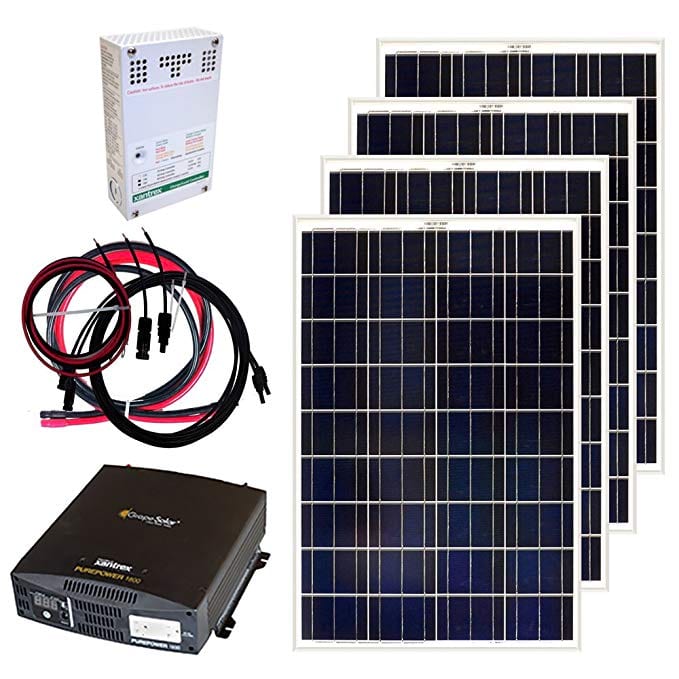 Quick Look: A quality mid-sized system with a pure sine wave inverter and excellent customer service.
Check Price at Amazon
Grape Solar's 400 watt Solar Panel Kit is the perfect solution for a shed or small cabin. It comes with four 100W panels, an 1800 watt pure sine wave inverter, a 35 amp charge controller, and the wires to connect the solar panels to the charger and the controller to the battery. The only thing you need to bring is a 12V battery and the mounting hardware.

The 35 amp charger controller is large enough to safely add one more 100W panel, for a grand total of 500W. However, like the other controllers above, it's a PWM controller, not an MPPT, so you can't add a lithium battery, only lead-acid. However, PWM controllers are cheaper, so there's certainly a balance of performance and cost going on.

The included inverter is also a good piece of equipment. At 1800W, the inverter that comes with the kit is large enough to charge all your gadgets at the same time. It's also powerful enough for a blender or hairdryer, but possibly not at the same time.

The inverter includes two 3-prong outlets and a USB outlet. It's also a pure sine wave inverter which means it can power more sensitive electronics like some CPAP machines, power tools, and some laptops.

Grape Solar makes quality solar components and this kit is no exception. Many buyers are using it for their off-grid cabins and tiny homes with reliable results. Customer service is stellar, with friendly staff that is actually knowledgeable on the finer points of their technology.

Bottom Line: If you've got a shed or a small cabin that only needs around 400W of solar power, Grape Solar's kit is the perfect solution. It's low-priced with quality components. Just don't forget to buy the battery and mounting hardware.
Learn More & Buy Now at Amazon
---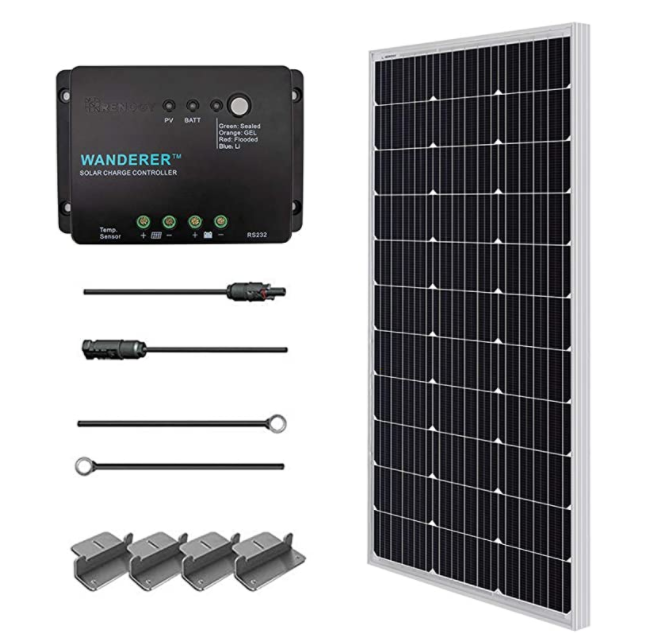 Quick Look: Comes with one 100W monocrystalline solar panel, 30A controller, wiring, and mounting brackets.
Check Price at Amazon
Converting your whole home to solar can be challenging and expensive, but you don't have to switch everything to solar all at once. You can start small and then add more solar panels as you can. If that sounds like something that would work for you, then check out this solar power kit from Renogy.
Renogy is a pretty well-known name in the solar power world. They make all kinds of solar kits including this one which comes with one 100W monocrystalline solar panel and a 30A controller. It also comes with all the wiring and mounting brackets you need to get started.
The panel comes with corrosion and weather-resistant aluminum frame, perfect for roof installation. The controller is designed to handle up to 400W, making it perfect for expansion down the road.
Learn More and Buy Now at Amazon
---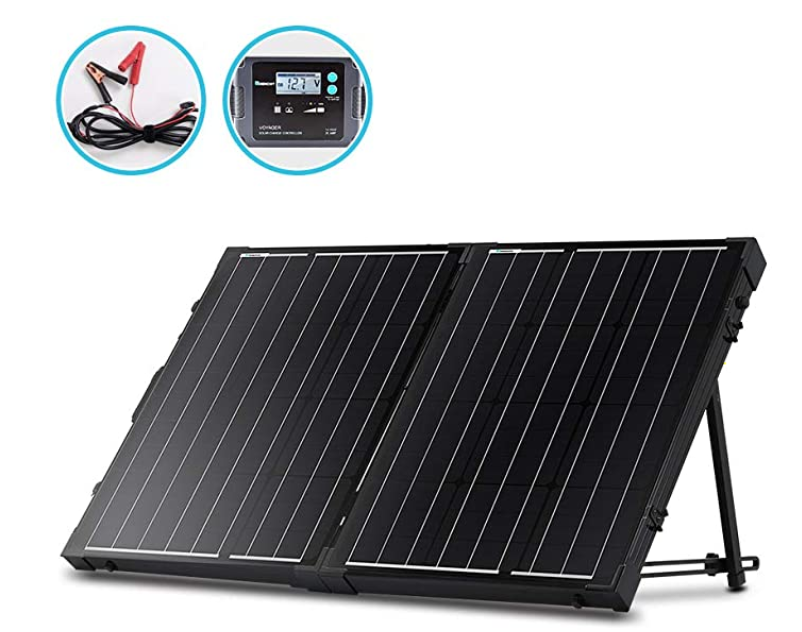 Quick Look: 100w Foldable Monocrystalline Solar Panel. Comes with 20A PWM charge controller. Compatible with seven different types of battery. Durable and portable.
Check Price at Amazon
One of the best things about these 100W solar kits is that many of them are very portable, like this model from Renogy. This panel is foldable and comes with a convenient carrying case so you can have solar power on the go.
Not only is the case convenient, but it's durable too, just like the rest of this solar kit. The panel itself is waterproof and the frame is made out of corrosion-resistant aluminum, making this a great choice for your boat, RV, cabin, or caravan.
The included PWM charge controller comes with an easy to read LCD screen and is designed to protect your solar battery from overcharging, short-circuiting, or back charging. This system is compatible with seven different types of batteries including lithium, flooded, and gel batteries.
Learn More and Buy Now at Amazon
---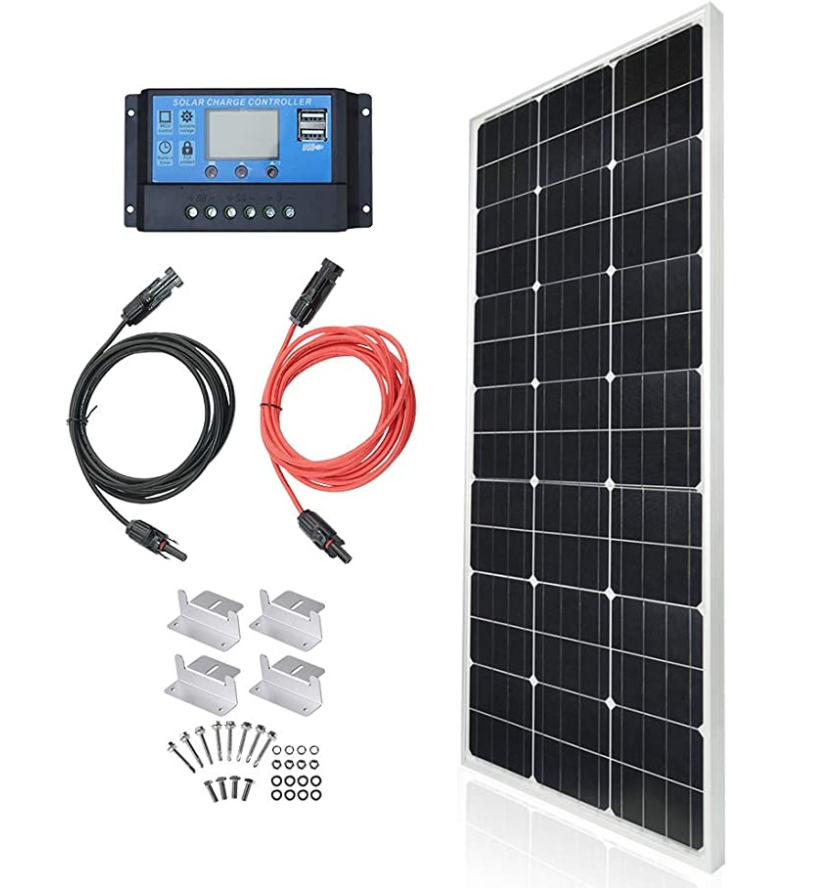 Quick Look: 100W monocrystalline solar panel. Durable design. Compatible with multiple battery types. Comes with 20A charge controller, 16 feet of solar cable, and mounting brackets.
Check Price at Amazon
If you're ready to try solar, but need to stay within a tight budget, check out this kit from TP-Solar. This kit comes with a solar panel, charge controller, and 16' of solar cable. Just add a battery and you can start using free solar energy right away.
The included PWM charge controller is capable of handling up to 20A of power. It can process up to 400W on a 12V system or 800W on a 24V system. This means that you can easily add more solar panels later on as your budget allows.
This panel's sturdy and durable design makes it a good choice for extended outdoor use. It is waterproof as well as wind and snow-resistant. It also comes with a pre-drilled frame and four Z mounting brackets for easy installation.
Learn More and Buy Now at Amazon
---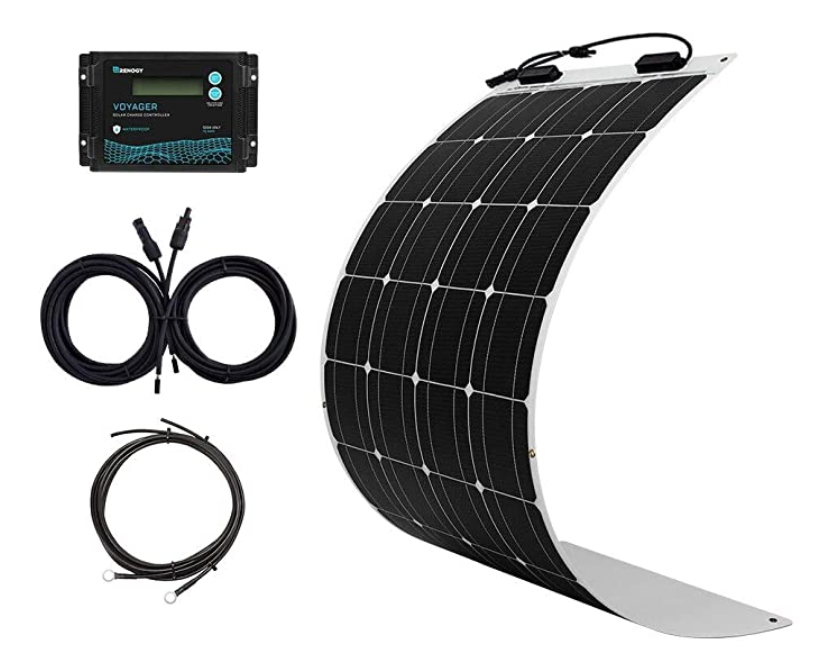 Quick Look: 100W Thin-film flexible solar panel. Flexible up to 248 degrees. Comes with 10A PWM charge controller and necessary wiring.
Check Price at Amazon
For those situations where a large rigid solar panel won't do, here is a more flexible option from Renogy. This solar panel can flex up to 248 degrees, making it a great choice for nontraditional mounting, such as placement on the front of your boat or on the curved roof of a small camper or RV.
To help you get the most out of this flexible panel, it comes with a 10V PWM charge controller and all the wiring needed to quickly connect it to your battery bank. The controller comes with the built-in battery protection you need to ensure that your batteries do not short-circuit or overcharge.
This panel also has built-in bypass diodes which help your panel to continue functioning in low-light conditions such as cloudy days or when placed in shady areas. The panel and the controller are also waterproof, offering even more mounting versatility.
Learn More and Buy Now at Amazon
---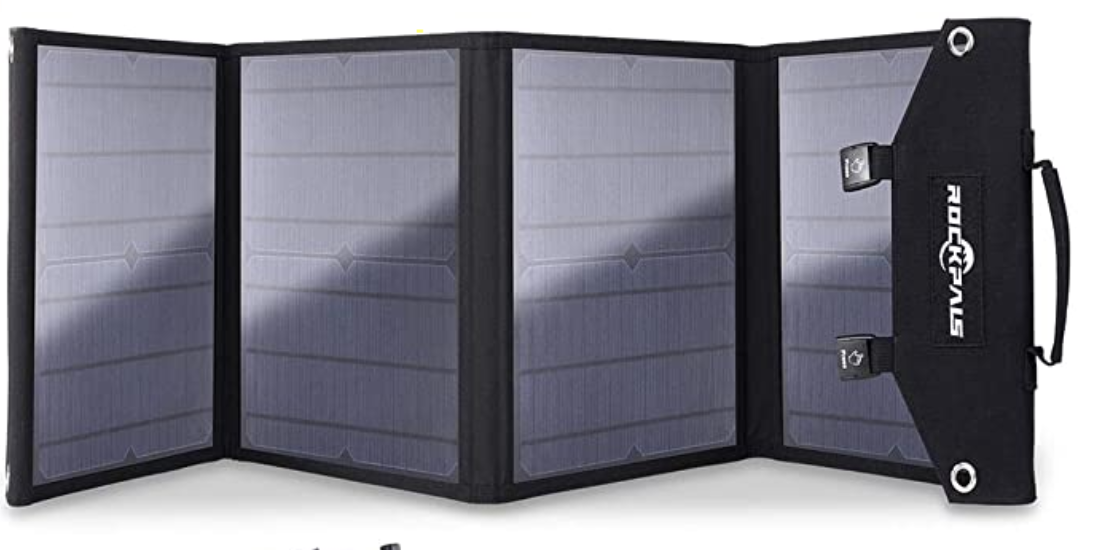 Quick Look: 100W Foldable monocrystalline solar panel. Lightweight and ultra-portable. Comes with 10 adaptors for charging solar generators or power stations.
Check Price at Amazon
Solar power can be a camper's best friend! Not only is it free, but you can access it from anywhere. Because of this, many avid campers like using solar battery banks or power stations to keep their campsite powered up. If this sounds ideal for your situation, then we have the perfect 100W solar kit for you.
This foldable solar panel from Rockpal comes with ten different adaptors, specifically for charging solar generators. It also has three built-in smart USB ports for 5V charging, meaning you can charge your phone or tablet directly from the solar panel without having to worry about overcharging.
This panel is lightweight, only 5lb, and folds up to be the size of a thin briefcase. It is waterproof and weather-resistant as well as very durable. It also comes with built-in heavy-duty grommets so you can easily hang it on your tent or camper.
Learn More and Buy Now at Amazon
---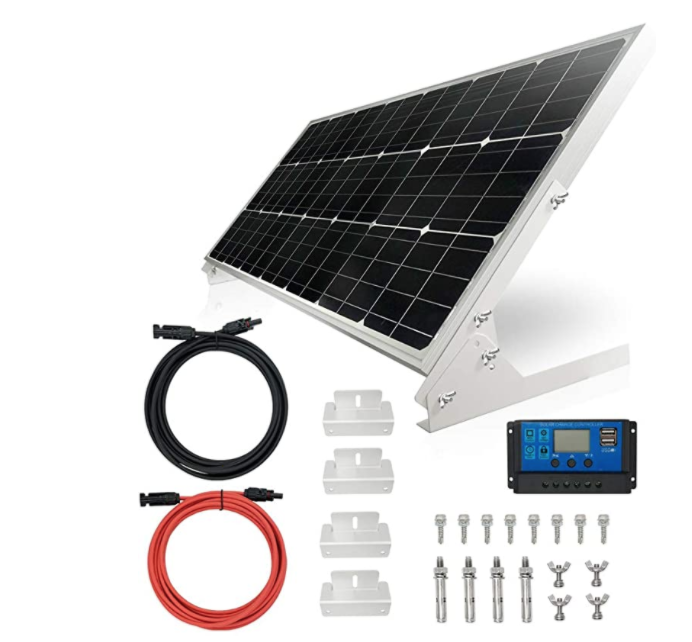 Quick Look: 100W monocrystalline solar panel. Durable and weather-resistant. Comes with 20V PWM charge controller, solar cables, and mounting brackets.
Check Price at Amazon
Solar power is also great for those who like to spend a lot of time traveling in their RV, but don't like wasting time looking for a campsite with a power hookup. If you want your RV to be grid-free, then take a look at this solar panel kit from TP-Solar.
This kit comes with a highly-durable solar panel that is specifically designed with multiple mounting options, perfect for RV installation. Another benefit to this panel is that it is lightweight, only 15lb, meaning that you won't have to hire a bodybuilder to help you get it on to the roof of your RV or caravan.
The included PWM charge controller is capable of handling 20V of power. It comes with an easy to read LCD display that shows your battery's stats including charge level, temperature, voltage, and more. This controller has built-in protection against battery discharge, overcharging, and reverse polarity. This kit is also compatible with expansion, making it easy to add more panels later on.
Learn More and Buy Now at Amazon
How We Chose The Best Solar Power Kits
When it comes to choosing a solar power kit for home use, the choice can be a bit daunting. There are many to choose from and they all seem about the same, but there are a few things that we looked for that set these kits apart.
Quality Materials
One of the most important things that we looked for in our picks was high-quality materials and construction. These kits are not cheap, so it is important to make sure that you are choosing one that is going to last. We looked for features like weatherproofing, corrosion resistance, and sturdy aluminum frames to ensure that no matter which kit you choose, you'll be getting a quality product that is built to last.
Accessories Included
There is nothing more frustrating than starting a project and finding that you don't have all of the materials you need. We looked for a variety of kits that would fit different situations, but still include all the basic requirements to get the job done. Having accessories like combiner boxes, solar cables, and mounting brackets included in your solar power kit helps to make your installation process that much easier.
Ease of Use
This ties in with the previous section, since having all the accessories included makes installation so much easier, but that's not the only thing that makes these kits user-friendly. Installing a solar power kit for home use can be tricky, so it is important that as a beginner you do a lot of research and choose a starter kit that comes with easy to follow instructions and simple set-up. We're not going to tell you that this isn't a time-consuming project, but at least with these high-quality kits, you can save some time and frustration by following their straightforward installation instructions.
What You Need To Know About Solar Power Kits
Just in case you are new to solar power, here is a little information that you should know before you purchase your solar power kit.
Optimum Function
One of the most important things that you should know about solar panels is that their power output is always advertised as the absolute most power that they can generate in optimum conditions. This means that most of the time your solar panels will not be producing the full amount of power that they are designed to produce. Many solar experts recommend purchasing enough solar panels to produce at least 25% more power than you think you need to make up for this. This is especially important if you want to use solar as your main power source.
The Battery Battle
There are three main types of deep cycle batteries used for solar battery banks: lead-acid, seawater, and lithium-ion.
Lead-Acid batteries are often used in vehicles because they are capable of providing the powerful energy surges required to turn over an engine. These batteries are reliable, but often very heavy and can be damaged if their charge is allowed to go below 50%.
Seawater batteries use an electrochemical process involving seawater to generate power. These batteries are long-lasting, non-toxic, and most are fully recyclable. These batteries are the safest option, but they are also one of the most expensive at this time.
Lithium-Ion batteries are by far the most popular type of battery used for solar power storage. They are lightweight, safer than lead-acid batteries, and much less expensive than seawater. These batteries have a long lifespan and many can be fully depleted without damaging the battery.
Different batteries work better for different situations, so we can't say which battery will be best for you. You should consult a solar expert in your area who can give you a recommendation according to your needs.
Combiners, Controllers, and Inverters
You may have noticed that all of the kits on our list come with at least one of these things, if not all of them. Combiners, Controllers, and Inverters are all very important items to have when setting up your solar power system.
Combiners are boxes used to connect or "combine" the energy output from your strings of solar panels. That is why you will see 4-string and 6-string combiner boxes, it means that those boxes can combine four or six strings of panels, respectively.
Charge Controllers are used to regulate the charge coming out of your solar panels. Because the weather can be unpredictable at times, solar panels do not charge at a consistent rate. This can lead to overheating and overcharging batteries which is very dangerous. A quality charge controller will eliminate those dangers. There are many different types of controllers that are designed to handle different amounts of power. Be sure to research the size you need before making your purchase or adding more solar panels on to an existing controller.
Inverters convert the DC power coming out of your solar batteries into AC power so that it can safely be used to power your home appliances. This conversion is very important! Never try to run an AC product on DC power. At best it will cause a short, at worst it could cause a fire or an explosion. Always ensure that you have an inverter powerful enough for the amount of power you're trying to convert.
What Do Solar Panel Kits Include?
All solar panel kits come with, at the very least:
Solar panels, to create the electricity.
Charge controller (for off-grid systems), which goes between the solar panels and battery, to protect the battery from over and undercharging.
Wiring, to connect the solar panels to the charge controller.
Some also include:
Mounting hardware to connect solar panels to the roof.
Wiring to go from the charge controller to the battery and from the battery to the inverter.
Fuses to protect all the wiring.
Inverter, to convert the battery's DC electricity to AC electricity for all our gadgets and appliances.
Take a look at the kits you're interested in to see what's included. If it doesn't include any of the above, you'll have to buy them separately, which isn't a huge deal, since multiple options for each piece of equipment above can easily be found on Amazon.
If you're looking to install an off-grid solar installation, you'll have to buy a battery separately, as none of the kits above comes with one.
To help you with your installation, your kit usually includes a manual that describes the installation process as well as what equipment you'll need to complete your installation and even recommendations on battery type and size.
Off-Grid vs Grid-Connected Kits
Almost all solar panel kits are designed for off-grid use. In other words, the kit will never connect to the utility infrastructure – it's completely independent. Good examples of off-grid installations include solar in RVs and camper vans, backyard sheds (if not connected to the home's electricity), and off-grid mountain cabins.

Choosing between an off-grid and grid-connected system is usually pretty easy, as your situation dictates your needs. If you're wanting to add solar to your grid-connected home, you'll need a solar panel kit designed for grid use. If you're adding solar to your RV or far-away mountain cabin, you'll want a solar panel kit designed for off-grid use.
Are Solar Panel Kits Easy To Install?
All of the small solar power kits that we reviewed above are simple and easy to install. Information abounds about installation practices, sizing your system and battery, and safety concerns.

With a little research and a few hand tools, anyone can safely and competently install these small solar kits. If you're worried about whether you have the skills or ability to install the kit yourself, there are many solar professionals out there who would be happy to help you.

As you go up in size, say 1,000W or more, solar installations become more complicated. Not just in the wiring and electrical components, but also in the physical installation.

How do you safely attach a few hundred pounds of solar panels and equipment to your roof? What about sealing the lag bolts from water leaks? Is ice damming a bigger issue with solar panels? You need to be able to answer all these questions and a hundred more when installing solar on your home.

If your home is grid-tied, like most homes in the US, you've got even more questions to answer. Does your utility allow self-installed solar installations to connect to the grid? Spoiler: Many do not. Can you provide your local building department the necessary electrical diagrams and structural information? What size electrical conduit do you need to run the wires from your roof to the inverter?

Even after all this, most jurisdictions only allow licensed electricians to actually work in your electrical panel, so you'll have to hire an electrician to connect your installation to your home's panel.
For most of us 'regular' people, it doesn't make sense to install a large solar installation ourselves. We lack the knowledge and skills to install an entire solar installation safely. Small kits are one thing, but if you want a large, grid-tied solar system on your roof, it's probably better to simply hire an installer.
Can I Save Money By Installing The Kit Myself?
Installing any equipment yourself usually allows you to enjoy a lower overall cost. Most of the kits above cost about $1.50 to $2 per watt. Hiring a solar company to install a solar system costs about $3 per watt, so you could save 33% to 50% by installing it yourself.

If you're looking to install solar on your detached shed or garage, installing your own solar panel kit has the potential to save you quite a bit of money, as running electrical lines from your house to a separate structure isn't cheap. Instead, you can simply install solar yourself and keep much of that cash in your pocket.

The only time that installing a solar kit yourself may not be the best choice is when you're looking to install a large grid-connected solar system. As you now know, these kits can become quite involved and usually require professional installation.
How To Get The Most Out of Your Solar Kit
Thankfully, modern solar kits are pretty self-sufficient. If you buy a quality kit, the system should be nearly maintenance-free, but there are a few things you can do to ensure that you get the most out of your kit.

The most important thing you can do is keep your solar panels clean and free of debris. Solar panels can only work if sunlight can get through the glass front panel and the more sunlight the better. Dust, dirt, leaves, and other obstructions can keep your solar panel from performing at its best.

How often you should clean your panels depends on where you live. If you live in a desert area with a lot of dust, you may have to clean the panels as much as once a week. In other areas, once a month may be enough. The important thing is to check them periodically.

Never use anything abrasive to clean the panels because it could scratch the glass, making it cloudy and hard for light to get through. Use a soft cloth and gentle cleaner to ensure that you don't damage the panels.

Another way to ensure that you're getting the most out of your panels is to check the power output periodically. Most charge controllers will have a digital display that allows you to view your panels' output in real-time. If you check this often, you'll know what to expect and whether or not your system is working correctly. The sooner you notice a discrepancy, the sooner you can address the issue.

Most solar panels come with long warranties, between 10 and 25 years, so you shouldn't have to worry about much, but it's always good to know that things are working as they should.
How to Choose The Best Solar Power Kit For You
Now that you know all about the wide variety of items required to set up a solar power kit for home use, let's talk a little bit about how you can choose the best kit for you.
Set Your Budget
Switching to solar power can help you save a lot of money, but the initial cost can be hefty. Setting a budget from the beginning can save you from frustration later on. Going solar isn't just about buying solar panels, there are multiple elements involved. Purchasing a starter kit can certainly save you money and help you stick to your budget, but remember that there will likely be at least a couple of things you'll have to buy separately. Fortunately, most solar power systems are compatible with expansion, so you can add on later when your budget allows.
The Power You Need
As I mentioned, you can always increase later if you want to, but it is a good idea to know what your power goals will be from the start. If you're not sure how much electricity you use, you can simply look at your electric bills from the last 12 months or call your electric company. Once you know how much you use on average, you can begin to calculate how many solar panels you would need to power your home.
Thankfully, you won't have to do all the math yourself. There are many handy solar calculators online that you can use for some quick estimates. If you do choose to do the math yourself, remember to add that extra 25% to your solar panel requirements to make up for less than perfect weather conditions.
Taking The Plunge
Once you have your budget and an idea of how much power you want to generate, it's time to pick a kit. Do not hesitate to call in a professional if you're nervous about your choice. Anytime you're dealing with electricity, it is better to be safe than sorry.
If you're a serious DIYer and are comfortable installing a kit yourself, the choice of kit should now be very simple. You can go as small or as large as you want, just remember to choose a kit that is compatible with expansion if you plan on adding more panels in the future.
Bottom Line
We hope you've found our mini-guide to solar panel kits helpful! We've covered a lot of information here, so let's look back at our top picks for solar panel kits one last time:

Like we mentioned before, small solar panel kits are great for RVs and sheds, but if you want to run your entire home on the sun's energy, hiring an installer is still the best option. Costs are falling each year, and by hiring an installer, you have the knowledge that your system is installed safely and lawfully. Check out some of the best solar panels and best solar installation companies if you want to get a full-sized solar system for your house.

Of course, not all installers offer great service, so do your research and get estimates from a few different companies to compare costs and customer experience. Estimates are always free and the best companies aren't pushy at all. The financial savings of installing solar typically sells itself, and the best installers know that no pushy sales tactics are required.

Until you're ready to go full-on solar, solar panel kits are an easy way to get your RV or cabin running on clean, renewable energy, so get on it!

We hope you've found our guide to solar panel kits helpful! Here's one last look at our picks:
Compare the Best Solar Panel Kits for 2021