Technology is improving all the time. It seems like every day there is a new and exciting smart device or product hitting the market. All of these devices are designed to make our lives safer or simpler. One smart device that can do both of those things is a smart lock. Smart locks provide the security of a deadbolt with the ease of keyless entry to make your home safer and your life easier.
Our team also reviewed the best solar powered security cameras if you are looking for additional home security options.
When you hear keyless entry, you may only think of the numbered keypads and complicated keycodes, but modern smart locks offer so much more convenience and security. Many models can be connected via Bluetooth or WiFi so you can unlock your door hands-free while others have biometric scanning so all you need is your thumb. Some even offer programming options so that you can set your door to lock or unlock at certain times. If any of these options sound appealing to you, then check out our list of the best smart locks of 2021. We have also put together some useful information to help you choose the best smart locks for your home.
Top 5 Best Smart Locks of 2021
---
Reviews of the Best Smart Locks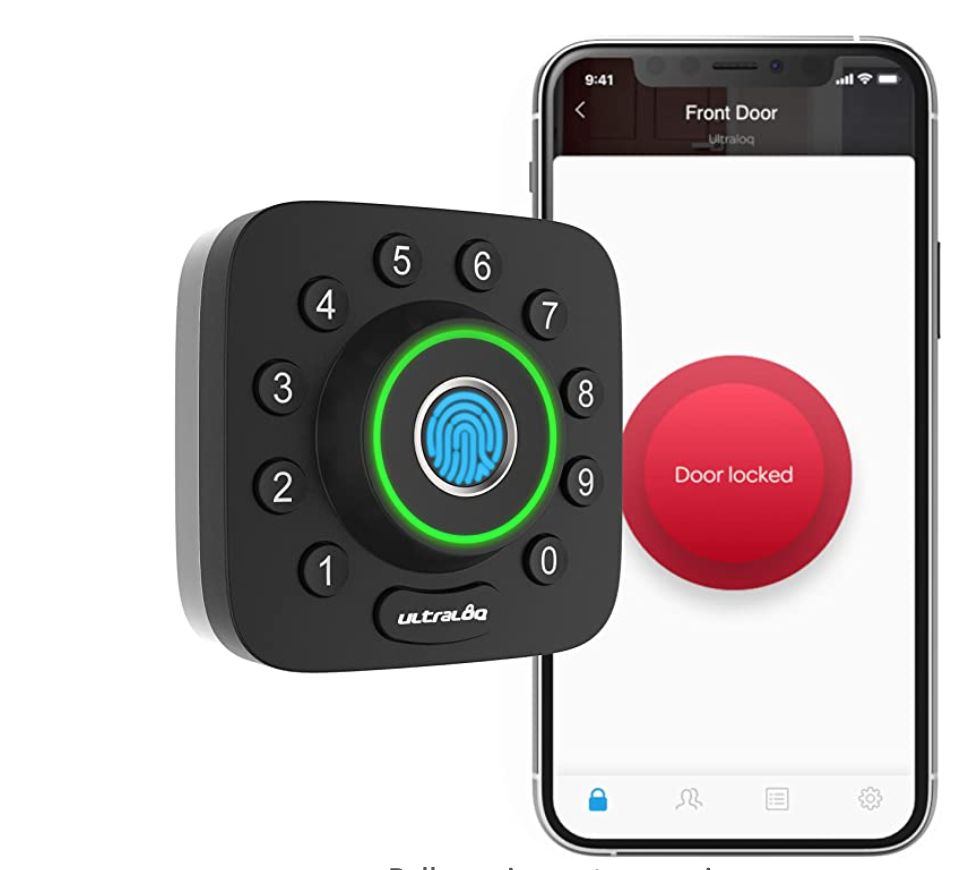 Quick Look: 6-in-1 smart design with biometric, smartphone, automatic, anti-peep keypad, shake to open, and mechanical key entry. Dual Data Encryption for high security. Easy DIY installation.
Check Price at Amazon
The U-Bolt Pro from ULTRALOQ is the perfect example of what a smart lock should be. It is super simple to install and offers six different entry options, meaning that you'll never be locked out of your home again. The 360° livescan fingerprint scanner allows safe and secure access without the need for any additional equipment or codes.
Prefer to use the keypad? No problem, the U-bolt has a secure option for that as well. The easy to use anti-peep keypad allows you to unlock the door using any long string of numbers as long as it contains the correct password. With this feature, you'll never worry about passersby being able to memorize your keypad code. You can create multiple permanent codes as well as temporary codes for guests.
You can also skip the biometric scanner and keycode and use the ULTRALOQ app instead. You can lock or unlock the bolt through the app or you can set up Shake To Open, which allows you to simply shake your phone near the lock to unlock it. You can even set up an automatic lock and unlock feature. Accidentally forget to change the batteries in the lock? No problem, simply use the built-in mechanical lock or connect your phone as a backup battery to power the lock long enough to gain entry. No matter the situation, you'll always have a convenient way to unlock your U-Bolt smart lock.
Learn More and Buy Now at Amazon
---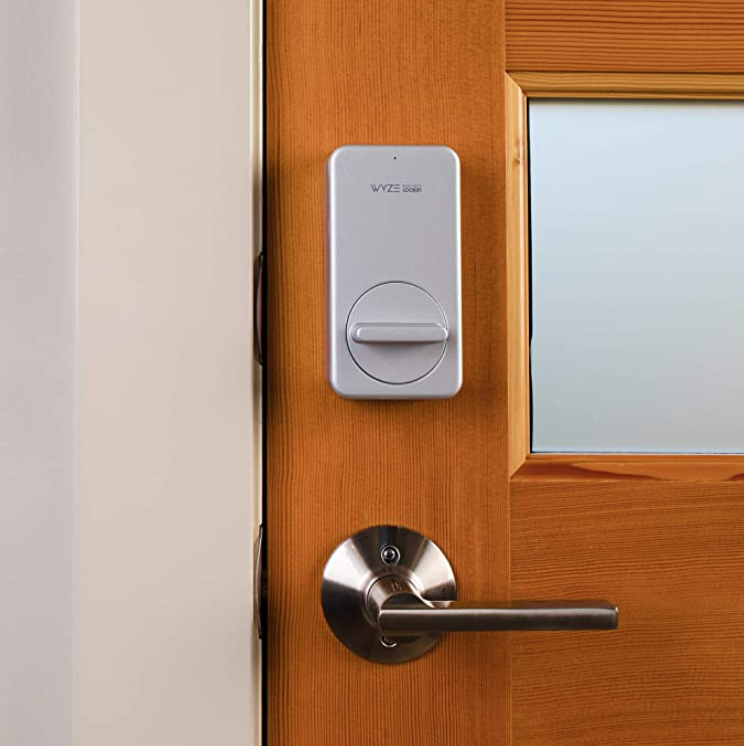 Quick Look: Offers automatic locking and unlocking. Allows temporary access for guests and tracks entry through the Wyze app. Easy to install.
Check Price at Amazon
Never think that you have to break the bank to have a fully integrated smart home. With this smart lock from Wyze, you can enjoy the benefits of a quality smart lock without hurting your budget. Using the included Wyze Lock Gateway, you can connect this lock to your WiFi and home hub for easy voice controls through Google Home or Alexa, making it the perfect addition to your smart home.
This easy to install lock works with your existing deadbolt and can be installed in less than 15 minutes using only a screwdriver. You can set it to automatically unlock when you approach the door or you can unlock it using the Wyze app. With the remote unlock feature, you can grant temporary access to friends or simply double-check that your door is locked. With the built-in gyroscope, the lock can even detect whether your door is closed all the way.
Entry logs within the app help you to keep track of who is coming and going, so you are always in control of who enters your home. Best of all, this lock comes with Advanced Encryption Standard 128-bit encryption to ensure that hackers will not be able to compromise your home.
Learn More and Buy Now at Amazon
---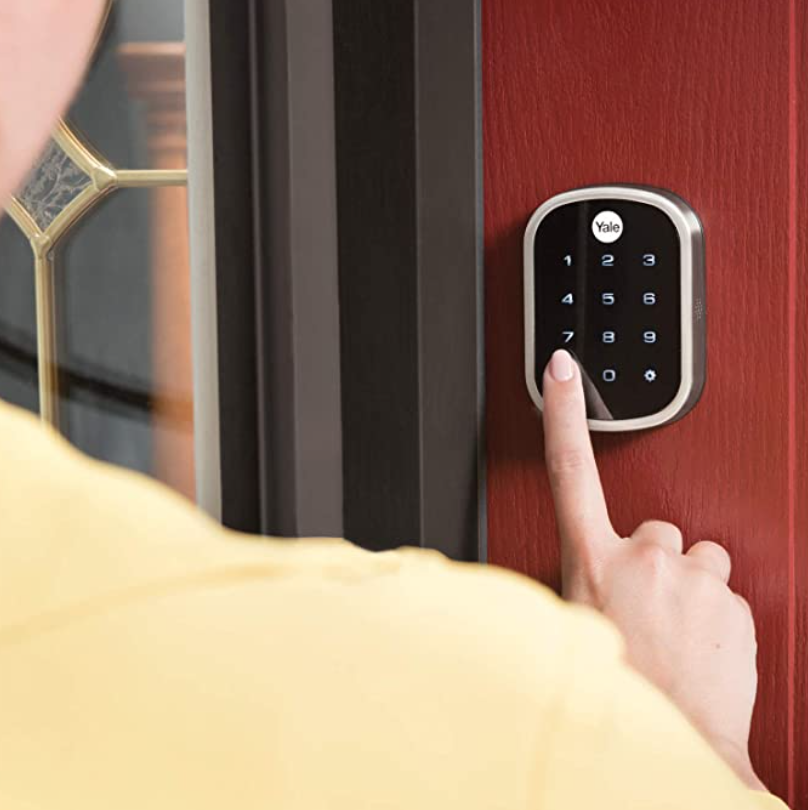 Quick Look: Easy to use keypad entry or automatic unlock with your smartphone. Compatible with Alexa, Google Assistant, and Siri. Low-profile design. Easy to install.
Check Price at Amazon
Yale is a big name in locks. They've been keeping homes safe for nearly 200 years, so it's no surprise that their take on the smart lock would be worth a look. Offering a low-profile sleek keypad and multiple entry options, this is the perfect mix of simplicity and security.
This smart keypad takes only a few minutes to install and is compatible with any door that has a standard deadbolt. The keypad itself is compact and easy to use with a bright backlit display. You can set up multiple keycodes for your family and friends and easily track who comes and goes using the August App.
Don't want to hassle with a passcode? You can also set your lock to automatically unlock when you approach the door with your smartphone and relock once you're inside. Using the built-in door position sensor, it will even alert you if your door isn't closed all the way. Best of all, this lock is compatible with Alexa, Google Assistant, and Siri, so you can lock up with a simple voice command.
Learn More and Buy Now at Amazon
---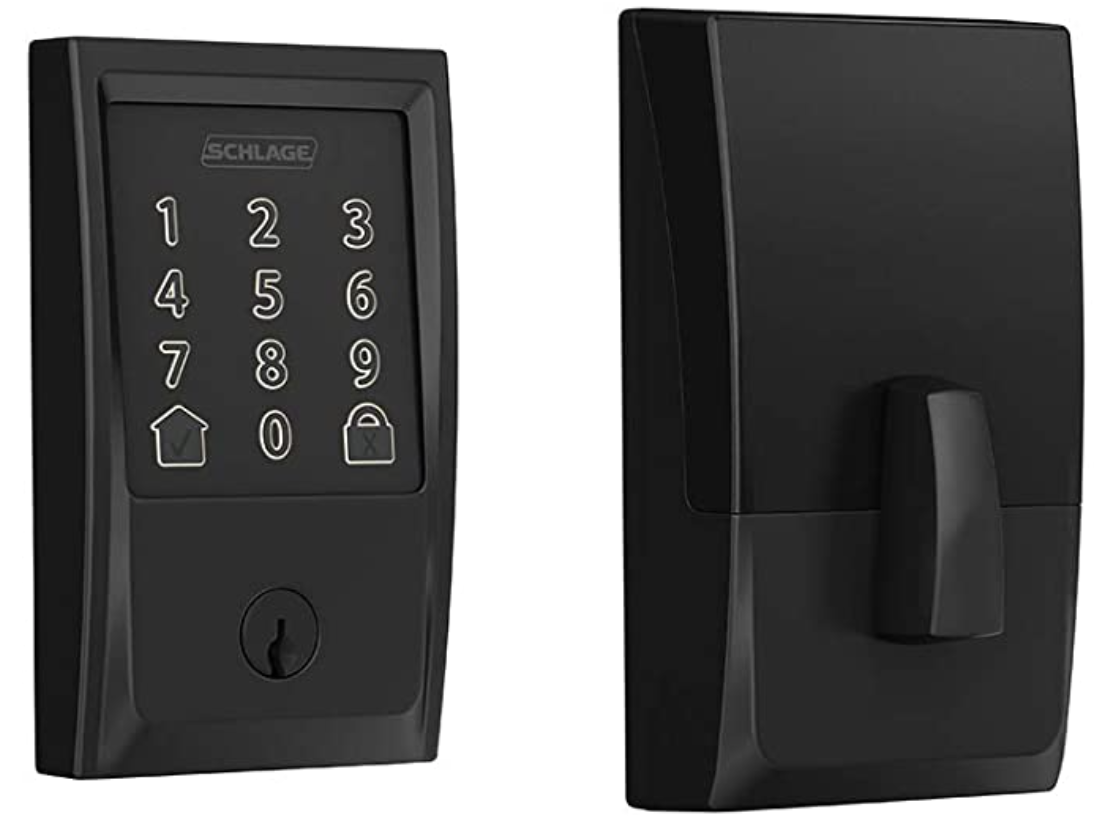 Quick Look: Offers multiple entry options including keycode, app access, and mechanical key. Easy to install. Comes with a 3-year warranty.
Check Price at Amazon
If you like the features of a smart lock, but still want the option to use a key, then the Schlage Encode Smart Lock is the perfect choice for you. This lock comes in a stylish design that combines the classic deadbolt tumbler with a modern keypad. The keypad is backlit for improved visibility and fingerprint-resistant to help safeguard your passcode.
Using the Key By Amazon app or the Schlage Home app, you can set up as many key codes as you need for your family and friends. You can also create temporary keycodes for one-time guests and deliveries.
This unit requires no extra accessories or connectors for installation and setup. Setup takes only a few minutes and can be done single-handedly with a simple screwdriver. The unit is battery operated and has built-in WiFi that will automatically connect to your Smart Home system. It is Alexa and Google Assistant compatible and can be set to lock and unlock with voice commands.
Learn More and Buy Now at Amazon
---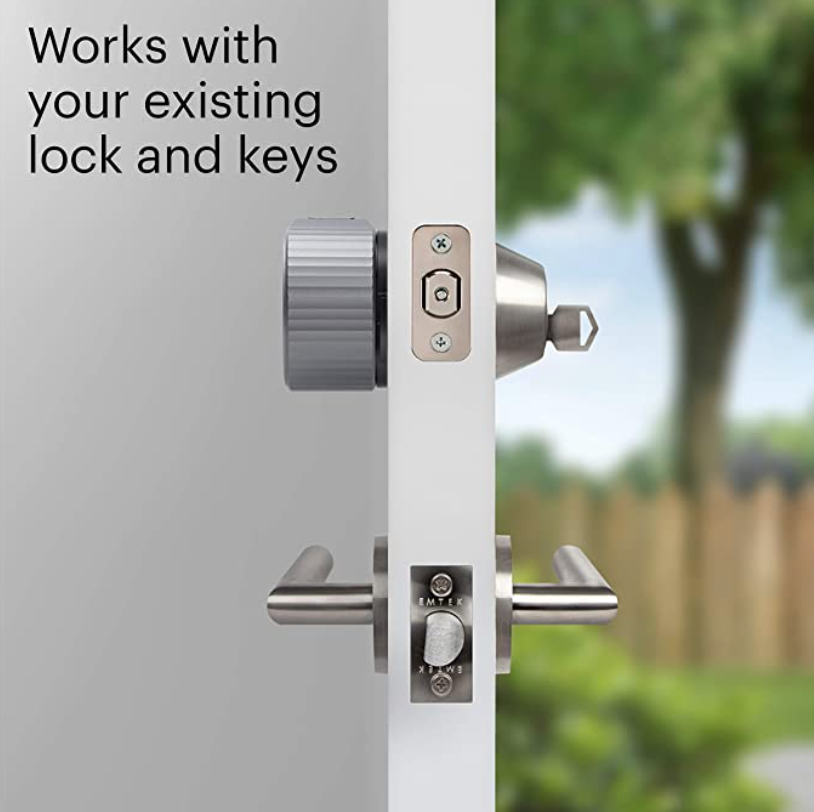 Quick Look: WiFi and Bluetooth compatible. Can be connected with all the most popular home hubs. Offers automatic lock and unlock as well as remote locking through the August app. Attaches to existing deadbolt for easy installation.
Check Price at Amazon
If you want to skip the keypad and just op for key and automatic entry, then this smart lock may be the one for you. The August 4th Gen Wi-Fi smart lock attaches directly to the inner side of your existing deadbolt, turning your regular deadbolt into a smart lock, quickly and easily.
This lock offers automatic hands-free locking and unlocking, all you need is your smartphone. You can also operate the lock remotely using the August app. If you want to be extra security conscious, you can enable Biometric Verification which uses the biometric scanner on your phone to verify your identity before unlocking the door.
The built-in Wi-Fi makes setup super user-friendly. In less than ten minutes you can install and connect your new smart lock to your Smart Home hub. This unit is compatible with Alexa, Google Assistant, SmartThings, and Apple HomeKit, making this a good choice for anyone looking to create a fully integrated smart home.
Learn More and Buy Now at Amazon
---
How We Chose The Best Smart Locks
With more and more smart devices hitting the shelves every day, finding the best options can be challenging. In order to find the best smart locks amongst the thousands of available options, we decided to focus on a few simple criteria: security, accessibility, and ease of use.
High Security
As you would expect, the most important feature of any lock is security. You have to look for solid construction and quality materials. When it comes to smart locks, you also have to consider digital security. All of the locks on our list come with 128-bit data encryption, a level of encryption often used in banks, so you can rely on these smart locks to keep your home and family safe.
Accessibility Options
One of the best things about smart locks is that they provide alternative entry options. Instead of having to fumble with your keys when your hands are full or find a way to carry your keys and phone when you're out for a run, you can have options that better fit your lifestyle such as keyless or automatic unlocking. That's why we chose smart locks with multiple entry options so that there would be something here to fit every lifestyle.
Ease of Use
Installing new smart devices can be complicated, but not with these smart locks! All of the locks on our list offer easy installation and set up. All of them can be installed without the help of a professional and most take less than 10 minutes to set up.
Not only are all of these locks easy to install, but they are easy to use as well. With multiple entry options for each style of lock, you can ensure that no one in your family is ever left stranded outside.
What You Need To Know About Smart Locks
As far as smart products go, smart locks are fairly straightforward, but just in case this is your first foray into the field of smart locks, here is a little information that you may find useful.
Are Smart Locks Safe?
One of the most common questions that you'll hear about smart locks is: Are they truly safe? When electronic locks first came into being, there were some serious issues with hackers being able to duplicate the access codes and open locks with ease. Thankfully, the technology involved has improved significantly since then. Many smart locks are not only highly-encrypted, but they also have built-in alarms that will alert you of any suspicious occurrences or attempted tampering. That is not to say that all smart locks are 100 percent secure, but they can in fact be more secure than traditional locks.
With traditional key-entry locks, there is always the chance of keys being lost or stolen. If a key is lost, you have to deal with the frustration and expense of rekeying the doors or replacing the hardware altogether. If you often have guests when you're away from home, you also have to deal with the hassle of giving out extra keys or hiding a spare, which is a serious security risk. And, last but not least, there is always the possibility of someone picking the lock.
Smart locks remove nearly all of these risks. You never have to worry about hiding a spare key or giving keys out to friends or lodgers. You can simply grant them access remotely through your smartphone or give them a keycode of their own. The codes can be deleted and replaced as often as you like without any trouble or extra expense. Plus, most smart locks also keep a log of who is coming and going, so you always know when and why your door was unlocked.
If you're looking to update more than just your lock, we also reviewed the best smart doorbell options.
What Happens If The Power Goes Out?
Everyone has heard stories about people getting locked out of their home or business because the electronic lock wasn't working. Thankfully, with most modern smart locks, this is no longer an issue. All of the locks on our list are battery-powered, meaning the lock itself would not be affected by a power outage. If your lock has an automatic feature or a keypad, the lock will work as normal. Many of the best smart locks also offer a key-entry feature as a backup, just in case something does go wrong.
It is important to note that these locks rely on WiFi for remote use. So if your WiFi is down due to a power outage, you would have to rely on the Bluetooth option to open the door, but you would still be able to get in.
Can I Install It Myself?
As we mentioned in the previous section, these locks are quite user-friendly and that includes installation. None of the models on our list require hardwiring, so they are as easy to install as a regular deadbolt. Some even attach to your existing deadbolt, making them even easier to install. You'll need to be a bit tech-savvy to set up the app, but if you're accustomed to using a smartphone, you shouldn't have any trouble completing the setup within 10 to 15 minutes.
How to Choose The Best Smart Lock For Your Home
Now that you know all about smart locks and how easy they are to use, let's talk about how you can choose the best smart lock for your home. Thankfully, there are only two main factors to consider: security and entry options.
Security
As you can probably guess, the primary concern is security, both physical and digital. Look for a lock made from quality materials, just as you would with a regular deadbolt. When it comes to digital security, be sure to look for a smart lock that offers solid encryption, preferably AES 128-bit encryption.
Entry Options
The next consideration will be entry options. What kind of features will you need to best fit your style and security needs? If the lock is primarily for your home then hands-free automatic entry may be the most important feature. If you love your smart home hub and want to be able to lock and unlock with voice commands, then connectivity will be a high-priority. Looking for a new lock for your rental or Airbnb? You will likely want to choose a unit with a keypad so that you assign new keycodes for each guest. Keep in mind that most smart locks come with multiple entry-options, so there's an option to fit every situation. Simply consider which features stand out the most to you and choose accordingly.
Bottom Line
Smart locks are a great example of how technology can be used to improve our everyday lives. With a quality smart lock, you no longer have to worry about losing keys or having to make spares. You'll no longer have to wonder about whether you locked the front door or not, you can simply pull out your phone and check. You may not even realize how much time you spend worrying about these things until you don't have to think about them anymore.
You can't go wrong with any of our top picks, but we recommend the ULTRALOQ U-Bolt Pro Smart Lock.
Top 5 Best Smart Locks of 2021