Everyone wants the comfort of knowing that their home is safe and secure. One of the ways that you can increase the security of your home is to install a smart doorbell. Smart doorbells work both as a doorbell and as a mini security system for your front step. They offer instant notification about visitors as well as video and audio access to your front door from anywhere in the world. Our team has also researched the best solar-powered security cameras if you are looking for additional security measures.
Like most electronics, smart doorbells come in all different styles with many features and options to choose from. We have done some research and uncovered some of the best smart doorbells of 2021 and we are here to share that information with you so that you can have the knowledge you need to choose the best one for your home.
Top 5 Best Smart Doorbells of 2021
---
Reviews of the best Smart Doorbells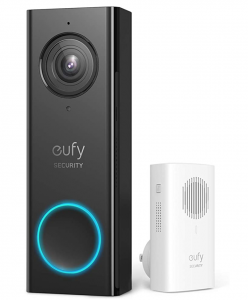 Quick Look: 2K video with distortion correction. Motion sensor, two-way audio, and real-time response. Amazon Alexa and Google Assist compatible. No subscription necessary for video storage.
Check Price at Amazon
The Eufy Security Smart Doorbell offers everything you need in a smart doorbell without any hidden fees for video storage. Using motion detection, it notifies you as soon as anyone approaches your door. The high-quality 2K video allows you to see who it is before they make it to the doorbell.
Once you see who is at the door, you can speak to them directly through the doorbell, or you can use one of three pre-recorded responses to let your guest know that you're on your way. Connect your doorbell to your Alexa or Google Assist device to speak to your guest through the device without even having to use your phone.
This device is easy to install and can run off the preexisting wiring from your old doorbell. It also comes with an electronic chime that has 8 themed chimes, even some holiday chimes. The sensitive motion sensor comes with human detection so you will not receive unnecessary notifications when a pet or stray cat wanders through the motion sensor area.
Learn More and Buy Now at Amazon
---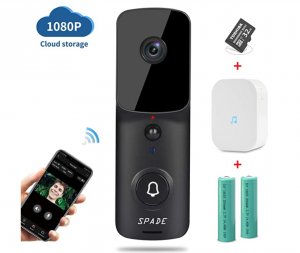 Quick Look: Battery-powered, 166° view with 15ft infrared night vision. On-board storage and cloud service. Comes with wireless chime. IP65 weather-resistant.
Check Price at Amazon
If you don't want to break the bank, but you still want the security of knowing when someone is at your door, then look no further than this great budget-friendly option from SPADE. The SPADE Smart Video Doorbell offers HD video with a 166° view from your front door. With infrared night vision, this camera allows you to easily see who is coming, even at night.
The wireless design allows you to install this doorbell wherever it is most convenient, no hardwiring required. It comes with two rechargeable lithium-ion batteries that can last 6 to 8 months on a single charge. It also comes with a wireless chime that has an impressive 55 chimes to choose from.
This doorbell also comes with multiple storage options. You can use on-board storage with the included 32GB SD card or you can increase the onboard storage up to 128GB. If you prefer cloud storage, this unit comes with free 30-day rolling storage or you can purchase a subscription for more long term storage.
Learn More and Buy Now at Amazon
---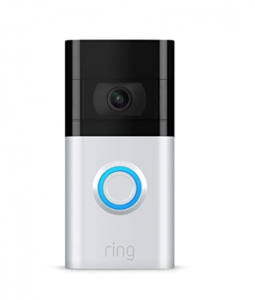 Quick Look: 1080p HD video, two-way audio, and on-demand video. Motion sensor with adjustable range. Battery-power and wired capabilities. Requires subscription for cloud storage. Comes with a 1-year warranty.
Check Price at Amazon
If you want impeccable video quality from your smart doorbell then the Ring Video Doorbell 3 is the one for you. Offering 1080p HD video quality, this doorbell allows you to see everything that happens at your door. You can use the on-demand video option in your Ring app to view your front step anytime you want, even when you do not have visitors.
This doorbell uses a motion sensor to detect movement and notify you as soon as someone approaches your door. The motion sensor range is adjustable so you can set it to only notify you when movement is detected in the areas you want to be notified about. This unit is compatible with Amazon Alexa devices so you can use your device to see and speak to whoever is at the door. You can view the video feed from your phone, tablet, or PC as well, so you never miss a visitor.
You can choose between wiring your smart doorbell into your home or using the provided rechargeable battery pack. Battery-power makes this a great option for those who are renting or those who do not have existing doorbell wiring. With a monthly subscription to the Ring Protection Plan you can view stored video and photos as well as share them for up to 60 days.
Learn More and Buy Now at Amazon
---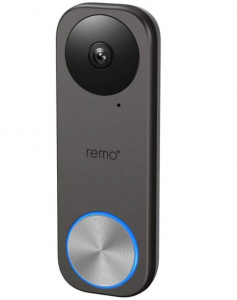 Quick Look: HD video and night vision with 180° view. Two-way audio, compatible with Amazon Alexa, Google Assist, and IFTTT. Weather-resistant design. Compatible with up to five users.
Check Price at Amazon
Check out the view from your front door anytime you want with the Remo+ RemoBell S Wifi Doorbell. With a 180° view in full HD, you won't miss a single detail. You can even have a clear view at night with infrared night vision. This doorbell is also weather-resistant from -4° to 122°, so not even crazy weather can keep you from knowing that your home is secure.
This smart doorbell offers the ultimate smart home connection by being compatible with Amazon Alexa, Google Assist, and IFTTT. It is also capable of being accessed by up to five users, so everyone in the house can see who is at the door instantly. This is a wired unit that can easily be installed with your existing doorbell wiring and runs off your home wifi with ease.
With motion sensors that notify you as soon as someone approaches the door, you can see and hear your guests before they reach the doorbell. Use the two-way audio to say hello and let them know that you're on your way to the door. Remo+ offers free 3-day storage for your videos, but if you prefer longer storage, there is a subscription service available.
Learn More and Buy Now at Amazon
---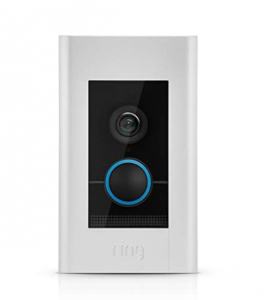 Quick Look: 1080p HD Video with 160° view. Compatible with Amazon Alexa devices. Equipped with advanced motion detection. Powered and connected via ethernet. Comes with a Lifetime Theft Warranty.
Check Price at Amazon
Looking for all the benefits of a smart doorbell in a slightly classier package? Then check out the Ring Elite Video Doorbell. The Elite comes with your choice of four different interchangeable faceplates that will give your doorbell a sleek look that matches your home's exterior. Not only that, but it comes with a Lifetime Theft Warranty, so if your doorbell is ever stolen, Ring will replace it for free.
Do not let the pretty packaging fool you, this doorbell still has all the features you would expect in a high-quality smart doorbell such as 1080p HD video and two-way audio. It is compatible with Amazon Alexa devices so you can stream on-demand video or see who is at the door from your Alexa device. You can also view the video feed on your phone, tablet, or PC.
The powerful camera on this unit allows you to see 160° horizontally and 90° vertically, so no matter what is out there, you will get a good view. The infrared capabilities allow you to see even when it is dark outside. This unit wires right into your home via ethernet, so you do not have to concern yourself with whether or not your wifi signal is strong enough.
Learn More and Buy Now at Amazon
---
How We Chose The Best Smart Doorbells
When looking for the best smart doorbells, there were a few key features we looked for including smart functions, quality materials, and ease of use.
Smart Functions
Since these are smart doorbells, it only makes sense that quality smart functions would rank high on the list of requirements. Features like on-demand video streaming, motion sensor notifications, and home smart device compatibility were all things we looked for in our picks for the best smart doorbells. The big selling point for smart doorbells is that they provide peace of mind and knowing that you can view video from your front door at any time provides the security you want. Knowing who is at the door before they even reach the doorbell also increases security, so we looked for models with quick notifications and quality video feeds. Being able to check your video from any of your devices is a convenience that you may not even know you need until you try it, but trust us, you'll love it.
Quality Materials
These are electronics that are meant to be left outside in all kinds of weather, so we wanted to make sure we chose models that could stand up to that type of exposure. We looked for doorbells that were cold and heat resistant as well as water resistant. With the battery-powered models, we looked for lithium-ion batteries that would hold a charge and last a long time on each charge.
Ease of Use
Sometimes smart devices can be complicated and difficult to use, so we made sure to look for smart doorbells that were easy to install and even easier to use. They all function using your home internet and can be viewed and controlled through simple apps. We all know that no one wants to spend money on a device that we aren't going to use, so we chose doorbells with straightforward functions that anyone could operate but that still had some advanced features for the techies out there.
What You Need To Know About Smart Doorbells
Smart doorbells function as mini security cameras that you can access from anywhere. It only makes sense that you would want to look for high-quality video and audio. And, of course, since these are smart devices there are a few extra features as well.
Visual and Audio Quality
Everyone has seen those security camera videos or snapshots where the picture is so grainy that you couldn't recognize the person in the picture if it was your brother. Avoid that problem by choosing a smart doorbell that has high video quality, such as 1080p with a wide view. Unless you have a very narrow walkway leading to your front door, you will need a camera that offers at least a 160° view.
The audio quality may not be quite as important, but it can still make a difference especially if you can't physically answer the door. Being able to hear your guest and having them be able to hear you can make the difference between clear directions and confusion.
Extra Security Options
Many smart doorbells have added security options like motion sensors and infrared cameras. Motion sensors are great for situations where someone may come to the door, but not ring the doorbell as a delivery man might. With motion sensor notifications, your doorbell will notify you whenever someone is within range. Extra features like motion sensor adjustments allow you to set the range of your motion sensor to best fit your needs.
Infrared night vision is pretty self-explanatory. This is a great feature, especially if you are away from home and want to use on-demand video streaming to make sure everything is safe and sound.
Cloud Storage and App Support
Always check whether or not the unit you are looking at requires a subscription service for video storage. Most of the more popular brands, such as Ring, do require a subscription. Whether or not that service is worthwhile is completely up to you. Some people find that they do not need months worth of storage and are completely fine with just being notified when someone is at the door. Others like having the knowledge that they have access to older footage if they ever need it.
Proper app support is another key element in getting the most out of your smart doorbell. Even if you have the best camera doorbell in the world, it won't do you any good if the app required to view the video is faulty. Most of the common brands have had the time and opportunity to build quality apps, so you can count on them to be reliable. If you are looking at a brand that you are not familiar with, be sure to check into the app and read reviews from other users to make sure that it functions properly.
How to Choose The Best Smart Doorbell For Your Home
As you have seen, there are many quality smart doorbells on the market today. When deciding which model is the best for you, be sure to consider your available power source and internet access as well as the extra features.
Power Source
The first thing you need to determine is the type of power source that is available to you. If you are a homeowner with an existing doorbell then a wired model will probably be your best choice. Having the doorbell wired into your home removes the inconvenience of having to recharge it. If you do not have an existing doorbell you may have to hire an electrician to run some new wiring for you. If you do not want to run new wiring or if you are a renter, battery-powered models will be your best choice. Although they do have to be recharged, they can be placed anywhere without having to alter the exterior of your home.
Internet Access
Most smart doorbells connect to the internet via your home WIFI. This means that you will want to ensure that your WIFI router is close enough to the doorbell for it to get sufficient signal. If your router is not near your front door, you may have to buy a signal booster to make sure that your smart doorbell can function properly. Some more expensive models are wired into the internet via ethernet. This removes the need for stronger WIFI, but keep in mind that these models should be professionally installed.
Extra Features
Once you have found a model that works with your power source and has high-quality video and audio, the last thing you have to do is decide what types of features will best fit your lifestyle. Although it may be tempting to buy the most expensive unit with all the extras, there is no need to spend a lot of money on features you know you are never going to use. If you only need to be able to see who is at the door, then save money and choose a no-frills model. Even if you do want some of the extra features that we have mentioned, you can get a quality smart doorbell with all the necessary features for a decent price if you know what you're looking for.
Bottom Line
Adding a smart doorbell to your home can add both peace of mind and convenience to your everyday life. Smart doorbells notify you whenever someone is within range of your front door. These doorbells allow you to use your smartphone or smart home device to see and hear your guests before they reach the door.
It's hard to go wrong with any of our top smart doorbell options, but we recommend eufy Security Smart Doorbell for its smart functions and ease of use. Compare all of your options before making a final decision, though, to make sure that you're choosing the right model for your circumstances.
Top 5 Best Smart Doorbells of 2021