Technology is changing every day and it seems like every day there is a new smart device ready to make your home life easier. Well-known companies like Philips and Kwikset have gotten on board with products like smart light bulbs and door locks and more companies are jumping in every day. The trouble is that each of these products has its own app and keeping track of all those apps can become cumbersome, especially if you're working towards a full-fledged smart home. That is where the smart home hub comes in!
A smart home hub can take control and combine all your smart devices into one easy to use app, some even allow you to utilize voice commands to control your devices. Finding the right device for you and your smart home can be a bit confusing, but not to worry. We have done our research and are here to tell you all about our favorite hubs as well as tell you everything you need to know to find the best smart hub for you.
Top 5 Best Smart Home Hubs of 2021
---
Reviews of the Best Smart Home Hubs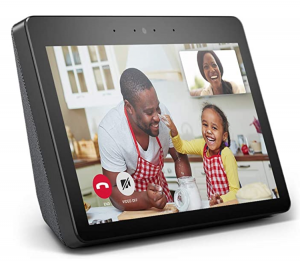 Quick Look: 10.1 inch HD screen. Compatible with all Zigbee devices. Alexa enabled. Allows video calls and access to Amazon Music and Prime Video.
Check Price at Amazon
Leave it to Amazon to create a smart home hub that is much more than a home hub. The Echo Show offers a 10.1" HD touchscreen on which you can view your calendar, the weather, current news, and more. You can even use the Echo Show to make video calls to friends and family.
You can use this device to connect all your Zigbee smart devices such as Phillips light bulbs, Honeywell locks, and Bosch security systems. Simply connect your devices and let Alexa do the rest. If you have a compatible smart doorbell, you can even use your Echo Show to see and speak to your guests before they reach the door. If you have more than one Alexa device you can use those devices to communicate between rooms.
The Echo Show also allows you to take advantage of all 50,000+ Alexa skills. You can also set up Alexa Guard which will guard your home while you're away. Simply tell Alexa that you're leaving and it will be on guard for the sounds of smoke alarms or broken glass. If it registers anything untoward, it will notify you via text. If you are security conscious, you may like to know that the Echo Show also allows you to electronically turn off the microphone and camera for times when they are not required.
Learn More and Buy Now at Amazon
---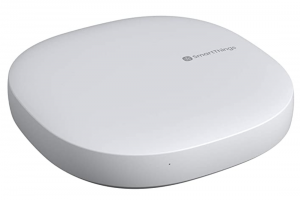 Quick Look: Simple set-up. Connects via WIFI. Controls 100s of compatible devices. Allows set schedules for device control. Clean unobtrusive design.
Check Price at Amazon
Samsung's SmartThings smart home hub allows you to connect all of your smart devices and easily control them through a single app. Connect your smart security system to your SmartThings device to receive notification of any unexpected activity around your home.
Want the lights on when you get home every night? No problem. Use your SmartThings app to set a light schedule. You can schedule when the lights come on and when they shut off, schedule thermostat changes, and even set your front door to unlock when you get home.
This device connects to your home system via WIFI so you do not have to worry about running another wire through your living room. The clean white design makes this device easily blend in with any decor. Already have an Alexa or Google Assist device? Simply connect it to your SmartThings device to enable voice commands.
Learn More and Buy Now at Amazon
---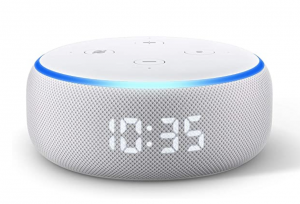 Quick Look: Compact. LED lighted front. Control lights, thermostats, and other compatible smart devices. Make calls, listen to music, and more.
Check Price at Amazon
The compact Echo Dot device comes with all the benefits of Alexa combined with the benefits of a smart hub. You can ask Alexa to play music, tell you the news, or display the outdoor temperature. You can also add things to your grocery list or calendar as well as set reminders and timers.
Simply connect your compatible smart devices to your Echo Dot and you can use voice commands to control your lights, thermostat, and smart doorbell. You can even use your Echo Dot to enable Alexa Guard, protecting your home while you're away.
This device offers simple set-up and can be used by anyone in the family. There is even a kid-safe mode that filters out explicit songs and allows parental controls. If you have more than one Alexa device, you can use them as an intercom system to make announcements throughout the house.
Learn More and Buy Now at Amazon
---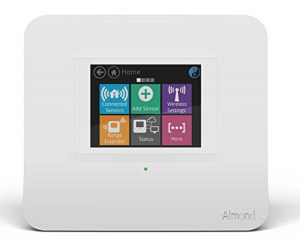 Quick Look: Combination WIFI router and smart home hub. Compatible with both ZigBee and Z-Wave devices. Programmable smart device settings. Alexa compatible. Ultra-simple set-up.
Check Price at Amazon
Why add one more device to your home when you can have one device do the job of two? With the Securifi Almond 3 combination WIFI router and home hub, you can have powerful WIFI throughout your house as well as full control of your smart devices.
Each Almond 3 device can cover 1,300 sq. ft. of area. Want your WIFI to go further? Simply add more Almond 3 devices to create a seamless wireless mesh network. The Almond 3 offers ultra-simple set-up with a walkthrough right on the device's touchscreen. Use the touchscreen to connect your smart devices, then use your Almond app to control all your smart home ecosystem.
If you want to control your smart devices with voice commands, simply connect your Alexa device and let Alexa do the rest. You can use your Almond to design light settings and thermostat settings, then tell Alexa to implement those settings whenever you like.
Learn More and Buy Now at Amazon
---
Quick Look: 10 inch HD Touchscreen. Powerful speakers, built-in camera, and microphones. Compatible with 100s of popular brands. Voice command compatible.
Check Price at Amazon
Bring the power of Google to your home with the Google Nest Hub Max. Combine all your smart home devices on one voice-controlled hub. Turn down the lights, lock the doors, and check your security cameras from the comfort of your couch.
The Nest Hub Max also gives you easy access to all your Google accounts such as YouTube, Google Photo, and Gmail. You can use this device to make video calls and leave video messages for your friends and family. You can display digital photo albums and play music as well as easily check the news and weather.
For those who want the convenience of a home hub, but do not want the camera or microphones on continuously, the Nest Hub Max has a physical switch on the back that disables those features whenever you want. There is also an option to electronically disable the camera, but leave the microphones on for the ease of voice commands.
Learn More and Buy Now at Google
---
How We Chose The Best Smart Home Hubs
In our search for the best smart hub, we focused on three main elements: compatibility with smart home products, extra functions, and ease of use.
Compatibility
Many people have multiple smart home products before they invest in a smart hub. With that in mind, we looked for hubs that were compatible with a wide variety of common smart home devices. Some hubs are only compatible with a particular brand of devices, but the best smart hub will be one that can connect to multiple brands seamlessly. All the hubs on our list are compatible with the most common brands, plus a few extras for good measure.
Extra Functions
The whole purpose of having a smart home is convenience, so it only makes sense that the best smart home hub would add to that convenience. That is why we looked for home hubs that offered extra functions such as the ability to play music, make calls, and add appointments to your calendar. We also looked for features like the option to schedule devices to turn on and off automatically without you having to lift a finger.
Ease of Use
We all know that electronics can be complicated sometimes, but not when it comes to the smart hubs on our list. We chose hubs that offered easy set-up and operation. Most of our picks are basically plug and play, offering features like on-screen guided walkthroughs and voice commands for connecting your smart devices. As we said, a smart home is all about convenience and your home hub should be the same.
What You Need To Know About Smart Home Hubs
Just in case you're new to the smart home game, we would like to give you a little information about what exactly a smart hub is and what it can. After that, we'll tell you a little about digital hubs, just so you know all your options.
Why Have a Smart Hub?
A smart hub is a way to bring all your smart home devices together into a single app. This may not seem that beneficial, but most companies that make smart home devices specialize in only one or two smart items, meaning that if you have eight smart devices, chances are you using at least four different apps to control them. Having a hub can clear up space on your phone and streamline your smart home ecosystem. Many of these devices also allow you to use voice commands to control your smart devices, meaning that you won't even have to pull out your phone.
Programmable Options
Some smart hubs allow you to program groups of devices to work together at certain times. For example, you can use your SmartThings app to create the perfect "Welcome Home" setting for when you come home from work. This setting could include the front door unlocking, the hall light coming on, and your stereo playing your favorite music or the television coming on. Once you create that setting, you can schedule it to come on at a certain time every day. Don't need anything that complicated? What about having the lights come on at 8am each morning? Or setting a reminder for when it is time for lights out at night? The options are endless, you just have to have the right hub to make it possible.
Digital Hubs
Some people prefer not to buy a new device but use a digital home hub instead. Programs like Home Assistant and Yonomi are software-based programs that you control from your computer or smartphone without the use of an extra device. These programs are great for tech-savvy users who want to have in-depth control of all their smart devices, both for security and control purposes.
Apple offers a home hub service called HomeKit that can be accessed using your Apple TV or iPhone, so if you are an Apple user, you already have access to a home hub. HomeKit is not compatible with as many devices as the Echo Show or Google Nest Hub Max, but if you have a lot of Apple smart products, HomeKit may be a good option for you.
How to Choose The Best Smart Home Hub For You
Now we have reached the fun part, how to choose the best smart home hub for you. Now that you know all about the available options and what they can do, choosing the best smart hub is pretty straightforward. There are just a couple of things you should consider before you buy.
How Smart is Your Home?
The best place to start is by looking at the smart devices you already own. Smart devices can be expensive and you do not want to replace the devices you already own if you don't have to. Choose a hub that is compatible with the devices you already have. All of our picks are compatible with the most common smart device manufacturers, but it is always a good idea to double-check that your devices are compatible before choosing a hub.
How Much Control Do You Need?
The next step is determining how much control you want and how you want to exert that control. For example, do you just want to be able to turn the lights on with a voice command or would you prefer that the lights turn on according to a schedule? Do you want to use voice commands or would control from your phone be sufficient? If you simply want to control everything from your phone, you could choose a hub like the Samsung SmartThings or even a software-based hub. If voice commands are an important feature for you, an Echo Show or Nest Hub Max may be a better option for you.
Thankfully, most smart home hubs range in price from $50 to $300, so even the most expensive options are reasonable. Some of the software-based programs are even free if that is an option that appeals to you. Much like with other electronics, higher price does not necessarily mean a better product. The best smart hub for you is the one that meets your needs, so do not think that you have to have the most expensive one. Once you have determined the style you want, you should have no problem finding one within your desired price range.
Extra Functions
This is the best part of the decision-making process because it is all about the fun extras. As you probably noticed, some of our picks offer a lot of extras like video calls, music players, and access to your calendar. Although these extras can be entertaining and convenient, they may not be something that you're going to use. On the other hand, they may be features that you don't know you need in your life until you try them. Although we would never recommend spending extra money on features you aren't planning on using, there are many smart hubs on the lower end of the price range that still offer some great features. With that in mind, don't shy away from choosing a hub with fun extras, you never know how much you may enjoy them.
Bottom Line
As we add more and more smart devices to our homes, it only makes sense that we would need more efficient ways to control those devices. A smart home hub is the best way to streamline all your devices and get the most out of your smart home ecosystem.
It's hard to go wrong with any of our top smart home hub options, but we recommend Echo Show (2nd Gen)for its functions and compatibility. Compare all of your options before making a final decision, though, to make sure that you're choosing the right model for your circumstances.
Top 5 Best Smart Home Hubs of 2021