Many insecticides and repellents are harmful, both for you and your family as well as the environment. Thankfully there is an easy eco-friendly solution that is safe for everyone: a solar bug zapper.
Solar bug zappers work the same way that traditional models work, with the added benefit of using solar power instead of regular electricity. These bug zappers are chemical-free, portable, and ultra user-friendly. There are tons of different styles and models to choose from, so to help narrow your search, we've compiled a list of our three favorites. So take a look and see if any of them sound right for you. We've also put together a little information that can help you choose the best solar bug zapper for you.
Top 3 Best Solar Bug Zappers of 2021
---
Reviews of the Best Solar Bug Zappers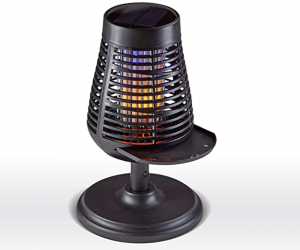 Quick Look: Torch design with LED and UV light. Multiple mounting options. Chemical-free. Removable catch tray. Battery life of up to six hours.
Check Price at Amazon
Do you love the look of tiki torches, but don't want to be burning fuel in your yard every night? Then check out the PIC Solar Bug Killer. This beautifully designed bug zapper has flickering LEDs that will give you that soothing aesthetic of burning torches without the dangers of open flames and chemical fumes.
With the combination of flickering LEDs and a UV light, this bug zapper attracts all the common flying pests like gnats, black flies, and moths. Once a bug flies into the zapper, it will fall right into the catch tray. The catch tray is easy to remove for simple clean up that does not require disassembling the light.
This unit is water and weatherproof, meaning that you can leave it out all year without concern. It comes with both a tabletop mount and stakes for mounting out in the yard. The battery can last up to six hours after the sun goes down, making this model a beautiful and functional addition to your patio decor.
Learn More and Buy Now at Amazon
---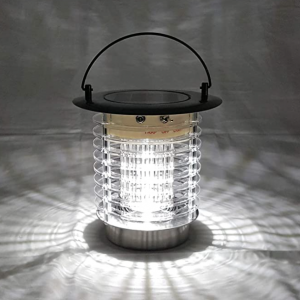 Quick Look: Durable stainless steel design. LED and UV light. Charges with solar or AC power. 40-hour battery life.
Check Price at Amazon
This stainless steel bug zapper from White Kaiman is the perfect choice for those looking for a more durable option. This unit is waterproof and weather-resistant and is designed to last for years of daily use. Use it to protect your patio, garden, or campsite from unwanted insects.
The built-in handle makes this bug zapper ultra-portable while the durable and safe design makes it a good option for those with pets and children. This unit requires no assembly or installation, simply charge it and let the zapper do the rest.
Speaking of charging, this zapper can last up to 40 hours on a single charge. You can charge it up by setting it in direct sunlight or you can use the included AC charger for cloudy or rainy days. This model comes with both a UV light and an LED light, so you can use it as a bug zapper or as a traditional lantern, depending on what you need at the moment.
Learn More and Buy Now at Amazon
---
Quick Look: Twin pack comes with two lantern bug zappers. LED lantern with multiple light settings. UV light with 500v zapper. Charge with solar or AC power. Up to 12-hour battery life.
Check Price at Amazon
Who doesn't love cookouts and camping during the summer? These awesome summer pastimes can be made even better with the addition of the PIC Portable Solar Lantern and Bug Zapper. These zappers can be used as lanterns, bug zappers, or both at the same time, giving you the ability to light up your patio or deck while still warding off pesky insects.
The bright white LED light on these lanterns comes with three light settings, low, medium, and high, giving you the ability to light up a party or simply have a pleasant night light. The blue UV light will work to draw the bugs in, keeping them away from you and your guests.
You can charge these lights solely with solar power or you can use a micro-USB charger for fast charging. Depending on the light setting you use, the battery can last up to 12-hours on a single charge, making these a great option for those late-night cookouts.
Learn More and Buy Now at Amazon
---
How We Chose The Best Solar Bug Zappers
In our search for the best solar bug zappers, we focused on three main elements: effectiveness, safety, and ease of use.
Effective
Since the whole purpose of having a bug zapper is to remove pesky bugs, it would only make sense that we would choose zappers that had the features and power to zap away mosquitos, black flies, gnats, and more. That is why we chose models with UV lights to attract bugs and powerful electrified grids to eliminate them.
Safe
Anytime you're dealing with anything electrical, especially an electrical device that is designed to emit an electric shock, safety is key. That is why we chose sturdy zappers with dual layers of protection. Each of the units on our list comes with a protective inner and outer grate to prevent accidental shocks. This ensures that the only ones being zapped are the bugs.
Ease of Use
One of the best things about choosing solar power for your bug zappers is that it makes them extremely easy to install and use. You do not have to worry about running new wiring or having an outlet to plug into, simply set the unit out in the sun and let the solar panels do all the work.
When it comes to our picks, we looked for a few extra features that would make these models even easier to use than the average solar bug zapper. We looked for features like weatherproofing, so you wouldn't have to worry about repeatedly having to take them down and put them back up. We also looked for units that would turn on automatically. Last, but not least, we chose zappers with multiple light functions so that they could be used all year instead of only during bug season.
What You Need To Know About Solar Bug Zappers
In your search for an effective bug zapper there a few key things that you should consider before making your purchase.
Power
Not all bug zappers come with the same amount of power, so it is important to choose one that is powerful enough to kill the bugs that you're targeting. Typically 1000v is plenty of power, but if you need something a little more heavy-duty, there are higher voltages available. If you are using your bug zapper in an area with a very high bug population, such a spot near a lake, you may want to choose one with a little more juice.
Just remember that the higher the voltage is on the electrified grid, the more power it will use. This means that the battery may not last as long as you want, so be sure to check the promised battery life.
If you're looking at a model that is both a light and a bug zapper the battery life will strongly depend on the settings you use. For example, if you are only using the light on the lowest setting the battery may last for days without needing to charge, but that same battery may only last a few hours when you use the light and the zapper together. If you want your zapper to be on all night, you will want to choose a model that allows you to turn off the extra LED light to save power.
Safety
As we already mentioned, safety is paramount when it comes to bug zappers. Always look for a zapper that has multiple guards surrounding the electrified grid. If you have children or pets who will be around the zapper, make sure that the guards are designed in such a way that little fingers and paws cannot reach through them. Also, be sure to look for models that are made out of durable materials that are unlikely to crack or split if dropped. This will help to protect you and your family from accidental shocks.
For those with little ones around the house, you can take a little extra precaution and choose zappers that you hang up instead of stake mounted or tabletop models. Even with the safest zapper design, the only way to truly ensure safety is to make sure the zapper is completely out of reach. Many manufacturers recommend placing your zapper at least 3' to 5' off the ground anyway, so this may be the safest and most effective mounting option.
Lights And Attractants
Many flying insects are attracted to UV light which is why most bug zappers come with a UV light option. Unfortunately, not all biting insects are attracted to UV light, such as mosquitos. So you may find a bug zapper that is strong enough to kill mosquitoes but won't attract them. Mosquitoes are attracted to the carbon dioxide that we exhale as well as a few other human scents such as sweat and blood.
Thankfully, you won't have to stand near your zapper as bait to draw them in, you can simply use a mosquito attractant such as r-octenal or a sweet-smelling candle to draw the mosquitoes toward the zapper. Some bug zappers even come with built-in mosquito attractants, so if your main goal is to zap the mosquitoes, you may want to seek out one of these models.
How to Choose The Best Solar Bug Zapper For You
Now that you know all about bug zappers and what to look for in a safe quality unit, let's talk about the two final details you have to consider in order to choose the best solar bug zapper for you.
Know Your Bugs
Since not all bugs are attracted to bug zappers, it is important to know what types of bugs you're trying to eliminate before making your purchase. Regular bug zappers with 1000 to 2000v of power work well against many common flying insects that are attracted to UV light, such as moths, gnats, midges, and flies. If you're struggling with a specific type of insect that falls outside of this category, it may be worth researching that type of bug before buying a zapper that may not take care of the problem.
Match Your Style
Once you have narrowed your search down to a few safe and sturdy zappers that are designed to attract the bugs you want to eliminate, it is time to choose the design that will best fit your style. This may seem a little silly, but there are a few options to choose from that may help you to get more out of your purchase.
For example, are you planning on using this bug zapper for your patio only or would you like a more portable version? If you want to use the zapper for the patio area then you could choose ground-mounted models, like the PIC torches on our list. These will add a decorative flair to your landscaping while eliminating unwanted pests.
If you want to keep your campsite or picnic area bug-free, then you'll want a more portable version such as the White Kaiman or PIC lanterns. These types of bug zappers lightweight and portable, plus they are dual-purpose, meaning you get two tools for the price of one. By removing bugs and providing bright LED light for your campsite, this is the perfect style for adventurers.
Bottom Line
Don't let those pesky buzzing bugs ruin your picnics and cookouts! With a good quality bug zapper, you can remove the bugs without having to use dangerous chemicals or waste electricity. By choosing a solar-powered bug zapper, you know that you're choosing the most user-friendly and eco-friendly form of insect control. You can't go wrong with any of our top solar bug zappers, but we recommend the PIC Solar Bug Killer.
Top 3 Best Solar Bug Zappers of 2021