Remember when America made things? When our cities were full of factories where blue-collar workers used their skills to create quality products that we exported, rather than the other way around? Well there are some who feel it's high time to prove to ourselves that we can still make beautiful things while creating much-needed jobs, right here at home.
Woodchuck is a new player in the mobile device protection game. Founded by a college student, this company crafts protective covers for smartphones, tablets, headphones from recycled wood and plastic–and they're doing it right here in America using home-grown talent.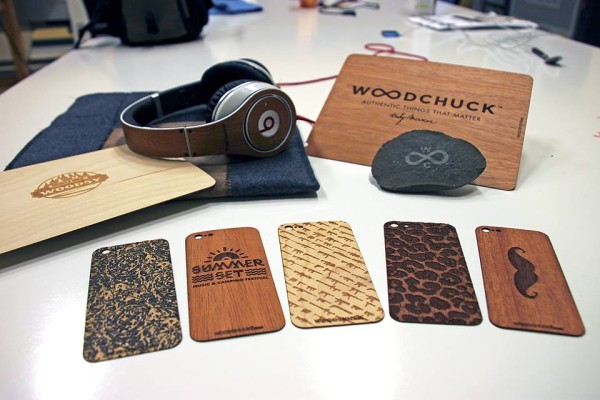 Woodchuck was born when now CEO Ben VandenWymelenberg and his friend Kevin Groenjes "envisioned a little more Mother Nature and a lot less Big Brother in their lives and in their electronics."
Made from gorgeous hand-selected, locally-sourced woods, like birch, mahogany, and walnut, Woodchuck cases adhere to your phone with 3M Brand (Non-Residue) Adhesive. In this way, the minimalistic "skins"  protects your phone or tablet from scratches, without the bulk of a full wrap-around case.
The new company already offers a prolific collection, including skins for iPhone, Galaxy S3, iPad, iPad Mini, Kindle Fire, MacBook Air, MacBook Pro, and Beats by Dre Studio Headphones.
Best of all, every Woodchuck product is designed, manufactured, printed, and assembled in beautiful Minneapolis USA, which is something few (if any) other case manufacturers can boast. But according to the founder, it's about more than just jobs.
"It's about a philosophy of American greatness that started this country. It's about reviving Pride in products, pride in design, and pride in manufacturing," reads their website. It's also about "the power of the outdoors and experiencing life to the fullest," Woodchuck continues. "We're working with environmental centers to get kids and adults back outside. Fresh air, changing environments, and nature-inspired thought are all key to a healthy lifestyle."
Woodchucks are available online at WoodchuckCase.com and at many reputable retailers around the country. The collection will launch in Target stores on October 1st.