Earbuds, while compact and usually cheaper than other headphones, have some major drawbacks. Go for a run on a hot day, and not a mile in you'll be shoving those slippery buggers back into your ear holes. There's also the problem of wind and other external noise, which always manages to slip past the buds and into your brain.
If you've ever longed for a pair of the good old fashioned headband style headphones, have we got a pair for you. The Re:Plattan headphones from Urbanears are not only stylish and high quality, they also help conserve one of Earth's most valuable and quickly shrinking ecosystems: the rainforest.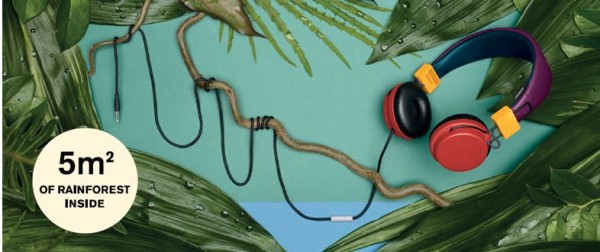 The Re:Plattan is the fourth style of headphone release under the Swedish Urbanears Editions line. The full-sized design and modern technology allows for a rich, secluded sound. Plattan also comes with a ZoundPlug on the earcap, allowing your companion to plug in and enjoy your music without having to give up one of the earphones. When traveling the Plattan can be folded down to the size of your fist for maximum mobility.
You might be wondering about the decision to make each major element of the Plattans a different color. This was no attempt to bring back Punky Brewster's style. The Re:Plattan is upcycled from unused parts leftover from previous headphone collections.  These leftover parts come together to form one colorful patchwork pair of headphones.

But the coolest thing about the Re:Plattan is what it does for the planet. A portion of the proceeds from each pair of headphones sold is used to preserve 5 square meters of the Costa Rican rainforest. Each pair of headphones comes with the GPS coordinates of five square meters of rainforest in Costa Rica protected by the purchase. According to the company, buying just one pair stops approximately half a ton of carbon dioxide from reaching the atmosphere, contributing to a more stable climate.
Available at select Urbanears retailers worldwide and online at Urbanears.com for $80.