We dream of vacations in exotic locations like the Bahamas or the South of France. The idea of heading to a landlocked western-ish state known for low-alcohol beers might make most people laugh (or cry), but there are some good, green reasons to give Utah's capital city another look.
Salt Lake City is a mecca for those who love the outdoors. Nearly surrounded by mountains, Utah's most populous city offers a plethora of opportunities for hiking and biking without traveling very far from outdoor dining and open-air concerts. And if you'd rather spend time down on the links instead of up on the peaks, there are some pretty impressive golf courses with your name on them. But it's the variety of eco-friendly ways that you can get from one activity to another that caught our attention.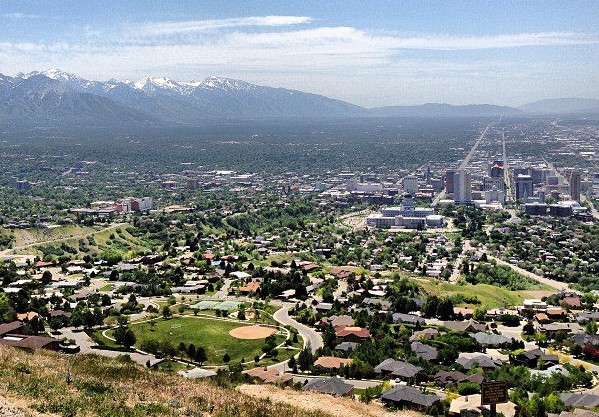 Getting around while on vacation can be a carbon-filled pain in the butt. You can try to utilize public transportation, but it's often hard to acclimate to schedules and unfamiliar routes in the time available. Most simply resign themselves to renting a car or taking taxis, both costly and not very efficient. Recently, however, Salt Lake debuted some very green alternatives.
The new TRAX Green Line opened April 14 and the light rail takes 20 minutes to make the six-mile run between downtown Salt Lake City and Salt Lake City International Airport, with multiple stops. Trains run every 15 minutes on weekdays and every 20 minutes on weekends.
Once downtown, visitors can take advantage of GREENbike, Salt Lake City's new urban bike-sharing program. Each station is within a leisurely ride from the next station, and bikes can 'checked out' for 30-minute trips. A 24-hour Access Pass is $5, while a seven-day Pass is just $15. Wondering where to pedal? The Salt Lake City Bikeways Map shows bike routes, public transit, trailheads, farmers markets, local parks, open space and community gardens.
Pining for a good old-fashioned trolley ride? Salt Lake City is actively working to restore these long-forgotten vehicles to its streets. The Sugar House Streetcar Project is currently under construction and will run from the 2100 South TRAX station along Sugarmont Avenue, ending at McClelland. It's set to open in December 2013. Building this first line will also involve the creation of a greenway for walking, bicycling and other activities.