While we know the proposed Keystone XL pipeline expansion will travel the entire length of the country, the exact path has been somewhat unclear. Since neither TransCanada Corporation nor the U.S. Department of State has been willing to give Americans an exact map of where the tar sands pipeline will be installed, author and photographer Thomas Bachand decided to tackle it himself.
Bachand is the founder of the Keystone Mapping Project (KMP) a nationally recognized multimedia and photography project examining land use and climate change in America through an exploration of the Keystone XL. He's been fighting tooth and nail to hammer out an actual map of the pipeline's proposed route, so that we can see just how close to our backyards, schools, and water supplies it will run.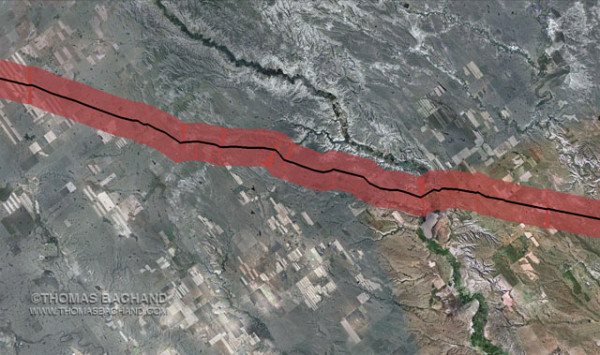 It's incredible that a project as massive and with such potentially sweeping consequences as the Keystone XL tar sands pipeline would lack  something as simple as a map for public inspection–but according to Bachand, that's the sad truth.
"Prior to the Keystone Mapping Project, only rudimentary maps of the pipeline were available," Bachand explained in an email. "The maps issued with the FEIS [Final Environmental Impact Statement] have been stripped of all lat/long information. The FEIS is also missing key location information, including milepost markers and waterbody crossings. Without this information, it is impossible to conduct any meaningful analysis of the pipeline, let alone determine its environmental impacts."
Making that information available, for landowners, communities, non-profits fighting the pipeline, and journalists trying to unravel the forces pushing for its approval, has been the biggest impact of Bachand's project thus far.
Combining satellite imagery with custom mapping features, the images depict a hypothetical voluntary evacuation zone should an oil spill occur. Individually, the panels examine the interplay of physical and human geography. In series the photography reveals broader patterns and larger questions.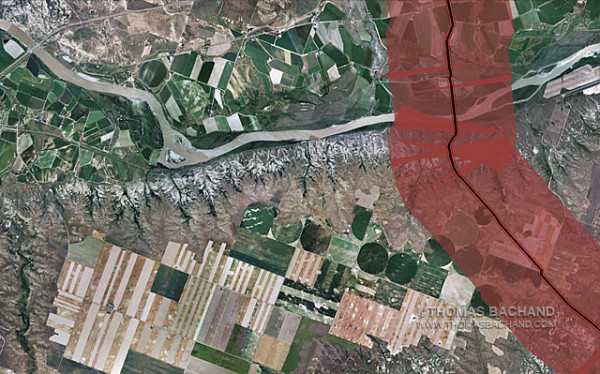 "Larger questions" are probably whythe Federal Government isn't very eager for the KMP to succeed. Blog posts on Bachand's website detail many months of slashing through red tape in an attempt to obtain the comprehensive GIS data set that should accompany the FEIS.
"Currently, I am using data acquired from state agencies, others' FOIA requests, and my own independent analysis," said Bachand. "I can only speculate as to why the GIS data remains a secret, as neither TransCanada nor the DOS will provide me with a credible answer. The objective seems to be to forestall independent and detailed analysis."
Follow Bachand's progress and support the KMP here.