When William McDonough and Michael Braungart published Cradle to Cradle in 2002, it forged a path for companies to think outside the recycling bin when it came to industrial waste. Now, McDonough, is once again blazing a less-wasteful trail. During a session at the recent Sustainable Brands Conference in San Diego, the designer and architect announced that he and Waste Management will partner to launch a sustainable innovation collaborative that will foster and guide sustainable product and packaging design among industry-leading companies.
The closed loop of recycling can only exist if things are designed to be recycled. The new initiative, to be called "the Waste Management McDonough Sustainable Innovation Collaborative" will assist industries in thinking about recyclability before the product or packaging is created, instead of after.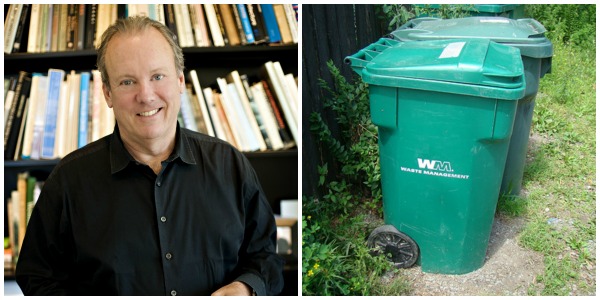 It may seem weird for a man who has dedicated his life to eliminating waste to partner with a company that profits from hauling it. But according to McDonough, Waste Management is key to demonstrating to companies that zero waste can exist alongside profitability.
"Designing up from the dumpster is one reason why I am personally very excited to launch the Sustainable Innovation Collaborative with Waste Management," said McDonough in a press release. "Working together, we will use the tools of design, science and principled business practices in collaboration with manufactures, retailers, distributors, consumers and recyclers of products and packaging to profitably work toward eliminating the very concept of waste. We can link healthy, safe materials and sophisticated logistics, and this allows us to bring a uniquely valuable perspective for continuous innovation and quality improvement with supply-side and demand-side collaborators."
Teaching companies to view waste as a resource rather than a cost of doing business will be no easy task. According to a joint statement, the collaborative will focus on directly serving producers, manufacturers, retailers and suppliers of packaged goods and products as they strive to advance their sustainability objectives and results. Among the initiative's chief goals will be to design product and packaging for recyclability as well as reduced impact on ecological and human health.
And small companies need not feel left out. "We anticipate working with many groups," McDonough said. "In many ways, that is the point. Every single company and community has some interaction with or contribution to the waste stream that we generate, and therefore they all have a stake in seeking to transform that system and optimize resource use."