It's way too soon to say wind energy storage is becoming mainstream, but another system is in line for deployment in the U.S., and once more it's happening in Texas. That makes sense: The more wind on a grid, the more important storage becomes, and Texas at times has seen wind account for more than a quarter of its electricity.
The new deployment will come courtesy GE and Invenergy. On Wednesday GE said Invenergy had ordered up three 2.5-megawatt turbines that come with sodium-nickel battery storage and power-regulation software for an 86-turbine wind farm going up this year in central Texas.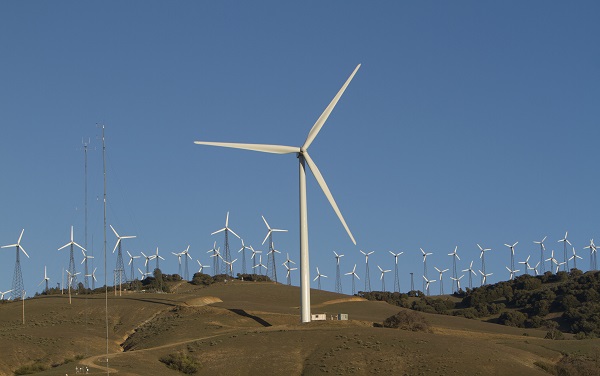 The announcement comes two months after GE unveiled its so-called "brilliant" turbine – and two months after Duke Energy said a 36-megawatt battery system was tested and became operational at a wind farm in West Texas. That system was designed and installed by Xtreme Power, an Austin-based company that makes lead acid-based, solid material batteries and management systems that go with them.
But before we go any further, a quick word on what this isn't: It's not energy storage on a scale that will allow wind energy produced at, say, 3 a.m., when electricity demand is low, to be used the next afternoon when air conditioners and factories are working hard.
 But that doesn't mean it's not important.
Remember, the electrical grid always needs to have supply and demand in balance. Wind power can make this a challenge, since production shifts as wind speeds vary. (We're talking here about micro-meteorological variations resulting from turbulence, fluctuations that happen in seconds or minutes, not the major shifts that come from big air pattern changes that take place over hours.)
Now, with wind penetration minimal on a grid, these wind variations are fairly easy to deal with. But Texas leads the nation in installed wind capacity, and on Feb. 9 at 7:08 p.m. CST, the Lone Star State's wind fleet was pumping out 9,481 megawatts, 28 percent of the system load at the time.
With even more wind power coming online, grid operators demand more certainty from their power sources. With short-term energy storage, grid operators gain assurance that higher levels of penetration won't get them in trouble. In fact, GE says its system can translate to predictable energy flow over 15 to 60 minutes periods.
"This new marriage of battery storage and advanced software within a wind turbine allows forward-thinking wind energy producers like Invenergy to shift the winds in its favor – increasing wind power's efficiency and short-term predictability," Keith Longtin, who manages the wind product line for GE's renewable energy business, said in a statement.