We often talk about climate change in sweeping scientific terms–sea level rise, ocean acidification, feedback loop–but these can be hard for regular people to grasp. After all, most of the negative effects of climate change are yet to come, making it difficult to convey a sense of urgency. For those living in wealthy countries, everything still seems normal, even though it's not.
The "Face of Climate Change" photo display aims to break through this limited perspective. Between now and Earth Day – April 22 – this interactive digital display will aggregate user-submitted photographs depicting people's concerns about climate change. Then, it will be shown at Earth Day events around the world.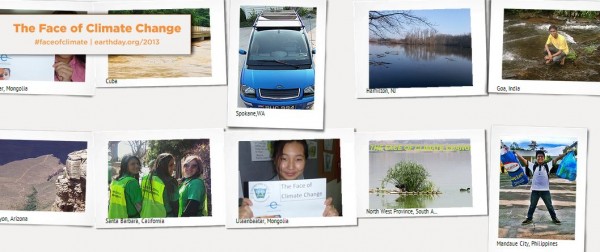 Sometimes, it can be difficult to discuss climate change with our friends and neighbors. Well-funded misinformation and constant politicizing make people feel like there are sides to be taken. But really, we're all in this together. Denying the reality of climate change won't keep it from happening. What affects a small island nation will eventually have repercussions for the rest of the world.
The global theme for Earth Day 2013 is The Face of Climate Change. It's important to remember that when we talk about the negative effects, we're not just talking about trees or temperatures. The international online mosaic is collecting images of people, animals and places directly affected or threatened by climate change as well as photos of people taking action to stop it.
The campaign is also focusing heavily on social media. Tweets using the hashtag #FaceOfClimate will appear on the digital display, beside the photos. People can also post photos to Twitter and Instagram using that hashtag for inclusion in the mosaic.
"The goal is to depict the very real impact that climate change is having on people's lives and to unite thousands of Earth Day events around the world into one call for climate action," said Franklin Russell, director of Earth Day at Earth Day Network. "The more people who participate, the more of an impact it will have."
What could you lose to climate change, and what are you doing to stop it? Consider adding your face and/or action to the digital mosaic today.