Right now, vital organ failure is almost always a fatal diagnosis. While organs like our heart, liver, and kidney can be replaced, it requires a donor with your exact blood type, and even if they're willing, the body may still reject it. But what if a brand new organ, perfectly suited to your body, could be created on demand? That's the future envisioned by a 3-D bioprinting company out in San Diego, according to a recent article by FastCo Exist.
Organovo has been working to combine the world of bioengineering and 3-D printing technology for the past several years. Now, with the help of biophysicist Gabor Forgacs, and a partnership with Autodesk, the company has unvieled its NovoGen MMX Bioprinter, a device capable of shaping cells into 3D tissue that's nearly indistinguishable from tissue produced naturally by the human body.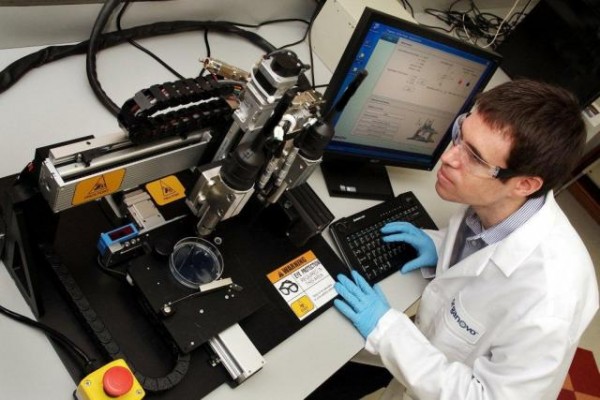 This bioprinting technology makes it possible to create living human tissues that are three-dimensional, architecturally correct, and made entirely of living human cells–plausibly cells that are identical to those of the potential implant recipient. The resulting structures can function like native human tissues and may eliminate the painful and costly rejections of donated organs.
Although Organovo already produces functional, three-dimensional human tissues for medical research and therapeutic applications, they're working with Autodesk to create the first 3D design software for bioprinting. The software will control Organovo's NovoGen MMX bioprinter, and has the potential to open up bioprinting to a broader group of users.
"Autodesk is an excellent partner for Organovo in developing new software for 3D bioprinters," saidKeith Murphy, Chairman and Chief Executive Officer at Organovo. "This relationship will lead to advances in bioprinting, including both greater flexibility and throughput internally, and the potential long-term ability for customers to design their own 3D tissues for production by Organovo."