Tired of the same old plastic-sheathed smartphones? Wish you didn't have to buy expensive cases and covers just to protect your investment? ADZero, billed as the 'world's first bamboo smartphone,' offers a stylish-yet-durable alternative to the status quo.
Founded by UK designer Kieron–Scott Woodhouse and China based Jerry Lao, AD Creative is at the forefront of developing innovative designed products by "Reinventing Simplicity". Using bamboo, one of the most durable and beautiful materials in the natural world, the company hopes to produce an Android phone that greatly reduces the negative environmental impact of the smartphone industry.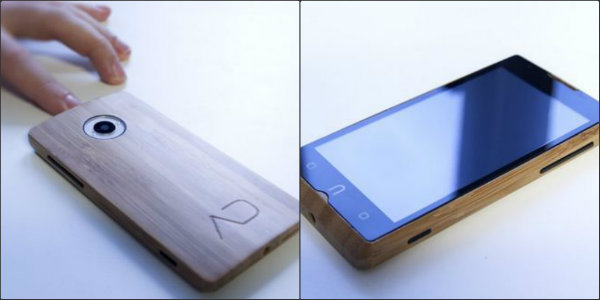 The phone was conceived by Kieron-Scott Woodhouse, a student at London's Middlesex University. After posting the concept online, it attracted the attention of Jerry Lao, an entrepreneur who specializes in tech products. Together the two have taken the concept from garage project to sophisticated prototype, and hopefully soon, into the commercial marketplace.
"Bamboo may seem like a strange material to use for a phone, but it's actually extremely strong and very durable, perfect qualities for this kind of application," Woodhouse told The Inquirer in early 2012. While Woodhouse's prototype utilized the Android 4.0 Ice Cream Sandwich operating system, the company has been hard at work developing its own customized ADOAS operating system.
The ADZero will initially be available in the UK, although a definite release date is hard to come by. The latest news on the company websites says to look for the phone in the first quarter of 2013.