There are hundreds, no thousands, of cases available for protecting your smartphone. Some are flimsy, some are colorful, some are truly unique. Of course, we like the ones that are made with the aim of protecting the environment as well as the phone. We also like it when cases are more than just a thick piece of plastic (or felt or wood) wrapped around the phone's exterior. Our electronics are the new cars–how we express our individuality–right? Surely today's creatives can do better than that.
Leave it to a designer of musical instruments, some of the most beautiful things ever created, to come up with an iPhone case that fits the bill in all respects. The Twig Case Co. makes incredibly artistic phone accessories from a paper composite called richlite that's made here in the USA. Enhanced with intricate laser carvings, the resulting cases are as unique and beautiful as you are.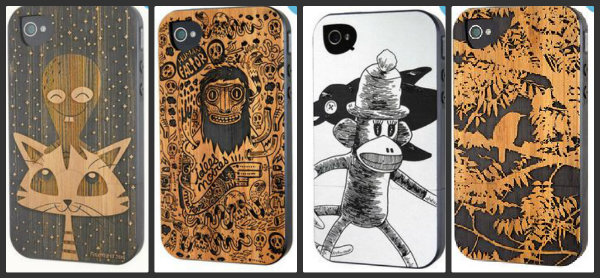 According to the Twig Case Co. website, richlite is produced from FSC Certified Eucalyptus trees harvested from responsibly managed forests in Brazil, and FSC Certified softwoods from Sweden. After being turned into pulp and made into paper, Richlite is dyed, then layered and baked with an eco-friendly resin. The resulting material is a dense, consistent plant product that won't split or warp like solid wood or bamboo.
Solid paper Twig cases require no lacquer, varnish, mineral oil, or other finishes. Designers John Woodland and Jon Lucca say that the natural oils on your hands are enough to season the wood over time. Even though the cases are works of art, they're surprisingly affordable-rivaling the price tags of other, far less sustainable iPhone cases. Average price is $49, and custom designs are available.