The Cleantech Open, a nationwide green business accelerator competition, recently announced six teams of entrepreneurs who are one step closer to the first place prize of cash, promotional services and press coverage. The U.S. is divided into seven regions, and the latest round of finalists are all from the Western Region, which includes the competition's home state of California.
Finalists from each region win a valuable "Startup in a Box" prize of cash and services, and a shot at the $250,000 national grand prize next month. Each of the Western Regional finalists will now move on to the Cleantech Open Global Forum where they will compete for the title of 2012 Top Cleantech Entrepreneur.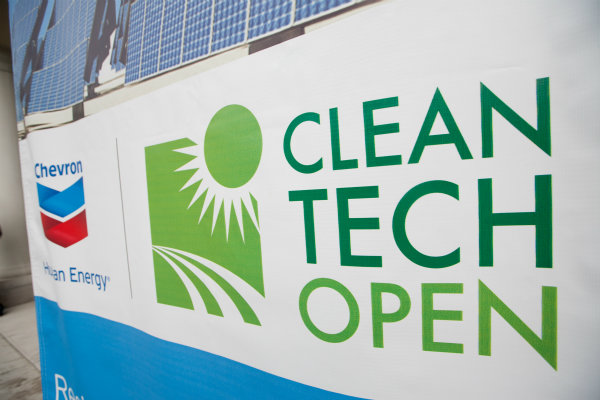 The nationwide competition began back in March with 356 of the most promising entrepreneurs in the cleantech field competing for local honors and a shot at part of the overall $1-million purse for the national winners. The Western region alone received over 100 entries, which were whittled down to single finalists in six categories:
Skip To Renew of San Rafael, California, won the "Air, Water, Waste" category with its high-quality, renewable, non-toxic and biodegradable industrial lubricants made from sustainably sourced plant and algae oils.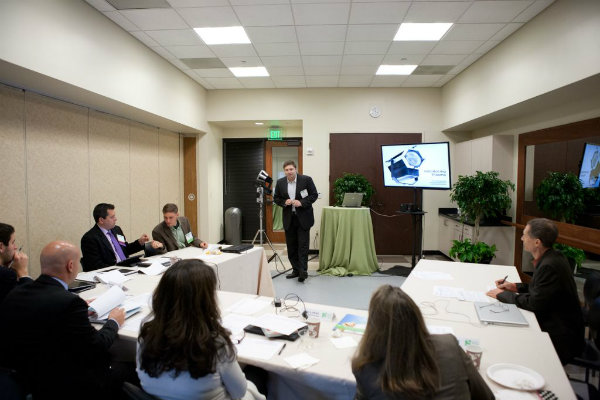 Hive Lighting (seen presenting, above) of Los Angeles, California, won the Energy Efficiency category with its high-intensity, energy-efficient lighting solutions for film, TV & digital media production.
Binishells of Beverly Hills, California, won the Green Building category with its faster, stronger, greener and more affordable building technologies.
Malachite Technologies of San Francisco, California, won the Renewable Energy category with its processes and hardware that will allow silicon solar cell producers to upgrade their lines to produce silicon/III-V tandem cells.
Rotary Wing Engine of San Jose, California, won the Transportation category with its ultra-efficient internal combustion engine technology.
In addition to the five regional category finalists, PanelShake of Campbell, California won the Regional Sustainability Award, an honor given to the team that most effectively incorporated a triple-bottom-line approach to scaling its business. PanelShake has pioneered a new roofing material that uses recycled plastic and agricultural waste.
Finalists from all seven Cleantech Open regions (Mid-Atlantic, North-Central, Northeast, Northwest, Rocky Mountain, South-Central, and Western) will convene on November 8 at the Hayes Mansion in San Jose, California at the Cleantech Open 2012 Global Forum to compete for the top startup title. We'll keep you posted!