Cities all over the U.S. — and all over the world — are home to old, defunct railroad lines, remnants of a bygone era. Should those old tracks and trestles be torn up, preserved, or transformed, via adaptive reuse? When the fate of New York's historic High Line was called into question around the turn of the millennium, area residents banded together to gain City Council support for a plan to transform part of the old railroad line into public green space, now known as the High Line Park.
It's a move that appears to have set a precedent for other cities looking for ways to increase green space and connect bike trails even as they address the public hazards associated with defunct industrial infrastructure. In Edinburgh, for instance, a local design firm known as Biomorphis has proposed a combination pedestrian bridge/bike path/community garden known as the Leith Walk Regeneration for an old set of train tracks that have fallen into disuse. And in Chicago, the city is moving forward with the Bloomingdale Trail, the city's long-anticipated rails-to-trails park system.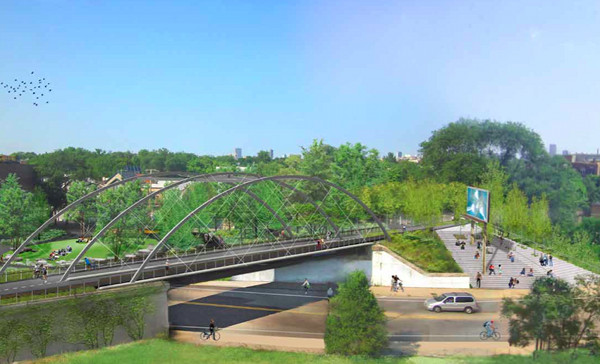 The Architect's Newspaper reports that the Bloomingdale Trail is an elevated linear park designed by a team including ARUP, Ross Barney Architects, and Michael Van Valkenburgh Associates on a former rail viaduct running through Chicago. Updated plans for the trail were recently presented at a public meeting, which was the public session's last chance to comment on the design before final plans are presented this December.
The three mile embankment slated for redevelopment as the Bloomingdale Trail runs twice the length of New York's High Line. It will feature five access points from pocket parks along its length, as well as eight access points from intersecting streets. The trail will wend its way through Chicago's Logan Square, Wicker Park, Humboldt Park, and Bucktown neighborhoods, offering safer routes for cyclists and pedestrians through the city as well as more green space overall.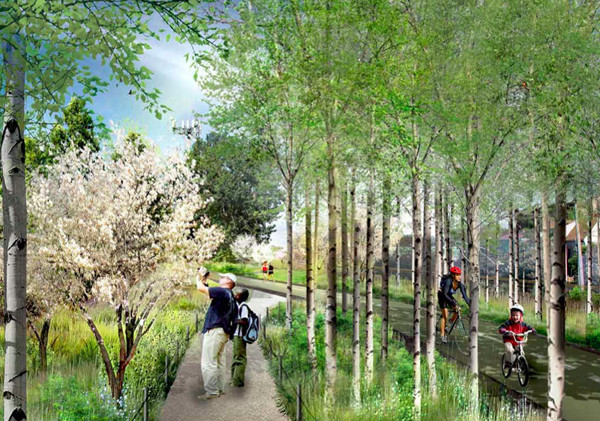 The project is significantly more earth-bound than its New York predecessor, as it connects directly with city sidewalks and the neighborhood parks systems. To assuage the concerns of residents with windows facing the trail, planners have employed a series of curves (the rail line runs around 30 feet across at its narrowest points). A few parking places located near street access points will be eliminated as part of the project, with the blessing of the Chicago Department of Transportation.
Among the details confirmed at the final meeting for public comment is the fact that construction on the Bloomingdale Trail will begin in Summer 2013. The trail will open for bikers and pedestrians in Fall 2014, with landscaping and art installations remaining in progress into 2015.
Interested in the big picture plan? The complete presentation on the Bloomingdale Trail is available online [PDF].