What's that they say about history repeating itself? It seems like every 20 or 30 years, we see old fashion trends re-emerge, with a slightly updated twist. Bell bottoms, the mustache, and now, the hard cover book. Even though millions of us now read books on tablet computers, it seems that some iPad owners have become nostalgic for the look and feel of the real thing.
Shane and Drew are just two guys from Boise, Idaho. Maybe not the first place you think of when pondering cutting-edge technology, but these guys are big Apple, design, and sustainability enthusiast. Their company, Root Cases makes sustainable, quality wood iPhone, iPad, and MacBook Pro cases, and right now they're seeking your help to make the iPad function more like a book.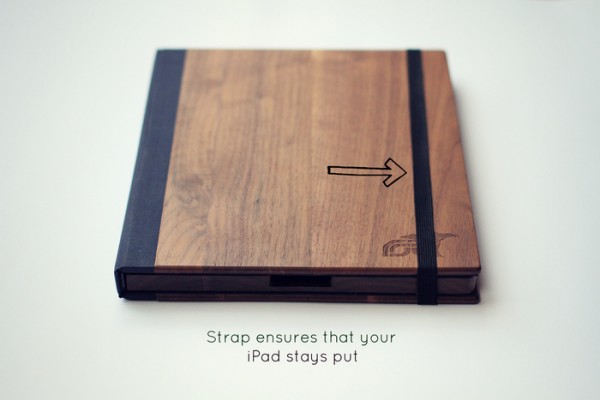 Most iPad cases we've featured look cool and offer some measure of protection from scratches and falls. The eco-friendly wooden cases crafted by Root Cases, do that and a little bit more. First, the cases are made from sustainably harvested bamboo and walnut, and sized to fit both the iPad 2 and 3. Made with traditional bookbinding techniques, the cover opens just like your favorite novel, revealing a sleeve for holding important documents or notes to yourself.
The back cover of the wooden iPad case features a cut out hole for quick picture taking, and rubber corners guarantee that your tablet's secure, even when using the case in its display position. The case also features a scooped out area around the speaker for natural sound amplification.
Right now, Shane and Drew are hoping to raise $3,000 on Kickstarter to help buy the wood that will help make their elegant-yet-practical iPad cases a priority. For a $59 donation ($10 less than retail) you could score one of your very own.