Mississippi State University has won the first phase of a government and industry-sponsored three-year, collegiate engineering competition to redesign a petrol car to make it more eco-friendly.
Called EcoCAR 2, the competition was held in Los Angeles and supported by the U.S. Department of Energy (DOE), General Motors (GM) and 25 other government and industry bodies.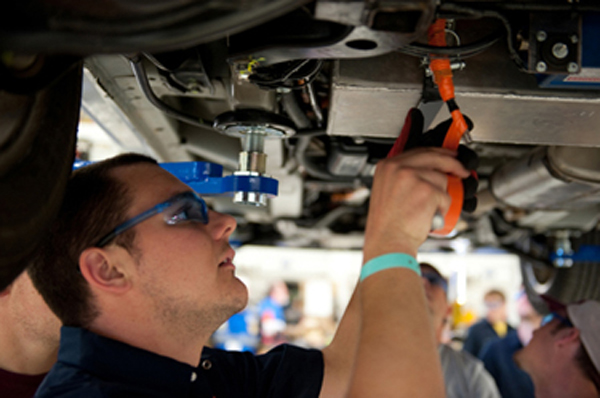 Under the terms of the competition each of the competing 15 universities will be given a 2013 Chevrolet Malibu to modify.
The technical goals of the project are to reduce petroleum energy consumption on the basis of total fuel cycle analysis, reduce fuel consumption, and reduce overall greenhouse gas and tailpipe emissions. The teams are expected to do all this but without compromising on the performance of the car.
The six-day event in Los Angeles, which represented the culmination of year one of the competition, was presided over by a team of judges who handed out $100,000 in prize money.
According to the organizers, year one "emphasized engineering design though modeling and simulation to select and virtually test their plug-in hybrid electric vehicle architecture." Teams also started developing the vehicle's hybrid control strategy using "hardware-in-the-loop (HIL) simulation tools and designing major vehicle subsystems, including hybrid powertrain, energy storage, and high-voltage electrical systems."
The students presented their results to industry and government professionals.
Mississippi State University was named the year one winner after coming top in five categories, including Best Final Technical Report and Best Trade Show Evaluation. It was the third time the university has taken the top prize.
In a statement Matthew Doude, team leader for Mississippi, said: "The design and simulation portion of this competition really challenges us to balance detailed engineering analysis with overall vehicle design trade-offs. We are excited to receive the keys to our 2013 Malibu and start implementing our series-parallel plug-in hybrid electric vehicle design."
Up to now the student's work has all been theoretical but now that the first phase is over each of the competing teams will be given their own Malibus to start testing out their ideas.
"Our goal is to provide students with the most realistic career experience, and we chose the 2013 Chevrolet Malibu for EcoCAR 2, as we believe it is a great platform to allow students to show us what they can do," Kent Helfrich, executive director of electronic controls and software engineering at General Motors, said in a statement. "The students are exercising their talents and are truly making great strides. We look forward to their developments over the next two years."
Besides Mississippi State, the other participating colleges in the EcoCar 2 program are: California State University, Los Angeles, Colorado State University, Embry-Riddle Aeronautical University, North Carolina State University, The Ohio State University, Pennsylvania State University, Purdue University, Rose-Hulman Institute of Technology, University of Ontario Institute of Technology, University of Tennessee, Knoxville, University of Victoria, University of Washington, University of Waterloo, Virginia Tech, and Wayne State University.