They might not taste too good battered and served with chips but a new breed of fish is helping in the fight against pollution.
A mainly British consortium of business and academic institutions has come up with a robotic fish which is capable of detecting and identifying pollution in the sea.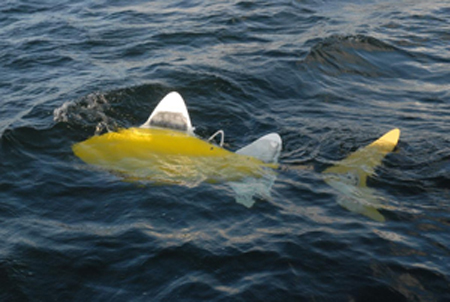 The aquatic robot is fitted with chemical sensors which allow the fish to analyze pollution in situ, which means that unlike the current method where water samples are taken to shore-based labs for analysis, pollutants can be identified in seconds rather than days or weeks.
Luke Speller, project leader of the consortium, which is called SHOAL, said in a statement: "SHOAL has introduced the capability of cutting the detection and analysis of pollutants in sea water time from weeks to just a few seconds. Furthermore, the Artificial Intelligence which has been introduced means that the fish can identify the source of pollution enabling prompt and more effective remedial action."
The fish can handle multiple tasks which include avoiding obstacles, knowing where to monitor pollution, finding the source of pollution and communicating back through shallow water to a base station. The fish also know to remain within communication distance from other fish as well as when to return to shore to be recharged. Sensors on the fish allow it to navigate its environment.
Measuring five feet in length, the fish is made from carbon fiber and metal and costs around $30,000, though it is thought the price will go down if it goes into commercial operation.
It has the hydrodynamic shape of real fish, which means it can quickly change direction, and giving the robot artificial fins rather than propellers means it is capable of travel through weedy waters. The robot's close resemblance to real fish means it blends into the marine environment in such a way that other aquatic life is not negatively impacted by its presence.
Pollution is a significant problem in the world's oceans and seas. According to the environmental pressure group Greenpeace, land based sources are estimated to account for around 44 percent of the pollutants entering the sea and atmospheric inputs account for an estimated 33 percent. By contrast, maritime transport accounts only for around 12 percent.
SHOAL, which is made up of scientists from the BMT Group, the University of Essex, the Tyndall National Institute, the University of Strathclyde and Thales Safare, are currently testing the robotic fish in the port of Gijon in Northern Spain.
"SHOAL has seen the coming together of scientists from across Europe to create a system that could not have been achieved without collaboration between different disciplines," Speller, a senior research scientist at the BMT Group, said. "One of the greatest achievements of SHOAL is getting robots running outside the lab and in the harsh, dynamic conditions of the sea. Autonomously exploring and investigating the harbour, the fish can work together to monitor and track down sources of pollution."