Despite the fact that young females often show more of an interest in and aptitude for academic work than their male peers, studies have continually shown a dearth of women in science, math and technology-based industries. And as this infographic shows,  only 20 percent  of women who obtain a degree in math and sciences actually go on to have jobs in a related field.
We know that diversity in the workplace, especially fields of scientific research and technology, breeds faster, more quality innovation. So why is it so hard to find women in these fields? Some say that societal gender roles, either implicitly or explicitly expressed, teach girls to downplay or ignore their abilities when it comes to math and science. Frustrated with this reality, students from an art and technology graduate program at NYU put together a mock fashion spread featuring a woman scantily clad in … electronic waste.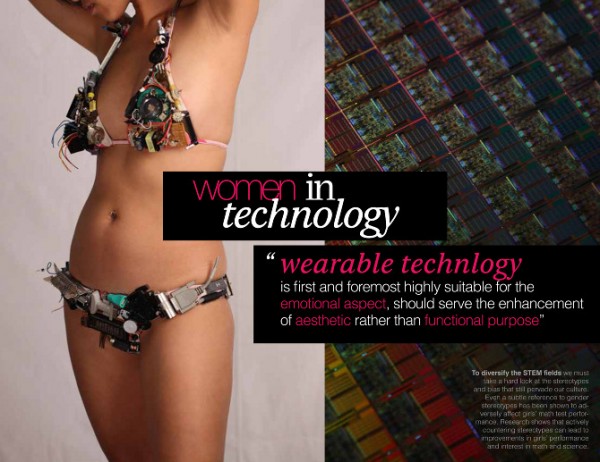 Rather than suggesting that e-waste could somehow be made into a functional bathing suit, the spread is designed to raise questions about those who say "wearable technology" is the best way for women to become involved with the tech or design industries. As pointed out in this review, the designers (and many women, I'm sure) feel that it's sexist to assume that women would be more attracted to working in fashion than science or technology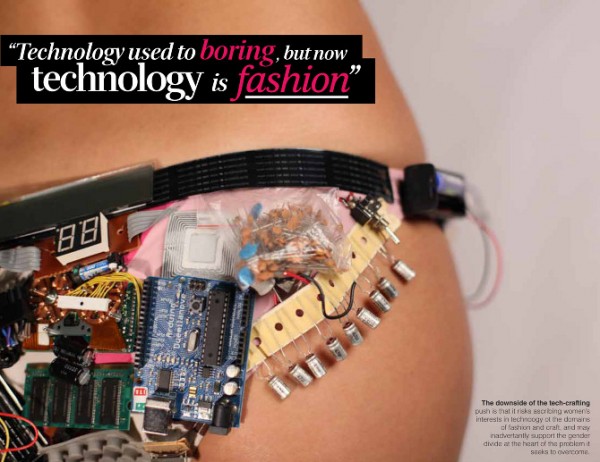 "The bikini is adorned with bulky and out-dated components from old ITP projects and is both technology useless and painful to wear, exaggerating our interpretation of many of the wearable fashions and craft that have been heralded as paving the way for more women in technology," write creators Jennifer Shannon and Andi Cheung. The layout includes actual quotes from well-known technologists promoting the ability of wearable technology to bridge the gap for women in STEM overshadow research, as well as stats from the National Science Foundation, The Anita Borg Institute, and the American Association of University Women on the negative impact of gender and stereotype threats.