The California Public Utilities Commission (CPUC) said today that Pacific Gas and Electric Company (PG&E) customers can say no to smart meters, but it will cost them. And given the reported reaction of smart meter opponents, it doesn't appear as though the opt-out plan will end the fierce battle over the new technology.
Under the modified program, "customers electing to retain or return to an analog meter will be assessed an initial fee of $75 and a monthly charge of $10," the CPUC said following its meeting in San Francisco this morning. "Customers enrolled in the CPUC's low income program … electing to opt-out will be assessed an initial fee of $10 and a monthly charge of $5."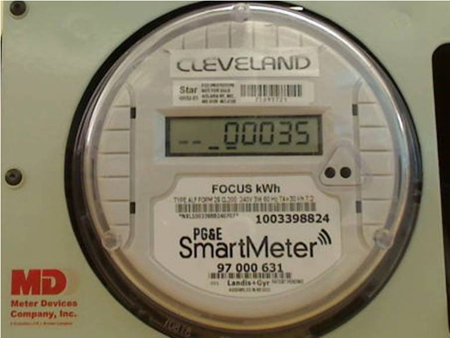 But news reports from the meeting indicated at least some smart-meter opponents, worried about possible adverse impacts from simply having smart meters in their neighborhood, were not placated. Get a load of this excerpt from the San Jose Mercury's Dana Hull, reporting from the scene: "'This is a crime against humanity!' screamed one woman after the vote passed. 'Shame!' chanted another. (CPUC President Michael) Peevey had to ask security guards to clear the room, and the lobby quickly filled with tearful and angry consumers."
PG&E's smart-meter transition has been plagued by confusion, distrust and, according to a 2010 study commissioned by the CPUC, woeful customer service on the part of the Northern California utility. Some residents have complained of billing errors, but those attending the commission meeting today were apparently among those worried about privacy issues and/or health concerns from the built-in wireless technology of these meters, despite organizations like the Environmental Defense Fund expressing support for the smart grid tech.
Peevey said that the commission's opt-out approval doesn't mean it is backtracking on embracing technology that many see as key to cutting energy use—and greenhouse gas emissions—in the fight against climate change. "The standard for metering has been transitioning worldwide from the older technology of analog meters to today's smart meter technology," Peevey said. "We are not reversing that transition by allowing for an analog opt-out, but we are recognizing that certain customers prefer an analog meter."
The CPUC said the fees for opting out—intended to offset the cost of reinstalling analog meters where smart meters have already gone in, and paying the cost of meter readers—"are subject to adjustment upon conclusion of a second phase of this proceeding where issues concerning the actual costs associated with offering an analog opt-out option will be addressed."