If you live in a college town, you might want to start stocking up on deodorant while it's still on store shelves. College kids across North America have started battling it out to be the school, or residence hall, that can save the most water and electricity over a three-week period. It's all part of the Campus Conservation Nationals 2012, where students take every means necessary, from shorter showers to taking the stairs rather than elevators, in "The Race to Save a Gigawatt." (By which they mean, of course, a gigawatt-hour—about the amount of power used by 100 U.S. households in a year.)
The competition, now in its second year, is put on by the Center for Green Schools at the U.S. Green Building Council (USGBC), through its USGBC Students Program and in partnership with Lucid, Alliance to Save Energy and the National Wildlife Federation. Before it's done, nearly 250,000 students at 150 colleges and universities across the U.S. and Canada will participate in the competition. Click here to see a list of all the schools participating. As many as 1,700 buildings are participating in their dorms and online to demonstrate sustainable occupant behavior can equal energy savings.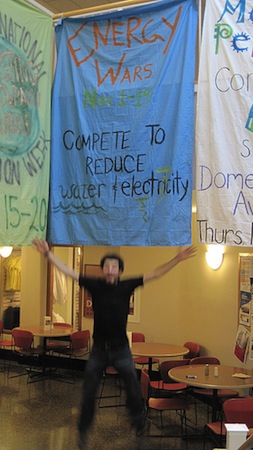 "This competition shows that students can be empowered to make smarter resource use decisions," Andrew deCoriolis, director of Engagement at Lucid said in a statement. "Changes in students' behavior impact resource use now but also affect their daily lives, helping to build a lasting culture of conservation."
The event will take place through April 23, with students competing to achieve the greatest reductions in their residence halls over a three-week period, working toward a collective national challenge goal of saving that gigawatt-hour. In past competitions, school were able to help save upwards off $485,000 in their school's utility bills. The title of greenest dorm and the title of greenest school was taken in the 2011 competition by DePauw University in Greencastle, Indiana. The champion of this year's competition is up for grabs.