Not a banner year, but in the face of a difficult economy, not bad. That was the verdict from Ernst & Young as it released new cleantech venture capital data today that showed total investment in 2011 at $4.9 billion, down 4.5 percent from 2010 but still nearly 30 percent higher than 2009's $3.8 billion. The accounting firm, crunching data from Dow Jones VentureSource, said 70 rounds of financing brought $940.5 million in venture capital into U.S. cleantech companies in the fourth quarter of 2011.
Strictly by total dollars, the energy/electricity generation segment was the leader in 2011, with $1.5 billion raised—but that was a 5 percent dip from 2010. For the fourth quarter, the segment saw investment of $312.9 million, with the solar power sub-segment leading the way at $284.5 million. Thin-film solar panel company Stion, based in San Jose, accounted for a big chunk of that change, raising $130 million.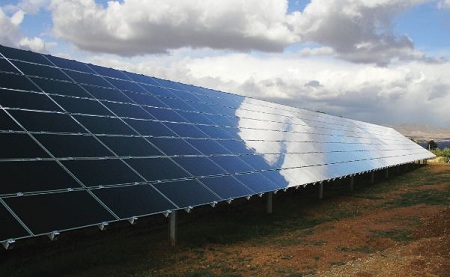 Among the yearly totals, perhaps most noticeable was the big growth in energy storage investment. It ranked third as a segment (behind industry products and services, in addition to energy/electricity generation), but the $932.6 million raised in 28 deals represented a 253 percent increase from 2010 in dollars invested and a 47 percent increase in number of deals.
Ernst & Young cited five initial public offerings as important in cleantech sector investment growth, a jump from the three that took place in 2010. Biofuels were the big players in IPOs, with Solazyme, Gevo and KiOR all going public earlier in 2011.
The two non-biofuels IPOs were both in the fourth quarter—by Intermolecular, a San Jose-based research and development company for the semiconductor and clean energy sectors, which raised $96.5 million; and another by Los Angeles-based Rentech, a provider of clean energy solutions, which raised $136.8 million.  All told, cleantech IPOs fetched $688.3 million in 2011.
"There's a strong appetite among cleantech companies to go public and we see tremendous opportunity as this industry continues to mature," Jay Spencer, Ernst & Young's Americas Cleantech director, said in a statement. "The growing IPO pipeline shows viable, long-term potential."
As for corporate activity, Ernst & Young reported that the focus was on solar and wind in the fourth quarter. Google and Kohlberg Kravis Roberts pumped $189 million into four California solar projects totaling 88 megawatts (MW) of capacity, and NRG Energy acquired Solar Power Partners, a solar power developer. The accounting firm also cited MidAmerican Energy's purchase of a 49 percent stake in the Agua Caliente project in Arizona (an NRG project that First Solar is developing).
Meanwhile, on wind, Duke Energy and American Transmission "bought a power line project to bring wind energy from Wyoming to the U.S. Southwest," Ernst & Young said, while MidAmerican acquired three Iowa wind power projects with a combined capacity of 404.8 MW in Iowa.