Virginia-based Evatran has been perfecting their Plugless Power electric vehicle charging system since the company was founded as a subsidiary of MTC Transformers in 2009. Now, with the recent announcement that it has reached an agreement with Sears to install the system in consumers' homes, it looks like the company is ready to take its induction charging system bigtime.
According to the agreement, Evatran will offer Plugless Power systems with home installation wrapped into the purchase price of the equipment; this price may also be included in the vehicle purchase or lease at the time of sale. Once a Plugless Power system is purchased, Sears will receive automatic notification of a customer's installation request and will then contact the customer within one business day to schedule home installation. In addition, Sears will offer ongoing service and maintenance to Plugless Power owners.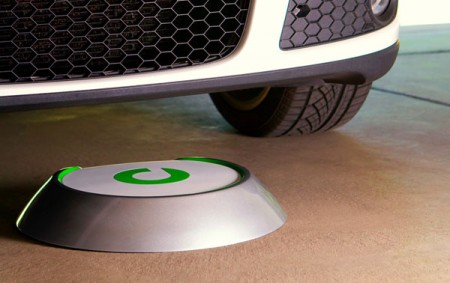 This is a large commitment for Sears, which will train and certify its network technicians on the wireless charging system and will also work with Evatran to create a launch plan for the Plugless Power systems. Sears will also offer commercial installation for electric vehicle fleet owners and managers.
The company said that the rollout and installations will begin in 2012 for Nissan Leaf and Chevrolet Volt models. Pricing wasn't released for the installation services, but the company noted that it would be based on the customer's home and current electrical service.
Evatran technology is based on electromagnetic induction, a process by which voltage is created by a conductor moving through a magnetic field. It's a familiar concept in the world of electricity. In fact, all electric motors are based around it but Evatran has tweaked it to work as a new EV charging technology.  The company says the process is as simple as pulling up to a fixed charging station. From there, the vehicle charging begins automatically. There's no cord and no plug to deal with, a convenience that Evatran thinks "is needed for the widespread adoption of electric vehicles."