High-speed rail may be struggling to stay on track here in the U.S., but it's a reality in northwestern Spain, which will soon see a new rail station designed by Foster + Partners, in a joint venture with engineers, G.O.C. and Cabanelas Castelo Architects. The group recently won an international competition with a design that combines transport infrastructure with a new park, creating a major new public space in the city of Ourense while opening up pedestrian links between the districts on each side of the tracks.
The new high-speed Ourense Alta Velocidad Española (AVE) train station will be built over the existing track level, integrating a bus station and parking area below. The station will feature glazed facades with views through to the mountains beyond, and will be sheltered beneath a series of lightweight roof canopies, which rise in an arc over the station and extend to shade the plaza and entrance to the park. The underside of the roof is reflective – the better with which to bounce daylight down to the platforms.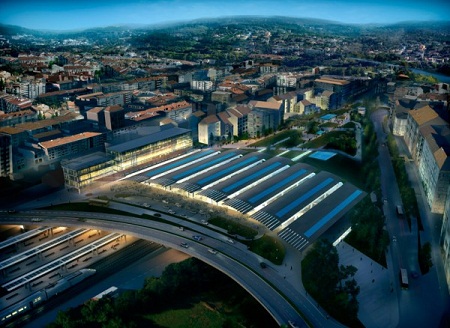 The park extends outward from the station plaza and is intersected by reflecting pools and a formal network of pedestrian walkways. These walkways echo the alignment of the tracks and connect the streets of Barrio del Puente to Barrio Veintiuno, offering pedestrians easy access to both the park and the train station.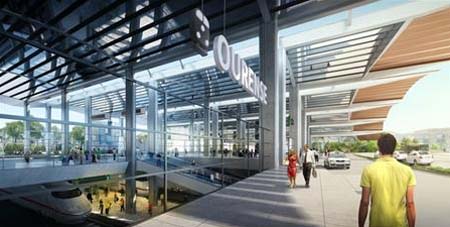 Ourense is a city just over 100,000, the capital of the province of Galicia, and the third most populous city in the province. The AVE rail line is operated by Renfe, the Spanish national railway company, and attains speeds of up to 310 km/h (193 mph). Its first line opened in 1992, connecting the cities of Madrid and Córdoba.