They may look identical on the outside, but the two  manufactured homes on the Pacific Northwest National Laboratory (PNNL) property in Richland, Washington are very different inside. One of the homes is being used to test a myriad of energy-efficient home applications, while the other will serve as the baseline representing energy usage.
PNNL bought the 1,500-square-foot, double-wide "Home Labs" and set them up to be used to test a variety of energy-efficient home experiments. The  first experiment slated for the homes is a six month-long study to test the performance of highly efficient insulating windows. Next, research will be centered around the use of smart appliances.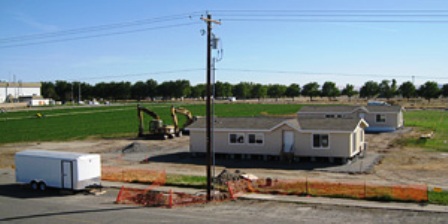 In each study, one home will typify an average existing home in the region, and the other will test a new technology. Occupancy in each home will simulate normal human activity. The lab is using the project as a test bed for research partners who want to build highly efficient homes.
The energy efficient homes will be outfitted with a number of gadgets, like dual heating systems, environmental sensors and a weather station. Results and reports from the homes will be available as new energy saving technologies are being tested. PNNL is asking for experiment ideas for the homes on its Twitter feed.