Three finalists from the Cleantech Open have been announced as representatives of the North Central region in the national competition this November. The three, Atmosphere Recovery from Eden Prairie, Minnesota; FORTECO of Hartland, Wisconsin; and Whole Trees Structures, based in Stoddard, Wisconsin; were chosen from a pool of 20 semifinalists from Illinois, Iowa, Kansas, Minnesota, Nebraska, North Dakota, South Dakota and Wisconsin.
Besides the three regional finalists, a regional sustainability award was given to Sheerwind (Invelox), from Chaska, Minnesota. This prize is given to the company with the most effective and comprehensive triple bottom line approach to scaling the business. All four companies will go on to compete in the Global Forum on November 15-16 in California, in the hopes of winning the $250,000 grand prize.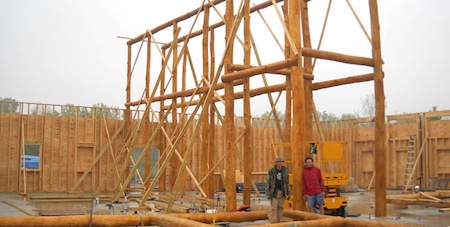 Atmosphere Recovery won for their gas analysis and control system that enables renewable energy conversion and sustainable manufacturing. FORTECO is a provider of  composite framing materials for commercial buildings, whose sustainable and lightweight nature allow for reduced cost. Whole Trees Structures creates green building system from forest waste, such as damaged or invasive trees, that provides an alternative to steel and concrete products. Sustainability award winner Sheerwind (Invelox) was chosen because of their low-cost, high-efficiency wind power technologies.
The Cleantech Open has been running since 2006, and has since that time awarded over $5 million in cash and service prizes in support of up-and-coming cleantech companies. The 473 companies that have participated in the Cleantech Open have created a total of more than 2,500 jobs.