Subway sandwich shops can now say they are healthy and eco-friendly. The restaurant chain recently unveiled 14 new "Green Subway Eco-Restaurants." The stores are said to be designed with environmentally friendly characteristics in mind, such as reduced energy, water and waste consumption. And the company says more are on the way.
As part of its eat "Eat Fresh, Live Green" initiative, Subway is encouraging its franchise owners to create Eco-Restaurants when possible. That means including elements like adding low-flow toilets and faucets, energy saving appliances, motion sensor lights, recyclable trash cans and more.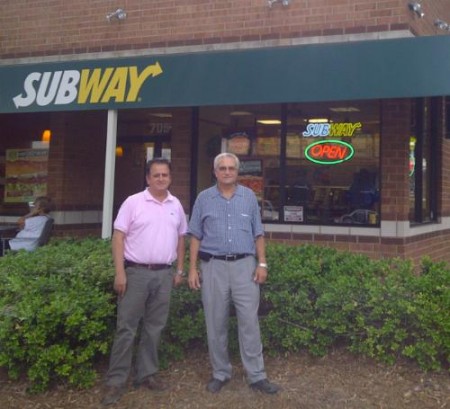 Two of the Eco-Restaurants were opened in Cary and Durham, N.C., respectively. Both are recognized by the U.S. Green Building Council for Leadership in Energy and Environmental Design (LEED) certification. (Pictured above are Burhan and Marwan Ghanayem, owners of the Durham store.) A franchisee in Kokomo, Ind., just opened a newly constructed, free-standing drive-through Subway shop made of entirely recycled material. The restaurant also includes monitor displays that show the building real-time energy use.
UCLA will also soon open one of the Eco-Restaurants in the newly renovated Green Student Center. The shop will include a walkable rooftop terrace and garden. Additional efforts by the chain to go green include: reducing the amount of packaging, using napkins and cutlery made of 100 percent recycled materials and reducing supply chain transporation mileage and emissions.