When it comes to comparing photovoltaic (PV) systems, keeping up with the Joneses just got a little easier. Many solar power companies offer some sort of performance guarantee and system monitoring package when they install a system. These monitoring tools can provide homeowners with valuable information about their own PV system's performance (which they can share on facebook) – but, what about their neighbors' PV systems?
For homeowners seeking the ultimate competitive edge on their neighbors, there's now PV Comparison, the latest free software tool from SunMath. This free online software tool uses crowd-sourcing to allow PV system owners to compare their systems' production to others in their area. The PV Comparison tool is designed to help PV homeowners determine if their system is performing efficiently, given the weather conditions in their local area. The tool uses proprietary algorithms to adjust for differences in system specifications, such as system size, orientation, tilt and age.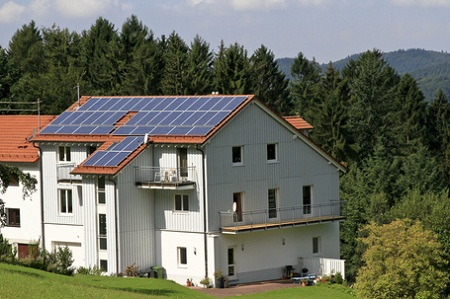 According to SunMath, this information can increase solar installer accountability, which should lead to higher quality installations and quicker response to system performance issues. While the PV Comparison tool cannot diagnose a problem, it can provide homeowners with information that could help them determine if their system might have a design or installation flaw. On the other hand, PV Comparison can also help educate homeowners and incentivize them to reduce potential shading obstructions by keeping their trees trimmed, removing debris and hosing off their panels every once in a while to reduce dust accumulation. If left unaddressed, these general maintenance issues can seriously affect system performance over time.
SunMath promotes itself as a builder of software for the solar community that is easy to use, resulting, the company says, in smarter investment and business decisions. The company's other tools include a solar calculator, installation tracker, solar directory and solar blog.