The Fraunhofer Center for Sustainable Energy Systems (CSE) recently announced that it will be developing a sustainable energy research and building innovation center in Boston's Innovation District, and is currently seeking companies interested in becoming part of what it envisions as a living laboratory demonstrating the future of green buildings.
The 50,000-square-foot applied research facility and building technology showcase slated for 5 Channel Center will serve as a "factory of innovation" in support of both established companies and start-ups currently developing and demonstrating the next generation of energy efficiency tech for sustainable buildings. CSE also intends for the center to house Fraunhofer's technical R&D labs and the TechBridge start-up accelerator group to support clean energy businesses in the Innovation District as a whole.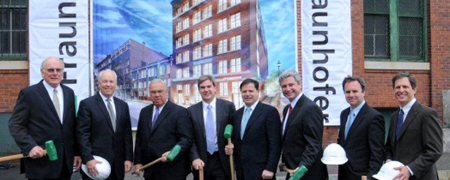 "Boston continues to support and attract cutting-edge research, and I'm proud that Fraunhofer is joining this exciting mix," said Boston's Mayor Thomas M. Menino, in a statement.  He went on to note that Fraunhofer will help to translate the Boston area's research and talent resources into targeted support for local cleantech entrepreneurs and businesses.
Nolan Browne, the center's managing director, said that CSE has secured its first anchor partner and is currently in the process of identifying additional companies that may be interested in joining the effort.