Harvest Power has announced they've raised $51.7 million in a round of Series B financing. Founded in 2008 with offices in Canada and the United States, the company takes organic waste, like food and yard rubbish, and turns the discarded material into items like renewable energy from biogas, high value soil, and organic fertilizer products. The financing was led by Generation Investment Management, a UK-based renewable investment firm founded by Al Gore, who visited one of Harvest Power's British Columbia sites last October, and David Blood in 2004.
Generation Investment Management was joined by DAG Ventures, along with Keating Capital, a firm with various investment in California, in the Series B financing. The three organizations come aboard alongside Kleiner Perkins, a company in the U.S. and China with stakes in information technology and health sciences, Munich Venture Partners, a communications investment group, Triple Point Capital and Waste Management, all of which have also contributed to Harvest Power's development.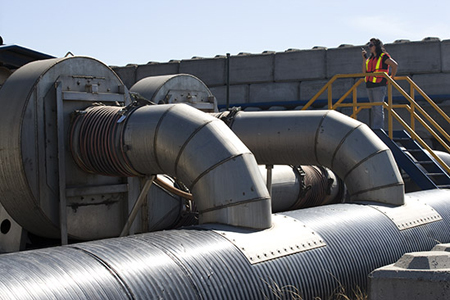 Harvest Power produces its products through two processes – composting and digestion. The odor-controlled, covered aerated static pile composting system produces high value soil and organic fertilizer by taking waste and topping it with wood chips and bark, vacuuming air through the bottom of the pile for roughly two months, then curing and testing the recycled soil for an additional one to two months before readying the product for sale.
The company's method for producing biogas is anaerobic digestion for both low and high solids. Low solids anaerobic digestion is commonly used at wastewater facilities looking to produce renewable energy. Harvest Power adds heated water and innoculum to start the biogas creation process in their low solids digestion. In their high solid, or dry fermentation, process material is loaded into a digestion chamber and left for two weeks, much like composting.
We hope you are enjoying the green technology news and insight provided by our dedicated editorial staff. If you do, please take a moment to help us spread the word by voting for us as Best Environmental Sci-Tech blog in the annual Best of Green 2011 TreeHugger awards. Voting ends on April 1, 2011. Thank you!