In this installment of Green Tech Chatter, we take a look at buzz which has been building around concerns, real or imagined, individuals across the political spectrum are having at the moment with smart meter installations around the country (particularly in California). The issue, which seems to be centered around (1) health fears because of the wireless technology built into these types of meters and (2) privacy factors based upon energy companies and others getting more detailed information on your energy usage habits, has become big enough to draw in a lot of media attention.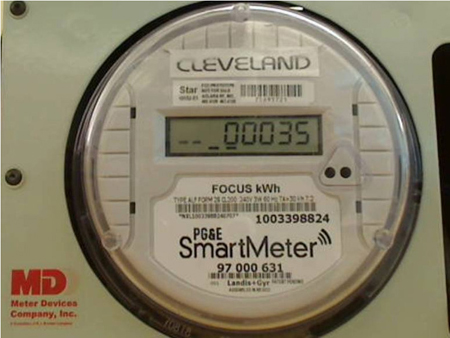 A smart meter, in its most basic sense, is a typically two way wireless communication platform a utility uses to better understand your energy usage habits. The data collected from such a meter is considered perhaps more accurate, in most cases, than a person who checks your meter manually once a month. Uses of this data can include helping one to make better home energy management decisions, remotely controlling excessive power consumption in a home during peak load periods (if a customer opts to allow the utility to do so) and supposedly making your monthly energy bill more reflective of your actual energy usage.
As a result of the previously mentioned concerns, governments around the country have considered, or have already enacted, bans on this smart grid connected technology. We give you a run down now of links, presented below without opinion on their content, which hopefully will provide you some more insight on this interesting issue.
New York Times: "Pacific Gas and Electric's campaign to introduce wireless smart meters in Northern California is facing fierce opposition from an eclectic mix of Tea Party conservatives and left-leaning individualists who say the meters threaten their liberties and their health."
Greentech Media: In California, It's the Smart Meter Martyrs
Mother Nature Network: "The Tea Party and a few other groups don't like the idea of Big Brother monitoring their electricity usage."
VentureBeat: How secure is the smart grid?
Switched: Smart Meters Draw (Misguided) Opposition from Left and Right in California
Maroondah Leader: Ringwood pensioner's dogs scare off [smart meter] installers
Killen Daily Herald: "The woman who electricity transmission company Oncor says is the final Bell County holdout from having a Smart Meter was dealt a blow Friday when a judge ruled against her request to ban Oncor from installing a meter at her home."
Pacific Gas & Electric: See how PG&E customers are using SmartMeter technology to manage their energy use
Scotts Valley Neighbors Against Smart Meters: A statewide advocacy, media outreach, and direct action group providing activism consultation and advice to dozens of local groups sprouting up all around the state who are fighting the wireless 'smart' meter assault.
California Council on Science and Technology: Study on Health Impacts of Radio Frequency from Smart Meters