On the heels of a Consumer Electronics Association study that congratulated its members for making great strides in becoming more eco-friendly, Greenpeace came out with its own review, based on a survey of products submitted by companies. And it was actually pretty positive, although the environmental organization wasn't quite ready to give the industry, gathered in Las Vegas for the Consumer Electronics Show, a 100 percent green stamp of approval.
"Our survey shows that electronics manufacturers have made demonstrable progress over the past few years by producing products that are free of the worst toxic chemicals, more energy efficient and more easily taken back for reuse or recycling," Greenepeace's Renee Blanchard said in a statement. "Major brands are responding to consumer demand for greener gadgets, and we expect them to continue to innovate and make all their products, and not just a niche few, with these higher green standards."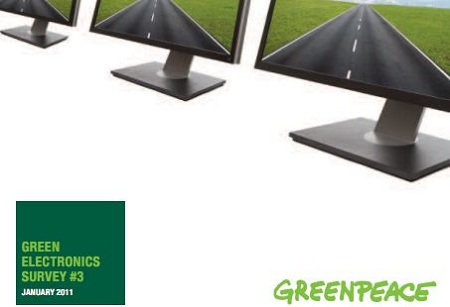 Twenty-one prominent consumer electronics companies were invited to submit their greenest products to Greenpeace, in seven categories: desktop computers, notebook computers, netbook computers, monitors, mobile phones, televisions and smartphones. Eighteen participated (Apple and Philips were among those who said no, according to Greenpeace).
The highest scoring product of all was the Asus VW-247H-HF monitor, which the company calls the world's first halogen-free monitor. It scored 7.5 points from Greenpeace on the 10-point scale. Asus was the only company to win in two categories, as its Asus UL30 finished first among notebooks. The company reacted to the news by issuing a statement that cited a host of other green achievements – and yet promised more. "It is just the beginning of Green Asus," Chairman Jonney Shih said. "Consumers can anticipate even more innovative green products from us in the near future."
A PDF of the entire survey is available here from Greenpeace.
Like what you are reading? Follow us on RSS, Twitter and Facebook to learn more and join the green technology discussion. Have a story idea or correction for this story? Drop us a line through our contact form.