The high-end kitchen items from Sub-Zero and Wolf (two brands, one company), are smartening up. Control4, which makes operating system for the smart home, announced a partnership with the brands, allowing Sub-Zero refrigerators, Wolf ovens and Sub-Zero wine storage units to be integrated into Control4 networks, allowing for a range of programming and automation.
Control4 was at the Consumer Electronics Show to show examples of the Sub-Zero and Wolf integrations. As outlined by the company, they're pretty much what you might expect: programming the refrigerator ice-maker to beef up production before a big party; getting notification when the oven preheat is completed; receiving alerts when the timer is about to buzz – that sort of thing. Control4 also said that "for the first time, homeowners can send energy deferral requests or general service requests through their Control4 system directly to Sub-Zero and Wolf."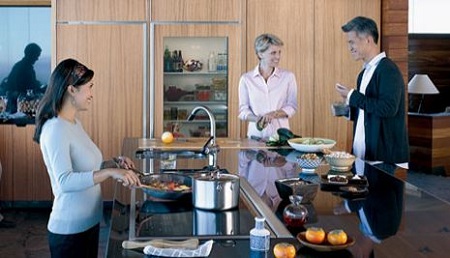 The wine-storage unit possibilities were a bit more intriguing. Control4 said unit owners would be able to "monitor their unit's door status and even receive mail or text message alerts when a door opens or closes." The company said this would be handy since temperature and humidity are so important to wine storage, and a door left open could cause damage. There's that, sure; but the monitor could also let a unit owner know if anyone is busting into her stash, rooting around for that priceless 1945 Chateau Petrus.
Like what you are reading? Follow us on RSS, Twitter and Facebook to learn more and join the green technology discussion. Have a story idea or correction for this story? Drop us a line through our contact form.