Remember all those billions of dollars being allocated from the American Recovery and Reinvestment Act (ARRA) to development of high speed rail around the country? Turns out post November elections several incoming governors didn't want the funding for various reasons, telling the U.S. Department of Transportation (DOT) effectively to shove it. Well, the DOT has heard Wisconsin and Ohio loud and clear, yanking this week $1.195 billion and offering it to other states.
While DOT Secretary Ray LaHood wasn't abrupt in his statement about the funds being reallocated, he did note that "I am pleased that so many other states are enthusiastic about the additional support they are receiving to help bring America's high-speed rail network to life" Specifically, under the ARRA, the Federal Railroad Administration originally announced $810 million for Wisconsin's Milwaukee-Madison corridor and $400 million for Ohio's Cincinnati-Columbus-Cleveland "3C" route. The Federal Railroad Administration will redirect $810 million from Wisconsin and $385 million from Ohio now to those who actually want to invest in a high-speed rail future.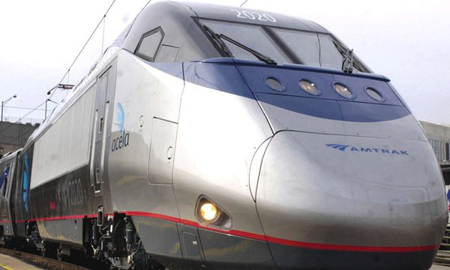 Those other states benefiting from Wisconsin and Ohio include, in order of most funding first, California, Florida, Washington, Illinois, New York, Maine, Massachusetts, Vermont, Missouri, Wisconsin (for an Amtrak line), Oregon, North Carolina, Iowa and Indiana. It was noted by the DOT in this decision that these ARRA funds are only for high speed rail and not "other transportation projects."
Projects being developed under the $8 billion+ project will require rail manufacturers and suppliers to be committed to not only locating in the U.S., but to ensuring high-speed rail projects are built by American workers with American-made supplies. This should do a lot to pump funds into local economies, though apparently not those states which turned down a greener transportation future.
Looking for green gadget gift ideas for this holiday season? We have you covered with our annual Green Gadgets Holiday Gift Guide – check it out now!