Apple this past week unveiled a leaner, meaner Macbook Air which is quite frankly one of the most gorgeous and thin laptops we've seen to date. What makes it even that much more appealing for those into green computing is that Apple throws a lot of effort into making the Macbook Air perhaps the greenest notebook computer on the market at the moment (though green computing in general still has a long way to go).
From a green perspective, the MacBook Air is both EPEAT Gold and Energy Star 5.0 qualified, meaning it is very energy efficient.. Each unibody enclosure, said Apple, is made of recyclable aluminum and comes standard with energy efficient LED-backlit displays that are mercury-free and made with arsenic-free glass. The Macbook Air also contains no brominated flame retardants and is PVC-free.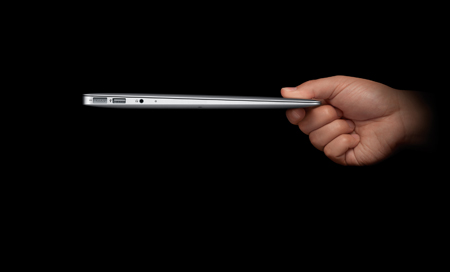 On the technology side the MacBook Air's most notable feature is the lack of an internal hard drive, which is still a pretty uncommon thing in today's notebook computers. It instead makes use of solid state flash drives – similar to that of what is in an Apple iPad – which have a number of advantages over hard drives, including quick data load times and a much lighter weight. Dimensions of the MacBook Air have it weighing in at as little as 2.3 pounds and measuring an incredibly thin 0.11-inches at its thinnest point and 0.68-inches at its thickest.
Batterywise, one can get up to seven hours of battery life and up to 30 days of standby time. Availability of the MacBook Air is now. As far as pricing and configurations go, Apple said that "the 1.4 GHz 11-inch MacBook Air with 2GB of memory and 64GB of flash storage starts at a suggested retail price of $999 (US) with a 128GB model for $1,199 (US). The 1.86 GHz 13-inch MacBook Air with 2GB of memory and 128GB of flash storage starts at a suggested retail price of $1,299 (US) with a 256GB model for $1,599 (US)."
"MacBook Air is the first of a new generation of notebooks that leaves behind mechanical rotating storage in favor of solid state flash storage," said Steve Jobs, Apple's CEO, in a statement. "We've taken what we have learned with the iPad—solid state storage, instant-on, amazing battery standby time, miniaturization and lightweight construction, to create the new MacBook Air. With its amazing responsiveness and mobility, it will change the way we think about notebooks."
Like what you are reading? Follow us on RSS, Twitter and Facebook to learn more and join the green technology discussion. Have a story idea or correction for this story you are reading? Drop us a line through our contact form.