Looking for a responsible way to recycle rechargeable batteries, cell phones, CFLs and plastic shopping bags? If 1-800-Recycling and EcoSquid are too much trouble, just head on down to your local Lowe's, as the mega-retailer recently announced the launch of permanent recycling centers in nearly 1,700 stores from coast to coast.
There are a few caveats. First, your CFLs must be expired and unbroken, and you can only recycle up to 11 pounds of rechargeable batteries (does anyone possess more than 11 pounds of rechargeable batteries?)  According to Lowe's, these products–along with cell phones and plastic bags–will be safely shipped to recycling facilities to process and reclaim materials that are used to make new products. (Hopefully, avoiding some of the toxic recycling practices currently common in China.)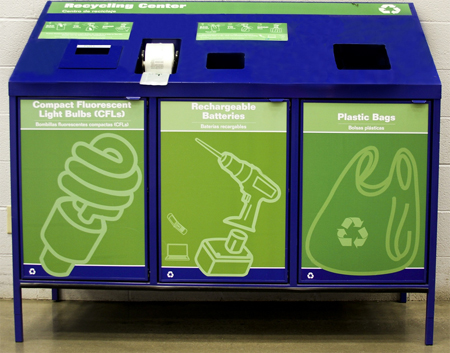 These centers represent an expansion of Lowe's partnership with Call2Recycle, a program which has offered rechargeable battery and cell phone recycling at Lowe's since 2004. According to the company, this partnership has so far succeeded in diverting more than 1 million pounds of rechargeable batteries from local landfills.
"Lowe's is always looking for new and better ways to serve our customers and continue to be responsible stewards of the environment," said Michael Chenard, Lowe's director of environmental affairs, in a statement. "Recycling is a simple way to help reduce unnecessary waste in our communities. The recycling centers make it easier for customers to make a difference, and we look forward to continuing to partner with them to promote and support community recycling."
Like what you are reading? Follow us on RSS, Twitter and Facebook to learn more and join the green technology discussion. Have a story idea or correction for this story you are reading? Drop us a line through our contact form.