Oh, how we love high-tech au natural design goodness, and here is a fine example: a lovely line of bamboo iPhone cases from Grove, a group of designers from Portland, Oregon.
According to Treehugger, each of the cases pictured below is 100% solid bamboo and comes in three different colors created with hand-rubbed natural finishes–crafted partly by hand, part by machine, all in the good old US of A. Grove sources 50% of its bamboo from FSC sources, but has hopes that soon it will be able to offer 100% certified bamboo. They offer a unique collection of laser-etched designs in their artist series–or, you can customize your own. These bamboo iPhone cases offer tech protection for the long term (an important eco consideration) while personalizing your gadget in a very cool way.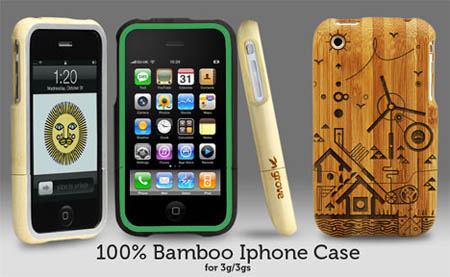 An equal amount of thought has clearly been dedicated to the packaging of this product, which was created out of Grove's manufacturing waste. That means your bamboo iPhone case comes in a little box made from scrap bamboo, and, as an added bonus, comes with an art-print that can be inserted into the box, turning it into a picture frame. At  $80-$100, these artsy iPhone cases aren't cheap, but the smart packaging really turns it into a two-for-the-price-of-one deal.