The idea is simple in one's mind: a device which generates energy naturally through repeated pulls on a cord, which in turn spins an internal alternator that generates power to charge the battery of many a portable device. The delivery of such an item? Not really a reality until recently, when inventor Alexander Sromin of Easy Energy and company began showing off the YoGen, a handheld charger which operates via people power.
Sromin and Guy Ofir, CEO of Easy Energy, brought the YoGen to the Consumer Electronics Show to show it off to interested press, retailers, distributors and others. The reception to the device was very solid, according to company reps, with online sales of the charger reportedly taking off shortly after its public unveiling.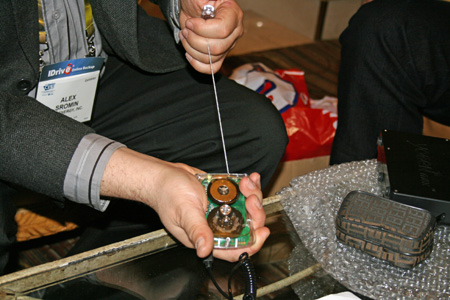 The basic idea of the YoGen, according to Sromin, is to provide a person with a "tool to convert a regular mobility device into a real mobility device without an electrical plug." This basically means, for example, that when one's cell phone died the YoGen could be plugged into that product to charge it by hand. The YoGen contains no internal battery for energy storage, so hand pulls on the cord are all that are available to generate the power needed.
The current generation YoGen, said the inventor, can generate up to five watts of stable electrical power. A big question being asked of him often though was how much pulling it takes to generate electricity? Several things were made clear in response to this: first, the YoGen's "charge/time ratio" is similar to that of a standard AC wall charger; secondly, some testing on an older model iPhone, with four minutes of repeatedly tugging on the cord, generated about one-third of a full battery; and finally, typical full charging time will vary, depending upon one's "natural strength and technique."
The YoGen, pricing for around $40, is available now online through its Web site. Plans are in the works for greater retail distribution later this year.